Just recently facelifted, the third generation Toyota Alphard is not only one of the best in ride quality in its class, but it's also actually quite nimble for its size. Why? Toyota Alphard 2020 Philippines Review will tell you all!
In this review...
Introduction

Exterior

Interior

Engine & Performance

Ride & Handling

Safety

Specs

Price

Conclusion
1. Toyota Alphard 2020 Philippines: Introduction
Toyota debuted the Alphard in 2002, an eight-seater, luxury minivan meant to compete against the likes of the Nissan Elgrand and the Honda Odyssey. Named after the brightest star in the Hydra constellation, the Alphard is currently on its third generation introduced in 2015, with a facelifted version released in 2018.
Since that facelift, the overall exterior design of the Alphard has changed drastically, more futuristic-looking than ever before while retaining many of the features that made it one of the most comfortable and luxurious in its segment. The V6 engine under the hood also yields exceptional performance without being too flashy, complementing the Alphard's premium amenities. Pretty neat, right?
Let's together with Philkotse.com get to know more about the Toyota Alphard 2020 Philippines review up close.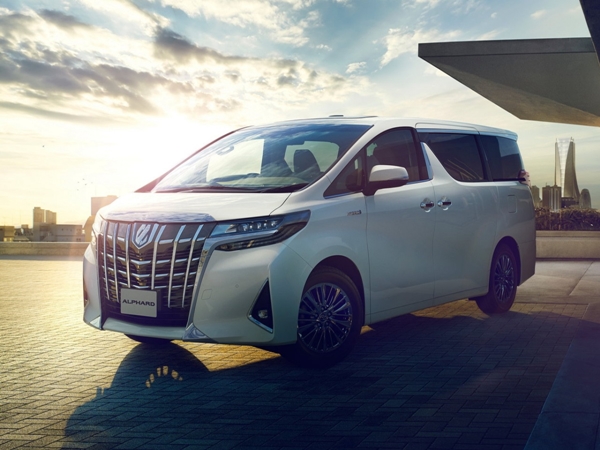 Toyota Alphard 2020: Ride in maximum comfort and style
2. Toyota Alphard 2020 Philippines: Exterior Review
The most recent (and significant) redesign the current-gen Alphard had was back in 2018. On the front fascia, Toyota extensively reworked the chromed grille, making it more prominent and flanking it with a pair of cool-looking LED headlights complemented with DRLs.
On the lower part of the wide front end, you'll also notice that the revised bumper. The new aesthetic boasts even higher levels of sophistication, luxury, and comfort than before, with a hint of an aggressive streak worked into the details.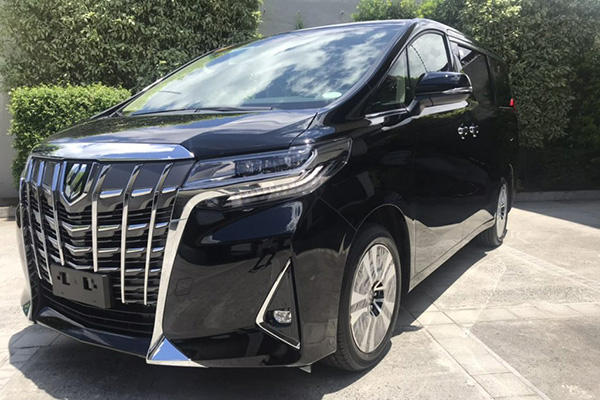 The facelifted Alphard's exterior is both futuristic and aggressive
The profile showcases the Toyota Alphard's long wheelbase and sizeable doors, with the design coming off as a bit more sedate. The large portals greatly benefit accessibility, and the generous greenhouse provides superb visibility for all occupants; neither too large to leave you feeling exposed nor too small to make you feel claustrophobic.
One nitpick we have though is part of the rear door that slopes up to meet the B-pillar, presumably to provide additional rigidity to the vehicle's body structure. In terms of aesthetics, however, we would have preferred the 2020 Toyota Alphard exterior completely surrounded by a continuous, flowing band of glass.
To the rear, the futuristic theme continues with large upswept rear taillights that flow towards the sides, even up to the base of the D-pillar. Up top, the Toyota Alphard gets a shark-fin antenna, and the roofline is punctuated by a sculpted spoiler that lends a bit of sportiness to this massive machine.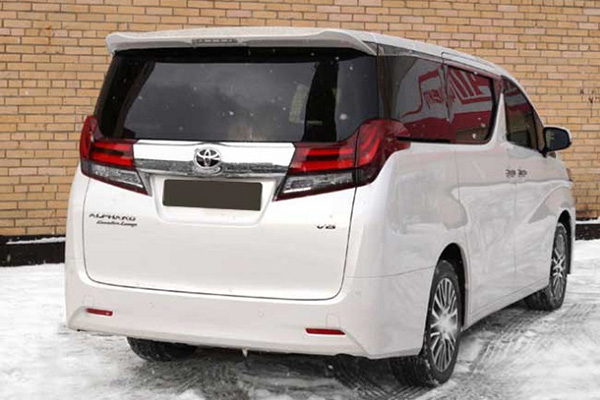 The taillights of the Alphard really stand out. They're even more radical-looking that the ones on the Lexus version
In our opinion, the Alphard trumps the newly-launched Hiace in terms of design. Not that anybody expected otherwise on account of their different price points, but the new Hiace had echoed some elements of the Alphard especially with the semi-bonnet. The Alphard shows that it remains distinctly styled, even among its stablemates in the Toyota marque.
YOU MAY WANT TO READ
Model Price Philippines
₱ 1,368,000 - ₱ 1,885,000
Model Price Philippines
₱ 998,000 - ₱ 1,332,000
Model Price Philippines
₱ 1,209,000 - ₱ 1,509,000
3. Toyota Alphard 2020 Interior
If we compared the Alphard's exterior with that of the more affordable Hiace, the interior is another matter entirely, one which the Toyota Alphard 2020 wins hands down. The cabin is huge, with power-adjustable leather seats in front, perfect for reducing driver fatigue on extended drives.
Meanwhile, we count the second-row seats as one of the best, if not the best in its class, utilizing captain's seats that have fully adjustable leg rests and headrests that offer great neck and lumbar support.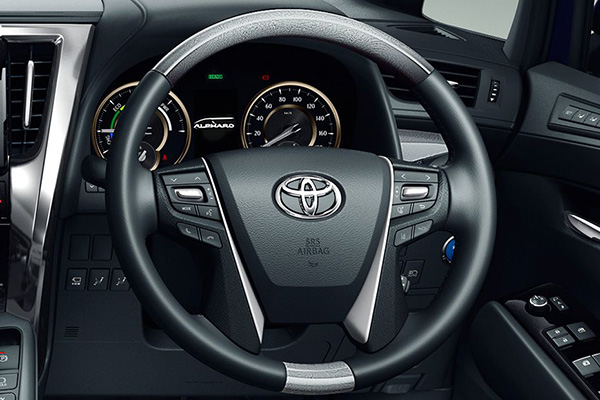 A four-spoke steering wheel lets the driver command the Alphard
Upfront, the driver takes command of a four-spoke steering wheel, with a standard multi-information display flanked by easily readable dual gauges. The center console easily catches your attention, with its huge, trapezoidal shape and storage bin to keep small items, although a more elegant finish would have been more preferable to the wood trim.
The touchscreen infotainment system somewhat clashes with the futuristic feel of the vehicle, but otherwise, it's well-equipped for infotainment and multimedia playback. There's Bluetooth hands-free as well as USB and AUX IN connectivity. The onboard eight-speaker system delivers top-notch sound.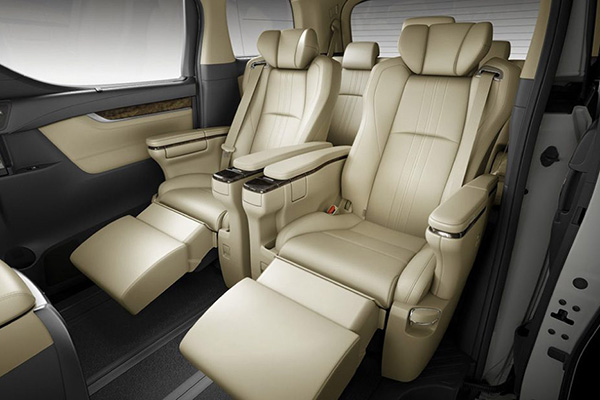 The power-adjustable second-row seats on the Alphard are pretty convenient
A dual sunroof, generous mood lighting, and three-zone automatic climate control round up the Toyota Alphard interior offerings as a luxury minivan. The overtly premium feel can conceivably preoccupy the occupants and take their minds off of the journey's length.
>>> Widen your car search with our daily-updated cars for sale section.
4. Toyota Alphard 2020 Engine and Performance
In other markets such as Japan, Europe, and the Americas, the Alphard comes with several engine options, including a hybrid. For the Philippines though, we only get one; the 3.5L 2GR-FKS V6 engine which, while solitary, happens to be one of the best in the lineup.
It produces 296 horsepower and 361 Nm of torque mated to an eight-speed automatic transmission, handily propelling the Alphard's more than 2200-kg weight. Acceleration is sprightly, achieving 0-100 km/h in around 8 seconds. Cruising on the highway is a breeze once the Alphard gets up to speed, although it's a bit behind on emissions standards at Euro 4.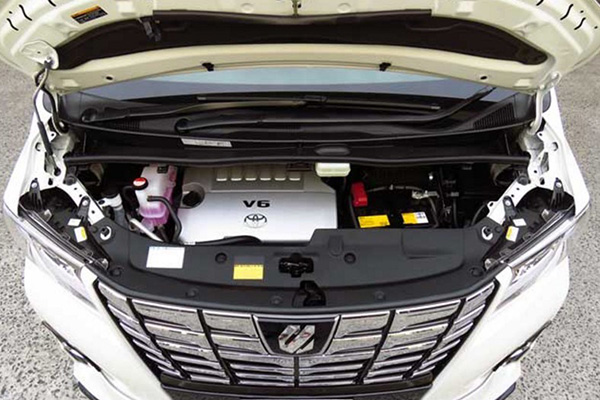 A massive 3.5L V6 rests inside the snug engine bay
The Alphard's weight and engine power take its toll on fuel efficiency, hovering at just around 4.5 to 6 km/L in city driving. When being compared to other Toyota models, this is bound to improve with highway cruises, but it is the price you pay for shoehorning power into a massive package.
5. Toyota Alphard 2020 Review: Ride and handling
One word perfectly encapsulates the ride quality of the 2020 Toyota Alphard: Comfort. The Alphard will not lurch unless helmed by the most aggressive of drivers, passengers will not feel bumps and it provides a ride that we dare say is steady enough to keep your champagne from spilling. Despite the Alphard's high center of gravity, body roll is kept at a minimum.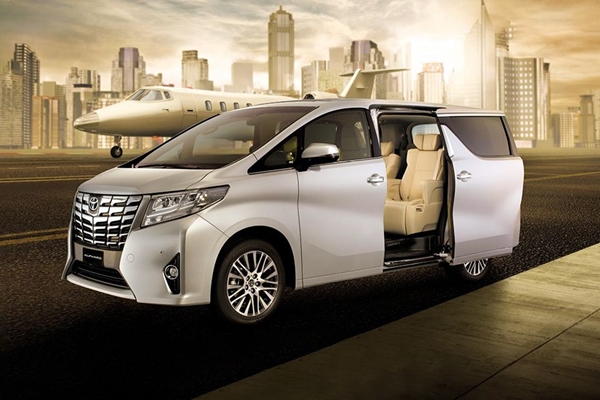 The Alphard will not lurch unless helmed by the most aggressive of drivers
There are aspects where the Alphard's size works against it, such as finding the perfect place to park in Metro Manila. But despite its size, the Alphard can still be quite maneuverable with a 5.7m turning radius.
6. Toyota Alphard 2020 Philippines Review: Safety
As a premium luxury vehicle, the Toyota Alphard offers in terms of safety features. An array of front, side, curtain and knee airbags protect all occupants in the event of an impact.
There are also child safety locks, anti-lock brakes with EBD, parking sensors, hill start assist, and traction control. Toyota ensures all that luxury and safety stay in your hands by equipping the Alphard with a security system that uses an immobilizer and alarm.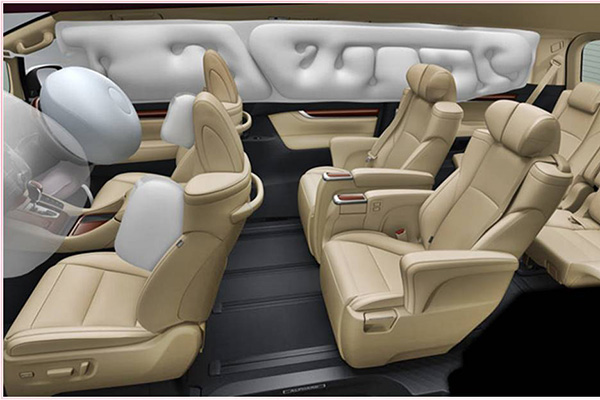 A complete array of airbags deploy to protect occupants in the event of collisions
7. Toyota Alphard 2020 Specs
Overall

Name

Toyota Alphard 2020

Body Type

5-door minivan

Dimensions

Length

4945 mm

Width

1850 mm

Height

1890 mm

Wheelbase

3000 mm

Ground Clearance

160 mm

Number of Seats

7

Engine & Performance

Engine

3.5 L 2GR-FKS V6 Gasoline

Displacement

3.5 liters

Number of Cylinders

6

Number of Valves

24

Fuel Capacity

75 liters

Transmission Category

8-speed automatic

Max Output

296 horsepower

Max Torque

361 Nm

Safety features

Driver and front passenger airbags

Side front and rear airbags

Child safety locks

Anti-lock braking system

Crash sensors

EBD

Brake Assist

Hill-start assist

Traction control

Immobilizer and Alarm

Other features

Front Suspension

MacPherson Strut w/ Stabilizer

Rear Suspension

Double Withbone w/ Stabilizer

Front Brake

Ventilated Disc

Rear Brakes

Ventilated Disc

Tire Size

235/50 R18
8. Toyota Alphard 2020 Philippines Price
9. Toyota Alphard 2020 Philippines Review: Conclusion
After reading this Toyota Alphard review Philippines, do you think that the 2020 Toyota Alphard's Php 3,680,000 price tag is worth it? The Alphard's features, performance, and comfort enable it to be versatile in taking on multiple roles: ferrying the family on a road trip, carrying corporate bigwigs to a deal-making power meeting, or even transporting VIPs in style.
It might cost a pretty penny, but you and everyone on board will be amply rewarded by the Alphard's premium amenities and performance, bolstered by Toyota's legendary reliability.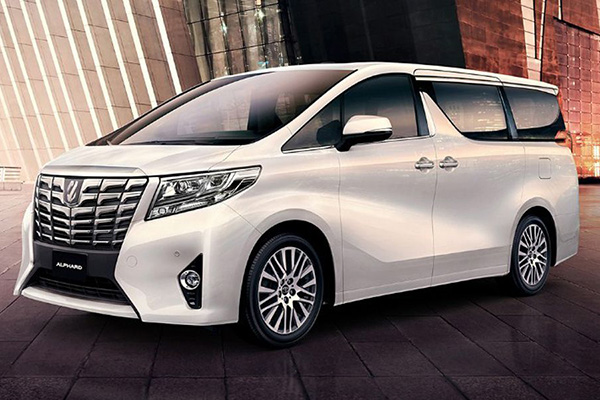 Do you think the 2020 Toyota Alphard's Php 3,680,000 price tag is worth it?
>>> If you plan to have a Toyota Alphard, find your nearest Toyota dealerships right here!


Cesar G.B. Miguel
Author