Toyota is planning for the next-generation model of the Toyota FJ Cruiser and it will be based on the FT4X concept vehicle.
The Toyota FJ Cruiser is an off-road capable vehicle derived from the original FJ40, a model that initially came to light back in the 1960s. In its most recent model year, which is 2014, it was built on the 4Runner platform but was more compact in terms of length and wheelbase but otherwise, it did tremendously well among those who needed something tougher than the run of the mill Toyota made SUV.
And of course, the FJ Cruiser did well here in the Philippines.  As such many are indeed saying that Toyota had killed off the model rather prematurely. For the past few months, however, there's some talk that the Japanese company is planning on bringing it back.
1. Toyota FJ Cruiser 2020: A possible return?
Now before we begin to talk about the topic at hand, we must first note that Toyota has already debuted a couple of off-road concept vehicles like the FT-AC and the FT-4X. Both of these might very well spawn out a number of future off-road capable production SUV models.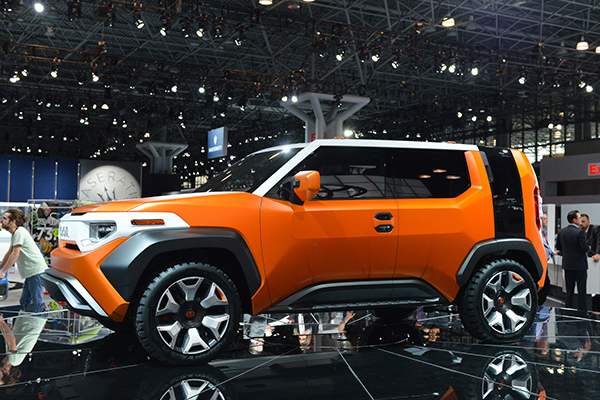 The Toyota FT-4X concept's design itself has quite a number of design elements from the FJ Cruiser
According to Jim Lentz, Toyota Motor North America's CEO, the canceled FJ Cruiser might as well be derived from these concept models. He further states that there's room within Toyota's current model lineup for an authentic, off-road capable vehicle that doesn't have the all-wheel-drive for the sake of safety alone and instead will have a focus on high ground clearance coupled with a four-wheel-drive.
So in short, what he's talking about is a true, off-roader, just like what the Toyota FJ Cruiser was. Also, he added that a future off-road Toyota model should be a frame-based SUV which if you couple together with the 4x4 and the ground clearance would really do well for people who are outdoors all the time or even for off-roading enthusiasts.
>>> Related: Look back at the older Toyota FJ Cruiser 2017 for sale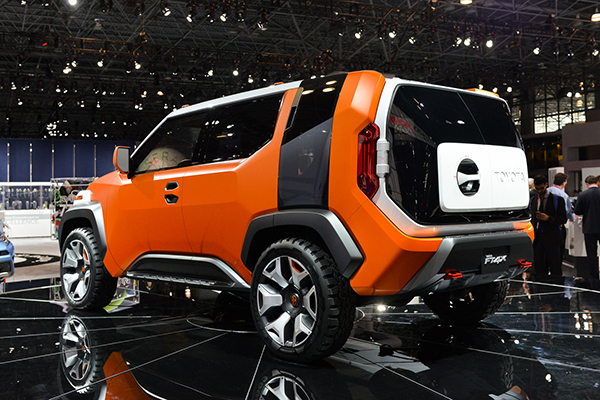 The rear of the FT-4X concept, however, is as futuristic as it gets 
Why a body on the frame? Well, Lentz explains that a frame-based SUV provides greater wheel travel and if the production of this new SUV will be given a go, then they'd want something more compact than that of the Toyota FJ Cruiser 2020 to make it more capable of rock crawling.
2. Toyota FJ Cruiser 2020: Engines?
As per the FT-4X concept, a reliable source says that it would make sense for Toyota to give the future production FJ Cruiser a low displacement but turbocharged engine. Power will be sent to a four-wheel-drive that can be controlled with a push of a button.
This will bring a next-generation FJ Cruiser on par with current off-road models and will also enable it to travel around paved roads with the same level of comfort. Its predecessor, the Toyota FJ Cruiser 2019 for sale, runs on the 4.0L Dual VVT-i V6 gasoline engine with 268hp and 380Nm of torque. Let's see if the 2020 version can surpass these specs. 
>>> Visit Toyota FJ Cruiser Philippines price for latest updates.
3. Toyota TJ Cruiser 2020: An alternative route
While the Americans would like to make a much more off-road capable next-generation model of the FJ Cruiser, the TJ Cruiser concept that was displayed at the 2017 Tokyo Auto Show vastly contrasts what the FT-4X concept was trying to achieve.
It's a car-based, family-oriented crossover and is something that's a more "fun" looking version of the RAV4. So it's not exactly what off-roaders and outdoorsy people will be looking for. 
The TJ Cruiser concept is the direct opposite of the FT-4X concept. It's a boxy road-oriented crossover...
There are also rumors that a production version of the TJ Cruiser will be making its debut on this year's Tokyo Auto Show which won't be marketed as the FJ Cruiser's replacement thankfully.
So yeah, if you want more details about what Toyota has in store for the TJ Cruiser concept and more importantly, what the true, next-generation 2020 Toyota FJ Cruiser will look like, please keep reading here on Philkotse.com for the latest automotive news.
Just take a look at our cars for sale section as there are a number of example units being sold without much value depreciation at all.

Know more about Toyota FJ Cruiser 2023

After recognizing its demand, the country's leading carmaker Toyota Motor Philippines brought the FJ Cruiser in the country in 2013. The 2023 Toyota FJ Cruiser maintained its predecessor's aesthetic principles – tough, intimidating, and boxy with rounded corners. At the same time, it received modern technological updates. Locally, the FJ Cruise only has one variant, and it is priced at Php 2,293,000.
Under the hood of the Toyota FJ Cruiser Philippines is a 4.0-liter 24-valve DOCH Dual VVT-I V6 power plant that produces 268 hp and 380 Nm of torque. It is paired with a 5-speed automatic transmission. It then uses a 4x4 drivetrain. Size-wise, the FJ Cruiser measures 4,670mm long, 1,905mm wide, and 1830mm in height. It also has a wheelbase length of 2,690mm, and a aground clearance of 244mm.
In the local market, the FJ Cruiser competes against the likes of the Jeep Wrangler and the Land Rover Defender. And technically, it also belongs in the same niche as the Suzuki Jimny.

Cesar G.B. Miguel
Author
Recent posts