Have a sneak peek at the refreshed Suzuki Vitara 2019 which is planned to debut this September.
Four years after its very first introduction in Paris Motor Show, an updated version of the Suzuki Vitara is once again going to be rolled out at the exact event for its 2019 facelift.
Two quick shots of the Suzuki Vitara 2019 facelift has just surfaced on CarAdvice.com, partly revealing subtle changes outside the model. The grille is now emphasized with vertical chrome bars, fog lights are decorated with possibly bright metal or plastic trim while the wheels are upgraded with new alloy design. In addition, autonomous emergency braking system is equipped with sensors observed in the front fascia.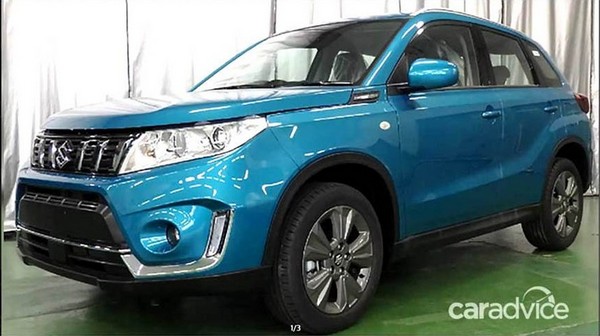 Spied shots of the revamped Suzuki Vitara posted on Caradvice
Moving to the rear end, the reversing light now lies at the center of the restyled bumper. Meanwhile, the darker red color of taillight gives out a more mature look compared to previous generations.
Based on modifications in exteriors, Suzuki fans can expect minor upgrades inside the cabin as well. However, it is reported that engine options for Suzuki Vitara 2019 facelift may remain the same as other Vitara versions. As for Australian market only, diesel-run mill might not be present.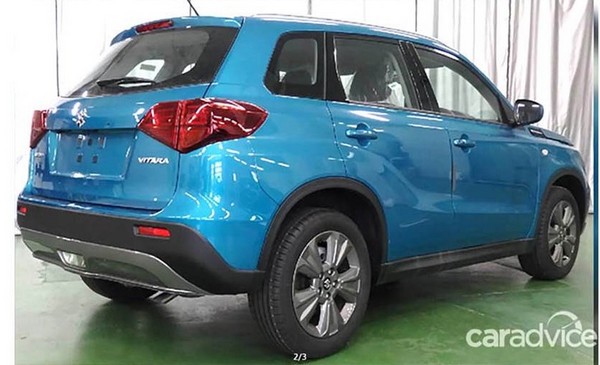 The rear design of Suzuki Vitara 2019 facelift
>>> Related posts: