The company aims to do more in the succeeding years.   
San Miguel Corporation's (SMC) cleanup efforts on two major waterways in the metropolis have resulted in more than 800,000 metric tons of waste removed so far, according to SMC President Ramon S. Ang.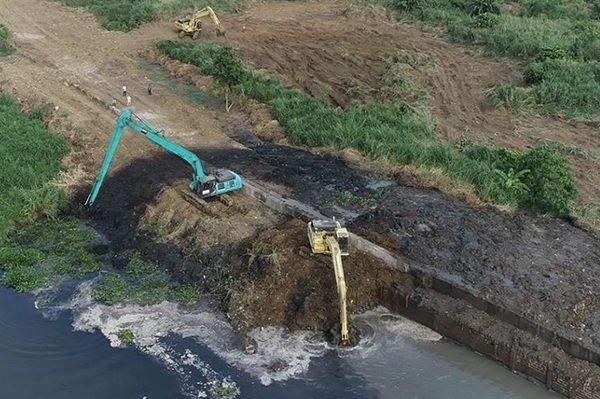 SMC says that it's on track to removing more than 1 million metric tons of waste from the Tullahan River by June 
In a post on his official Facebook account, Ang gave updates on SMC's ongoing projects to clean up the Pasig and Tullahan Rivers. "We have already removed 646,624 tons of waste from the Tullahan, and 172,700 tons from the Pasig River," he announced. 
The SMC boss said that his company is on track to extract more than a million tons of waste from the Tullahan-Tinajeros River System by June this year. The project commenced in June 2020 at a cost of Php 1 billion, progressing at a rate of 2,500 metric tons of waste material dredged per day. 
Meanwhile, cleanup activities for the Pasig River began in July 2021, with SMC pledging Php 2 billion for the initiative. The project has been proceeding at a rate of 1,800 tons of waste material dredged per day, with a goal of removing 3 million metric tons by 2026.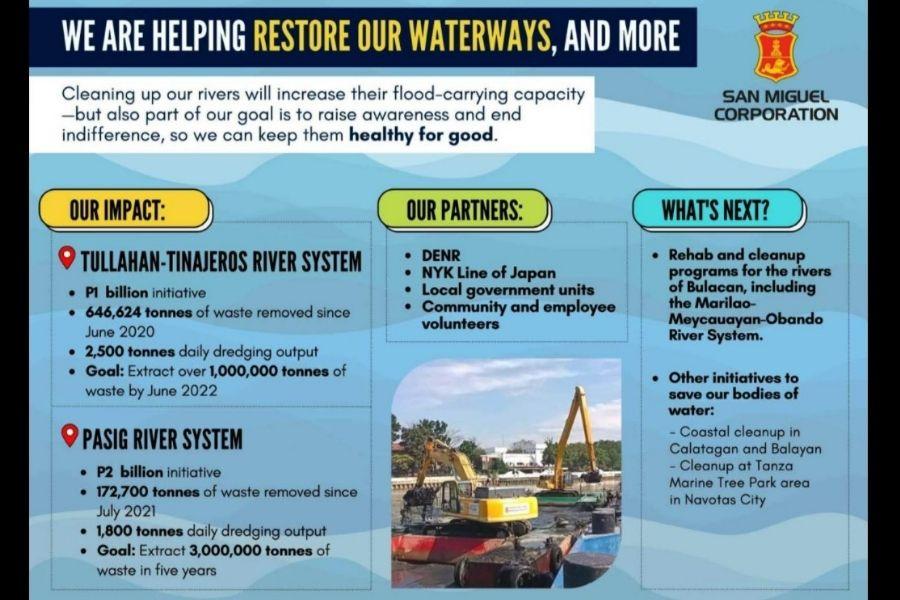 The company also gave status updates on its other ongoing cleanup projects [Image: Ramon Ang Facebook page]
Ang also mentioned other projects that SMC is undertaking for the environment. "We continue to organize weekly coastal cleanups in Navotas and Batangas with the help of local communities and volunteers," he said. These are in reference to current cleanup activities at the Tanza Marine Tree Park in Navotas, as well as the municipalities of Calatagan and Balayan in Batangas.
SMC counts the Department of Environment and Natural Resources (DENR) and NYK Line of Japan as its partners on the projects, apart from local government units as well as community and employee volunteers. The company is launching another cleanup and rehabilitation activity which will cover the rivers of Bulacan, including the Marilao-Meycauayan-Obando River System (MMORS).   
"While these efforts alone will not make the waste problem go away, we believe there's great value in them," Ang said, emphasizing that these make the public aware about the threat of pollution and encourage more citizens to contribute towards keeping waterways clean. 
Know more about current projects that will enhance mobility at Philkotse.com. 

Joseph Paolo Estabillo
Author
Recent posts