With its Barbarian back, the Mitsubishi Triton/Strada looks more aggressive than ever.
Endeavoring to improve the already eye-catching look of the popular Triton, Mitsubishi has nurtured their idea of giving its pickup a more aggressive appearance. And now, they have actually introduced the limited Mitsubishi Triton Barbarian edition with an exciting package of off-road features to the UK market. Many presume this package will be released worldwide later on.
Overall, orange is the color used purposefully for making the highlights and somehow making the SVP more aggressive. Specifically, the orange is spread in many parts of the car. It is added to the headlight bottoms and the grille. Orange also circles around the fog lights. The manufacturer even decides to put orange to the 6 spokes of the wheels. At the back of the vehicle, orange is used to make the edges of tail lights as well. The area right below the handle of the bumper is also made orange. The roof rails on the top are no exception, they are orange-coated.
>>> Related: Learn more about the current version of Mitsubishi Strada in the Philippines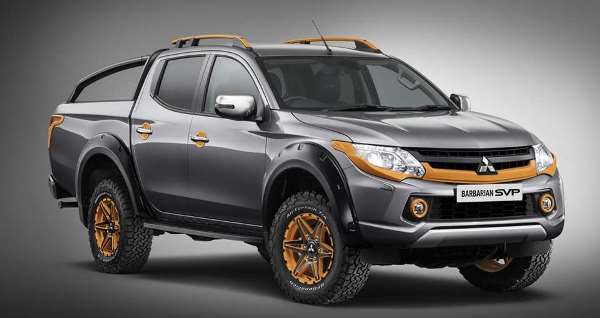 The orange is spread throughout the car's body
Mitsubishi Triton Barbarian
Speaking of the exterior, the Mitsubishi Triton Barbarian edition gains a new look with the restyled over-fenders and the alloy wheels made of matte gunmetal. The Triton tires now are made from all-terrain rubber by the BF Goodrich manufacturer. Another that get upgraded in this Barbarian is the appearance of the roof rails, which somehow boosts its bold look. What's more, the bed now is equipped with a rolling over and a roll bar.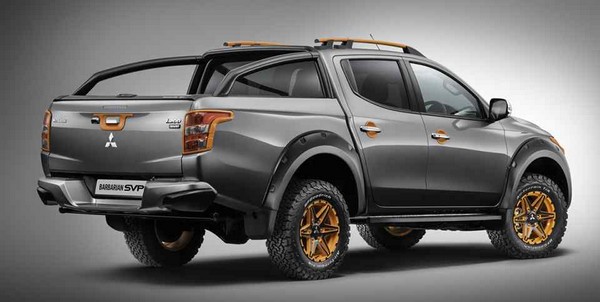 Overall, orange is the color used purposefully for making the highlights and somehow making the SVP more aggressive
Taking a look inside, we easily recognize the unique set of the seats. And one more time, orange helps illuminate the car. Going along with orange, dark leather invigorates the seats. Orange is chosen to be the main element that promotes the special feeling in this model, and for that reason the ambient lighting in the Triton Barbarian also performs orange glows too.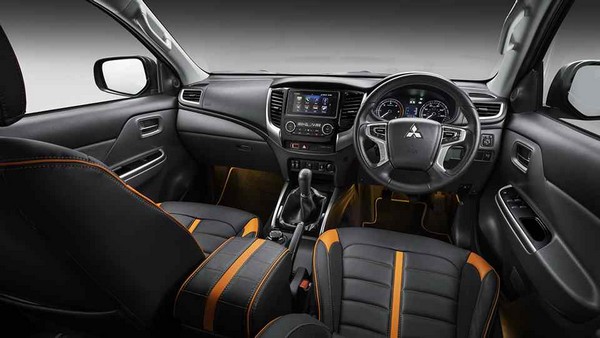 Orange helps illuminate the car
Fans of Mitsubishi will love it to know that this model keeps using the 4N15 engine. The 2.4-litre MIVEC diesel puts out 430 Nm and 181 PS figure just like in standard Triton and Strada. The 4WD model comes exclusive with the Super Select II System of Mitsubishi. There are 2 transmission options which are 5-speed automatic equipped with paddle shifters or 6-speed manual.
>>> Related post: [Spy shots] Mitsubishi Triton 2018 facelift comes with new face
Know more about Mitsubishi Strada 2021
<p>The Mitsubishi Strada is one of the most successful and oldest pickup trucks in the Philippines, currently competing in the local midsize pickup truck category. In January 2019, the third-generation model of the truck acquired its rightful renovation. Some of the updates include a more muscular body sculpture and the Dynamic Shield exterior styling. Like the current models of the tri-diamond brand &ndash; the ASX, <a href="https://philkotse.com/mitsubishi-xpander-price-philippines" title="Mitsubishi Xpander Philkotse Car Guide">Xpander</a>, <a href="https://philkotse.com/mitsubishi-montero-sport-price-philippines" title="Mitsubishi Montero Sport Philkotse Car Guide">Montero Sport</a>, and the like &ndash; the Strada features the &quot;X&quot; fascia. It also comes with C-shaped chrome accents that trace the fog lamps and slim headlights.</p> <p>Its exterior showcases a sporty, athletic, and agile look giving an impression that it is ready&nbsp;to overcome any roads in the country, while the interior accentuates quality and soft-pad materials. The midsize pickup truck is offered in 4x4 or 4x2 variants. Disregarding its facelift, from its former 2.5-litre Common Rail Direct Injection 4D56 diesel engine, it is now powered by a 2.4-liter in-line four diesel with Variable Geometry Turbo and MIVEC 4N15 engine only. Thus, leaving the&nbsp;truck with a single powerplant option. It can generate torque power of 430 Nm, and 181 horsepower to the wheel through&nbsp;either&nbsp;a 6-speed automatic or 6-speed manual transmission.</p>