The brand's popular models will now require a provisional cash deposit.
Mitsubishi Motors Philippines Corporation (MMPC) joins the ranks of carmakers that have adjusted sticker prices on some of its popular offerings, following the imposition of provisional safeguard tariffs on a number of imported models.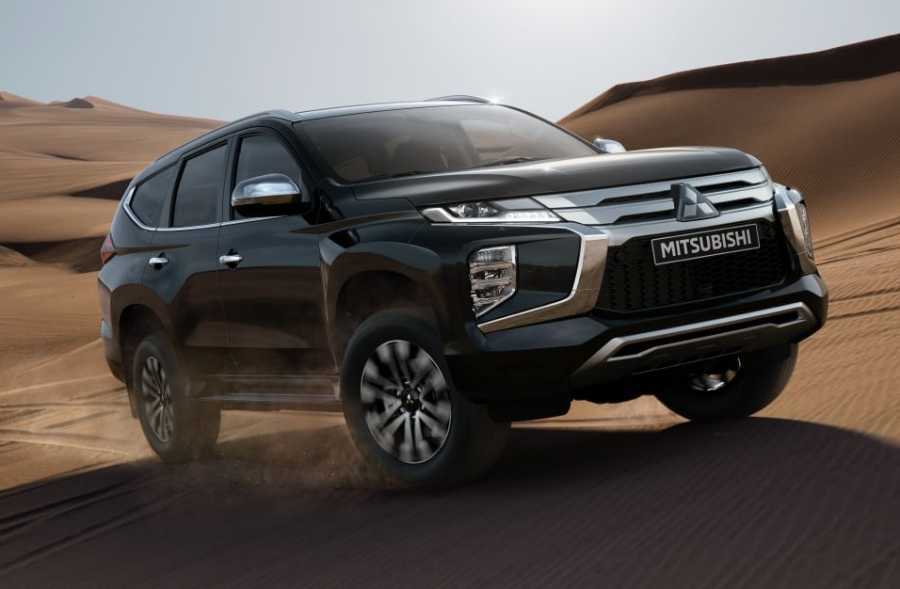 The Montero Sport's 2WD variants will now require a cash deposit on top of the retail price
 MMPC announced that based on Department Administrative Order (DOA) No. 20-11 issued by the Department of Trade and Industry (DTI), the revised pricing will come in the form of a provisional cash deposit for select Mitsubishi vehicles. The deposit applies to brand-new purchases and will be inclusive of 12 percent VAT, on top of the model's retail price.
Among those covered by the price adjustment is the Xpander MPV spanning three variants (GLX MT, GLS AT, and Xpander Cross). The model will now require an initial deposit of Php 78,400. Also included are the Montero Sport SUV's GLX 2WD MT, GLS 2WD AT, and GT 2WD AT trim levels, with customers likewise needing to fork over the same deposit amount. Meanwhile, the Strada pickup range entails a cash deposit of Php 123,200.
Mitsubishi's Xpander and Xpander Cross are also covered
The Xpander is brought in from Indonesia, while the Montero Sport and Strada are sourced from Thailand. Vehicle imports from both countries are covered by the safeguard tariffs. Both the Xpander and Montero Sport are classified as passenger vehicles, while the Strada is a light commercial vehicle.
However, other Mitsubishi models such as the Montero Sport GT 4x4, Outlander PHEV, L300, Mirage, and Mirage G4 are exempted from the additional tariffs and will retain their current prices. There has been no official word from MMPC if the cash deposits will eventually be refunded to customers.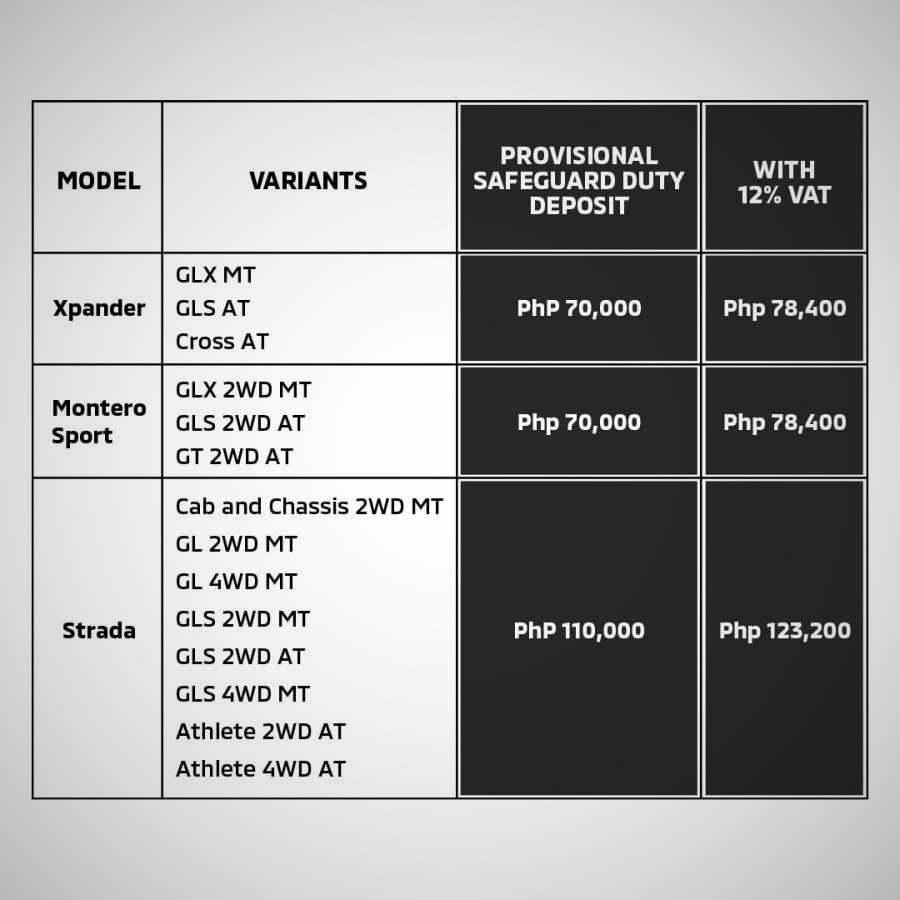 The cash deposits are inclusive of 12 percent VAT
While Mitsubishi dealerships nationwide will already be collecting the necessary cash deposits, MMPC says that existing inventories of the Xpander, Montero Sport 2WD, and Strada will not be affected. The revised pricing scheme only applies to incoming shipments of these models.
There's no price on keeping abreast with our updates at Philkotse.com.
Know more about Mitsubishi Xpander

The new Mitsubishi Xpander entered the growing segment of small MPVs. It looked sharp due to the influence of the Montero Sport styling. It features a seven-seater cabin, a modern but simple dashboard, and an infotainment system located high right at the center. For safety, all its variants come with a standard ABS with EBD and dual airbags. The range-topper variant is equipped with additional safety kits such as hill start assist, traction control, and electronic stability control. Under the hood of the Mitsubishi Xpander, a 1.5-liter 4A91 MIVEC naturally-aspirated four-cylinder gasoline engine produces 141 Nm of torque and 103 HP. It is mated to either a 4-speed automatic transmission or a 5-speed manual transmission that can be found under its hood. Mitsubishi Motor Philippines Corporation offers the Mitsubishi Xpander in three variants: Mitsubishi Xpander GLX MT, Mitsubishi Xpander GLX Plus AT, and Mitsubishi Xpander GLS AT. The model is also available in five different color options namely Titanium Gray, Jet Black Mica, Red Metallic, Quartz White Pearl, and Sterling Silver Metallic.

Joseph Paolo Estabillo
Author