Who says luxury vans can't keep up with sports cars? 
By now, we're familiar with what the term "sleeper car" means. We've extensively talked about these types of vehicles in our Sleeper Keeper series, the latest of which is the unassuming but actually sprightly Kia Soul. So by that example, sleepers are essentially cars that don't look the part, but are actually fast and agile. This time around though, Automotive Mike, a Germany-based Youtube channel, has recently showcased the "mother of all sleepers." Check it out: 
GAD Mercedes V-Class w/ 585HP 4.0 V8 Biturbo Engine on the DRAG STRIP! [Video source: Automotive Mike]
As you can see in the video, the sleeper in question is a Mercedes-Benz V-Class. Now typically, this vehicle is a big luxury van that's content on smoothly cruising down the road. It is heavy, and its stock 2.0-liter turbodiesel originally made 190 horsepower and 440 Nm of torque. Those figures aren't half-bad, but do remember that the V-Class is quite a big and heavy vehicle. 
Thanks to the German GAD Motors car tuning company though, the V-Class we're talking about was stuffed in with a 4.0-liter V8 Biturbo. At most, this engine can make 585 horsepower, which is a whole lot more compared to the van's stock mill.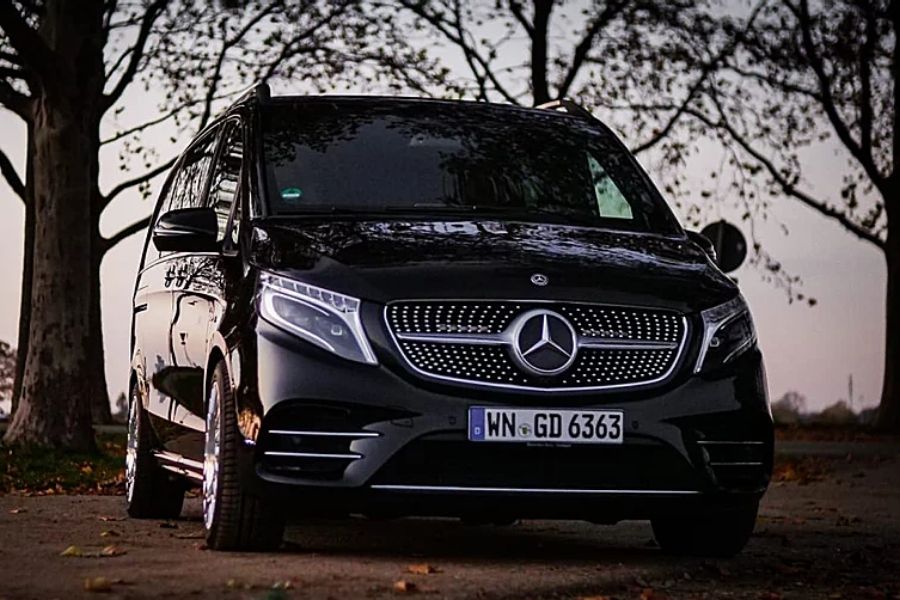 On the outside, the GAD Motors V-Class is pretty much stock [Photo Source: GAD Mtoros]
Apart from that, GAD Motors also gave the van ceramic brake discs, and they also re-tuned the suspension system. The engine itself also used a lot of custom parts in order to fit in the V-Class' rather tight engine bay. 
The result of this is a monster of a van that's able to keep up with the likes of the McLaren 720S, BMW M Series cars, among others. According to Automotive Mike, the GAD V-Class can also comfortably sit at 200 km/h on the German Autobahn. On top of that, they opted to keep the plush interior and the exterior untouched. To that end, it is definitely a comfortable cruiser that can keep up with sports cars if you want it to. 
If you think GAD's V-Class sleeper van is cool, keep reading here on Philkotse.com for more. 
Know more about Mercedes-Benz V-Class 2021

The Mercedes-Benz V-Class is the brand's entry into the premium MPV segment. Designed with the level of elegance the German brand is known for, the V-Class easily stands out among its competitors. Likewise, its interiors embody true luxury through premium finishes, plenty of legroom, and an array of technological features. Among which is a fully-overhauled infotainment system that is updated with the latest MBUX, as well as the new COMAND touchpad for added driving comfort. Locally, it is offered in two variants which are the 6-seater V 220 CDI Sports AVANTGARDE LONG and the 8-seater V 220 CDI Sports AVANTGARDE EXTRA LONG. Powering the V-Class is a 2.2-liter diesel engine attached to a 7-speed 7G Tronic Plus automatic transmission.

Cesar G.B. Miguel
Author