This versatile platform will underpin luxury vans, RVs, and even commercial models.
Mercedes-Benz announces that it is launching a new platform that will underpin its future electric-powered van models by 2026. Dubbed the Van Electric Architecture or "Van.Ea", the platform's strength the brand says, lies in its modularity and scalability.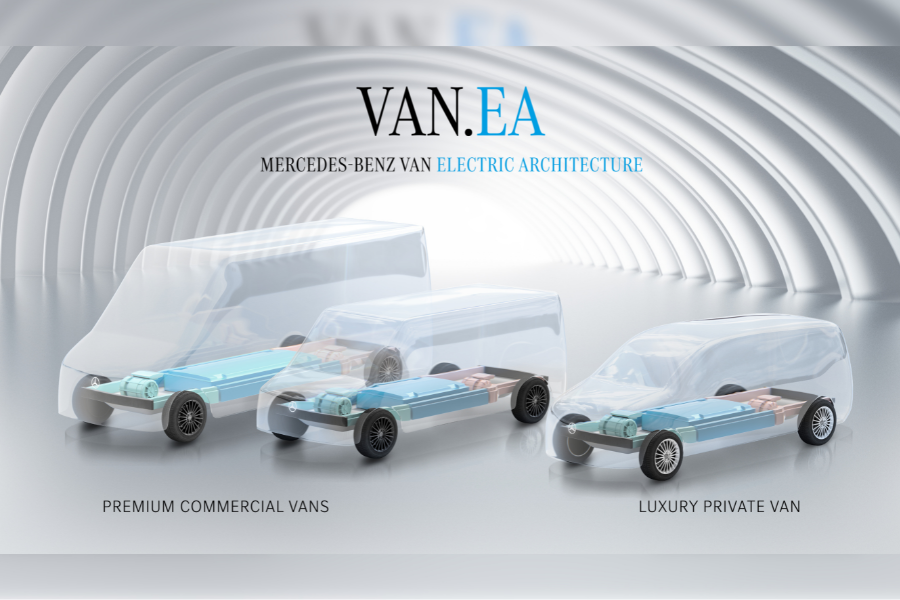 This allows for multiple van models in various sizes while using one platform
According to Mercedes-Benz, this platform will be used for all of the brand's future van models including commercial vans, passenger vans, and luxury vans. This is due to the fact that Van.Ea is comprised of several modules which can be configured to meet different goals.  
Specifically, there are three modules that form the Van.Ea platform. First is a standard front module that houses an electric motor. Next is the center module which can be stretched or shortened to dictate the vehicle's length, and to accommodate differently-sized batteries. 
Last is the rear module which can be adjusted to function without a motor to fit a front-wheel-drive layout. Alternatively, the rear module can also come with a motor to pair with the standard motor for an all-wheel-drive van layout.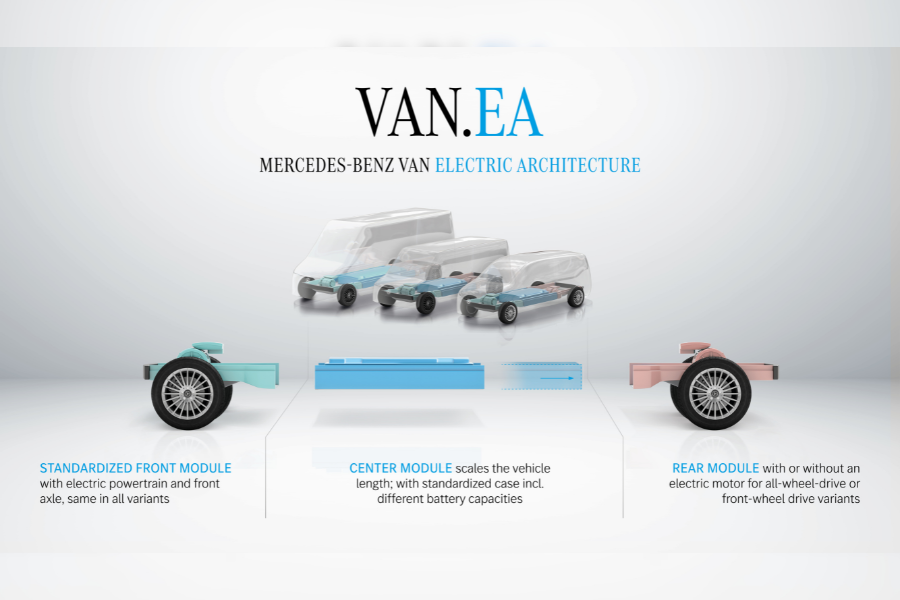 The three main Van.Ea modules
But while versatile, Van.Ea in general was also designed to focus on efficiency in order to provide long ranges with an optimal battery capacity. Mercedes says this is achieved via improved aerodynamics combined, a better-performing drivetrain, etc. 
The Van. Ea also affords Mercedes-Benz several benefits on the business side of things. For starters, it allows the German automotive giant to target new customers. The Van.Ea's modularity, after all, enables Mercedes to expand its portfolio of recreational vehicles (RV). That said, it can target outdoorsy car buyers with a new line of midsize to large electric camper vans. 
Van.Ea RVs can also benefit the currently trendy "van life" crowd as well. For those unaware, van life is a lifestyle wherein people live in their vans for long periods of time.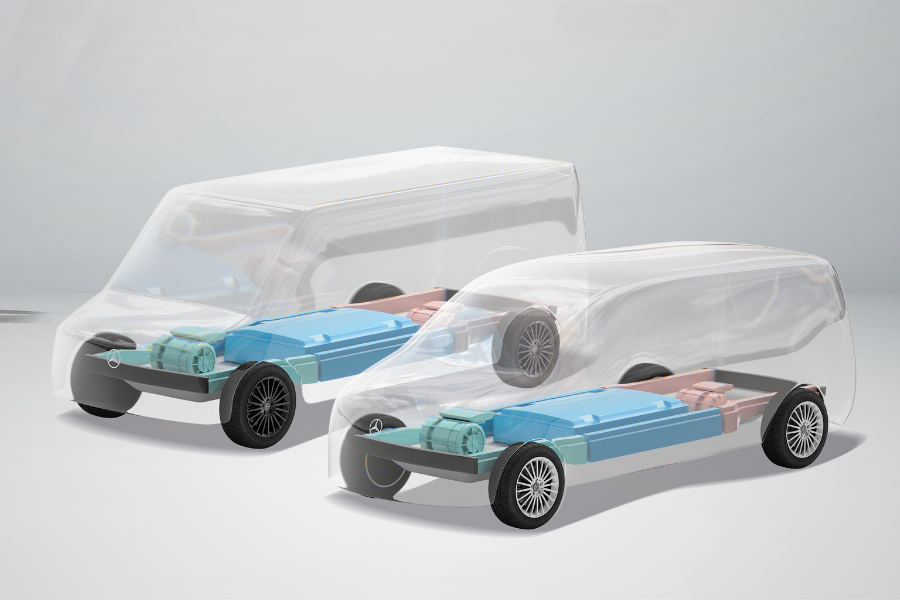 One platform to meet the needs of various customers
Last-mile delivery services, like mail couriers, might also result in stronger product demand for Van.Ea vehicles. So for this, Mercedes-Benz says that it intends to create a specific logistics-focused model that's optimized for in-city travel. 
The upcoming Van.Ea line of van models follows Mercedes-Benz's "electric-only" strategy. The brand is all in on this new platform. Proof of that is the fact that the German marque is targeting a 50 percent share of the EV market by 2030. 
What do you think? Will the new Van.Ea platform help Mercedes-Benz dominate the electric car market?
For more car news, keep it here on Philkotse. 

Know more about Mercedes-Benz

Mercedes-Benz Philippines currently has a total of 13 models available locally. The most affordable model from the German brand sold in the Philippines is the A-Class subcompact sedan which starts at Php 2,490,000 and is sold in three variants. Other models in the lineup includes the C-Class compact executive sedan, CLS-Class and CLA-Class compact executive sedans, E-Class executive midsize sedan, G-Class luxury SUV, GLA-Class luxury subcompact crossover, GLC-Class luxury compact crossover, GLE-Class luxury midsize luxury crossover, GLS-Class fullsize luxury crossover, the S-Class luxury fullsize sedan, and the V-Class luxury van. 
Besides the Mercedes-Benz Price 2023 price list we update regularly, Philkotse.com also lists down the hottest car promos from all dealerships nationwide. These include enticing deals like low monthly amortizations, low downpayments, and cash discounts. 

Cesar G.B. Miguel
Author