The Santa Fe Sport will be one of many Hyundai models that will be debuted at SEMA 2017 later of this month.
The Hyundai Santa Fe Sport is probably not capable enough to be ranked among the world's best off-road SUVs. Yet, with the extreme-looking concept to be shown at SEMA 2017 in the next few weeks in Las Vegas, there is a high change that this car could actually make it to the list of best off-roaders in the planet.
Hyundai Rockstar Energy Moab Extreme Off Roader Santa Fe Sport Concept
Created from the cooperation between Hyundai and Rockstar - a famous energy drink brand and designed based on Moab Extreme Off-Roadster concept, the Hyundai Santa Fe Sport promises to defeat any  tough terrain. It is even expected to conquer the extreme climax in Moab, Utah - one of the world's most challenging off-road area.
>>> Related: Complete guide to the Hyundai Santa Fe Philippines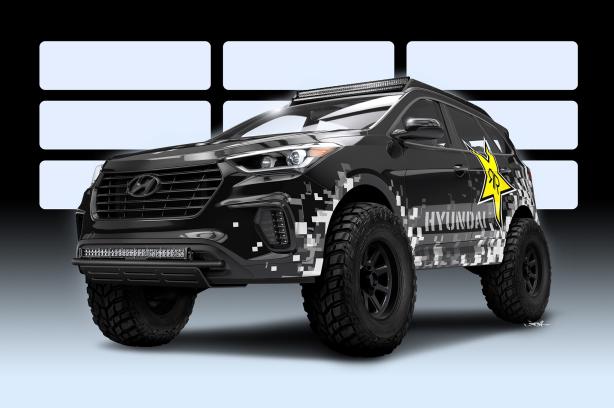 The extreme Santa Fe's kit list is fully loaded
Mr. Nic Ashby from Rockstar Marketing said that being strengthened with the prominent Santa Fe Sport platform and transmission system, the vehicle's capabilities are boosted greatly to higher limits, pledging to conquer the peak of challenges in every tough road in Moab.
>>> Related: HYUNDAI SANTA FE 2011 FOR SALE
The extreme Santa Fe's kit list is fully loaded, such as:
Front 6-piston and rear 4-piston brake calipers
17in off-road bead-lock wheels
2.5" internal bypass shocks and reservoirs
Rockstar Performance Garage skid boards
1 King coilover suspension
1 custom roof rack with Bulldog LEDs
1 new bumper 
1 Warn winch
1 car booth
1 Magnaflow exhaust
1 intercooler
1 downpipes
35x12.50 RZ17 Baja MTZ off-road tires
According to latest car news, although Hyundai does not provide any official figures, with all of these improvements, we expect that the Hyundai Santa Fe Sport could be much stronger than the factory variant.
For the cabin, a Kicker sound system was supplemented besides a custom leather interior which is sure to be displayed impressively at the car's debut. The Rockstar Energy Moab Extreme Off-Roader Santa Fe Sport concept will be launched in Vegas when SEMA 2017 officially takes place on Tuesday October 31. Latest updates on upcoming Hyundai cars can be found in our Complete guide to the Hyundai Philippines' local lineup.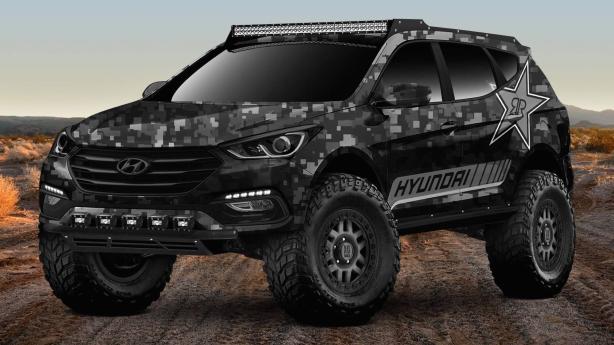 The Hyundai Santa Fe Sport promises to defeat any terrain even the extreme climax in Moab, Utah
>>> Click here to keep updated with latest news in the auto market
Know more about Hyundai Santa Fe 2021

<p>The Hyundai Santa Fe takes its name from the historical city of Santa Fe in Mexicom, starting&nbsp;out as a compact crossover in its first two generations before&nbsp;being upgraded to a midsize crossover by the time its third iteration came about. Now on its fourth generation, the&nbsp;Santa Fe features increased dimensions accompanied by a streamlined shape, along with an interior equipped with various tech and convenience features.&nbsp;</p> <p>In the Philippines, Hyundai Asia Resources Inc. (HARI) markets the Santa Fe in&nbsp;two levels of trim: the GLS Mid and High variants, both with a 2.2L common-rail diesel engine mated to a 4x2 drivetrain. These are available in six color options.&nbsp;&nbsp;<br /> &nbsp;</p>