It is one of the safest pickup trucks to buy.
For nearly 70 years, the Ford F-Series has always proved that it deserves pickup fans' fondness and the F-150 is no exception.
With a solid aluminum body, sturdy steel frame and upscale safety features, the Ford F-150 2018 has been one of the best-selling pickup trucks in the world. Most recently, it has earned 2017 Top Safety Pick award from the U.S. Insurance Institute for Highway Safety (IIHS) after having passed a series of 5 crashworthiness tests with "Good" ratings and an "Advanced" one for front crash prevention. Notably, these results are partially thanks to an optional autobrake equipped in both extended cab and crew cab variants of the F-150.
The Ford F-150 2018 has recently earned 2017 Top Safety Pick Award from IIHS
In addition, the pickup truck also successfully avoided collisions in the 19-kmph and 40-kmph IIHS track tests with the big help of the optional collision warning component.
>>> View more: The new Ford F-150 as a "first-ever pursuit-rated pickup truck"
Sadly, the F-150 only got a "Poor" rating in the headlight test and a "Marginal" in the child seat latch ease of use examination. At any rate, the vehicle did well.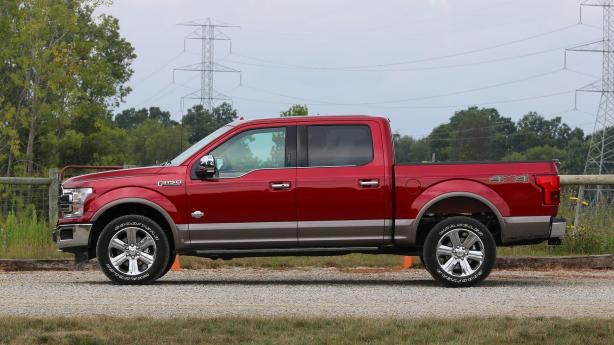 The pickup truck also successfully avoided collisions in track tests
Apart from five-star safety, latest car news suggests that the new Ford F-150 2018 performance is also enhanced with more powerful engines, including:
3.3-liter V6 (359 Nm)
2.7-liter biturbo V6 (542 Nm)
3.5-liter biturbo V6 (637 Nm)
5.0-liter V8 (542 Nm)
Except for the base V6 engine, all are mated to a new 10-speed automatic transmission.
Regarding the price, the entry-level XL is priced at $27,380 (P1,409,059) while the top-of-the-line Limited costs you $60,520 (P3,114,547).
>>> Click here to catch more updated consumer reports in auto industry
Know more about Ford F-150 2021

One of the most popular and comprehensive pickup truck is the Ford F-150. This generation was introduced since 2015 and undergone remarkable changes throughout the years. The pickup truck has improved in terms of towing and hauling capacities, for those with 10-speed automatic transmission and select engines with extra engine power. In 2019, the Ford F-150 model added new shocks, new engine as well as features like forward- collision warning, pedestrian detection, and automatic emergency braking. In 2020, all engines of the pickup truck come with a 10-speed automatic transmission. It is equipped with engine options and several features. It suits all categories, whether it is for an entry-level truck or luxury. Moreover, aside from the customization options offered, the Ford F-150 features a powerful engine, appealing style, and a roomy interior as well. For cargo capacity, the pickup truck provides three various bed lengths such as 5 feet and 6 inches, 6 ft. and 6 in and 8 ft. Also, there are some small-item storage spaces available. Furthermore, it is available in six distinct colors: Star White, Oxford White, Agate Black, Rapid Red, Blue Jeans, and Iconic Silver. At present, the Ford F-150 has two different trims - Ford F-150 4x2 Lariat SuperCrew AT that costs Php 2,698,000 and Ford F-150 4x4 Platinum SuperCrew AT that costs Php 2,998,000.