It is one of the safest pickup trucks to buy.
For nearly 70 years, the Ford F-Series has always proved that it deserves pickup fans' fondness and the F-150 is no exception.
With a solid aluminum body, sturdy steel frame and upscale safety features, the Ford F-150 2018 has been one of the best-selling pickup trucks in the world. Most recently, it has earned 2017 Top Safety Pick award from the U.S. Insurance Institute for Highway Safety (IIHS) after having passed a series of 5 crashworthiness tests with "Good" ratings and an "Advanced" one for front crash prevention. Notably, these results are partially thanks to an optional autobrake equipped in both extended cab and crew cab variants of the F-150.
The Ford F-150 2018 has recently earned 2017 Top Safety Pick Award from IIHS
In addition, the pickup truck also successfully avoided collisions in the 19-kmph and 40-kmph IIHS track tests with the big help of the optional collision warning component.
>>> View more: The new Ford F-150 as a "first-ever pursuit-rated pickup truck"
Sadly, the F-150 only got a "Poor" rating in the headlight test and a "Marginal" in the child seat latch ease of use examination. At any rate, the vehicle did well.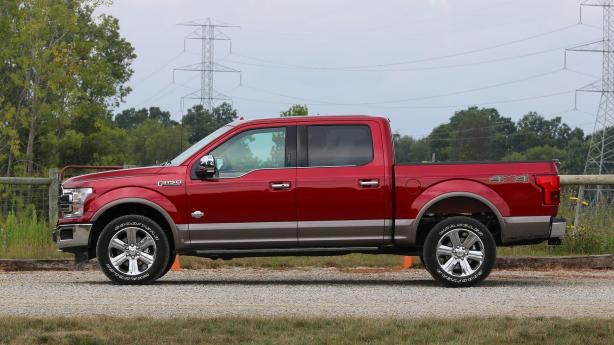 The pickup truck also successfully avoided collisions in track tests
Apart from five-star safety, latest car news suggests that the new Ford F-150 2018 performance is also enhanced with more powerful engines, including:
3.3-liter V6 (359 Nm)
2.7-liter biturbo V6 (542 Nm)
3.5-liter biturbo V6 (637 Nm)
5.0-liter V8 (542 Nm)
Except for the base V6 engine, all are mated to a new 10-speed automatic transmission.
Regarding the price, the entry-level XL is priced at $27,380 (P1,409,059) while the top-of-the-line Limited costs you $60,520 (P3,114,547).
>>> Click here to catch more updated consumer reports in auto industry
Know more about Ford F-150 2023

The Ford F-150 2023 is a full-size pickup truck that is now in its fourteenth generation. This generation was launched in the Philippine market in November 2021. Locally, the sole variant of the F-150 is the Lariat 3.0 V6 4x4 AT, and it has a price tag of Php 3,398,000. Under the hood of the all-new Ford F-150 is a 3.0-liter V6 turbodiesel mill. At maximum, this engine can churn out 250 horsepower and 596 Nm of torque. Power from the said engine is distributed to all four wheels via a 4x4 drivetrain, and it also uses a 10-speed automatic gearbox.
Size-wise, the F-150 Lariat 4x4 3.0 V6 AT is 5,885mm long, 2,431mm wide, and 1,961mm in height. It has a wheelbase length of 3,693mm, and a ground clearance of 239mm. The Ford F-150's only competitor in the local market is the Ram 1500.