The cabin of the Mazda 6 2018 Wagon facelift has gone through major changes.
Following the world debut of its sedan sibling at 2017 Los Angeles Auto Show, the Mazda 6 2018 Wagon facelift has been unveiled through few images ahead of the upcoming Geneva Motor Show next month.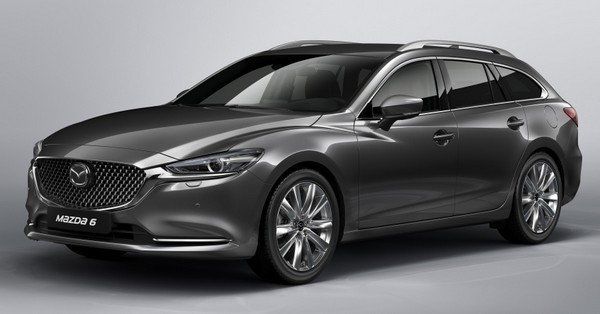 The wagon model has received a number of CX-5-inspired styling cues
Looking at the leaked images, it is noticeable that the wagon version has largely inherited from its sedan sibling in terms of design refinements. In detail, the Japanese automaker has given the wagon Mazda 6 with a revised grille which now has extruded from the headlights, resulting in a new cluster shape. Also new on the vehicle are the refreshed light graphics and ad addition of new LED daytime running lamps. This new look of the front end is said to be borrowed from the Mazda CX-5.
Moving further down, we can spot slim chrome strips at the lower part of the bumper and the familiar set of 19-inch wheels also found in the sedan version.
>>> You might also like: Mazda 6 2017 receives mid-year updates
Although Mazda did not drop any photos for the rear, it is still expected that the Mazda 6 2018 Wagon facelift will also receive some styling changes for the rear fascia.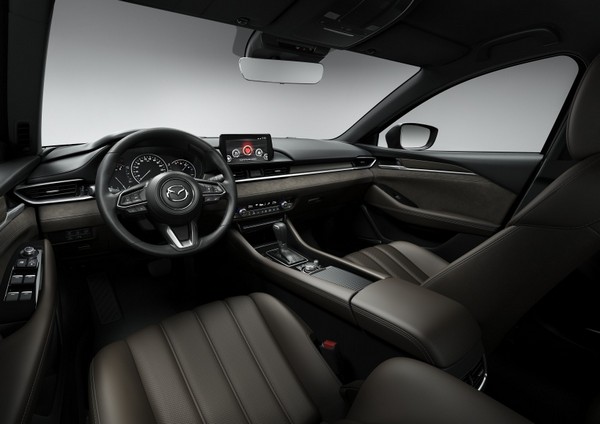 The cabin of the facelifted wagon Mazda 6 has also gone through major changes
According to the second leaked image, the wagon's interior is almost the same as that of its sedan brother. Particularly, it has also got a brand new layout for the dashboard. The air vents become thinner, while UltraSuede NU-wrapped trim and Japanese Sen wood trim inlay are also noteworthy updates of the car's interior.
There has yet to be any official announcement of the chassis updates and the engine option as well. However, rumor has it that the Mazda 6 2018 Wagon facelift might be empowered by the same SkyActiv-G 2.5T turbo mill that is also offered for the CX-9. This powerplant is claimed to be capable of delivering 250 hp and 420 Nm of torque yet only mated to a 6-speed automatic gearbox on the sedan model.
In the Philippines, the 2018 SRP with new excise taxes for the Mazda 6 Wagon has already been disclosed. With a drastic increase of P235,000, the Mazda 6 2018 Wagon can be yours at P2,080,000.