DOTs beefs up security and service operations for 2017 Holy Week break
In preparation for the anticipated surge of passengers during the observance of the
Holy Week
, The Department of Transportation (DOTr) secretary Arthur Tugade ordered the activation of Oplan Biyaheng Ayos: Semana Santa 2017. Tugade instructed all sectoral offices and attached agencies of the Department Of Transport to be on heightened alert during the travel season to ensure road worthiness of vehicles and safety of passengers in airports, seaports and other transportation hubs.  
DOTr chief ordered all frontline agencies to ensure their action centers are open 24/7 to ensure direct communication lines with the DOTr Public Concerns Action Center. Further, the secretary also instructed the same to ensure that all booths, counters and centers serving passengers are operated well to prevent heavy queuing.  
The Land Transportation and Franchising Regulatory Board
(LTFRB) will make a thorough inspection of buses to supervise security and safety operations during Holy Week. Help Desks at terminals are also on offer for passengers to seek assistance. The LTFRB has already issued 1,153 special permits to bus operators to accommodate the expected surge of passengers.  
According to the Toll Regulatory Board (TRB), additional personnel will also be deployed to speed toll transactions, especially in busy toll plazas. If the toll plaza queuing reaches 500 meters, reversible and additional entry or exit lanes will be available and vehicular counter flow may be facilitated for faster tollway entry/exit. Medical emergency, water trucks, and tow trucks will be deployed to offer prompt assistance to motorists in distress.  
In the same vein, all road works and construction activities, except ongoing major road infrastructure projects, would be deferred from April 12 to 17 to ensure smooth traffic flow. All three metro rail systems, namely, LRT1, LRT2 and MRT3 will have no operations from April 13 to 16 to make way for the DOTr's yearly maintenance check. Operations will resume on April 17, Monday.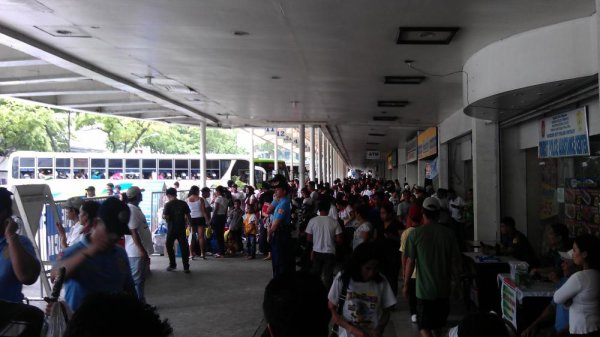 DOTr chief ordered all frontline agencies to ensure their action centers are open 24/7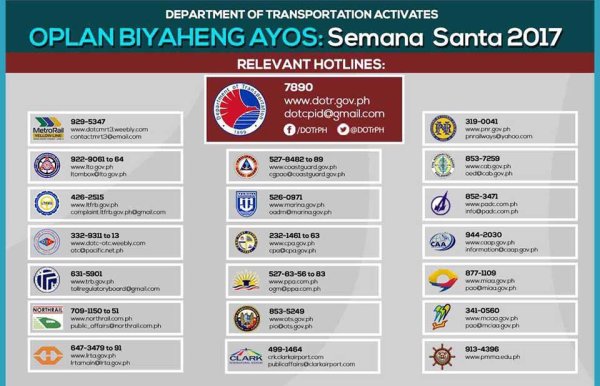 Oplan Biyaheng Ayos: Semana Santa 2017