Leaving it for so long can further damage your car.
Water spots are pretty much inevitable in the overall car ownership experience as they can be caused by any type of water, not just from the rain. When water on your car is evaporated, this leaves a mark on your car which is quite difficult to remove.
In case you don't know, water can contain various minerals such as metal and acid. Once water is evaporated, the minerals are left on the surface of your car which then results in water spots. Some water spots are easy to remove with simple car wiping. However, there are also water spots that require more effort to be removed.
How To Remove Water Spots From Cars - Chemical Guy
One thing is for sure, and that is we all want these water spots removed from our car. So with that being said, here are five simple steps you can do to remove water spots on your car.
Step #1: Prepare the mixture
You don't need to go out to your local grocery to get the solution to remove water spots on your car. All you need are water and vinegar. A 50:50 mixture of water and vinegar is sufficient for water spots on car removal.
We recommend that you grab at least two microfiber towels with you so you can have the best results when drying your car.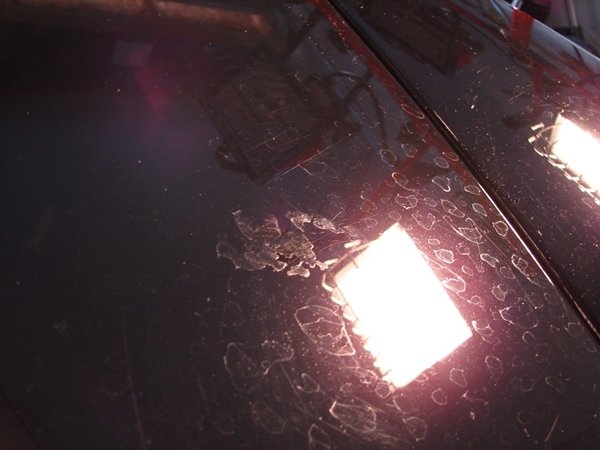 Water spots should be removed as soon as possible
Step #2: Clean using water first
The first you should do is to hose your car down with water to remove any dust or dirt. This debris can hinder you from spotting areas with severe water spots. Use your microfiber towel to thoroughly dry your car so you can move on to the next step.
Step #3: Put the mixture on water spots
Grab your 50:50 mixture of water and vinegar and spray it on the water spots on your car. If there are plenty of water spots on your car, you can also use a sponge so you can clean more areas. Be sure to not put too much to avoid wasting vinegar.
Step #4: Wait for few minutes
Do not wipe it off immediately after spraying your mixture on the water spots. Wait for at least two to three minutes for the best results. The mixture will loosen the minerals that are embedded in your car so leaving it for few minutes provides better results.
Step #5: Wipe the mixture off
For the last step, wipe the mixture off using a microfiber towel. Using a microfiber towel provides better results as it can absorb more of your mixture and it lasts longer than a traditional cotton towel. Wipe your car in one direction only, starting from top to bottom. This way, the minerals from the water spots will be thrown off the car in case they weren't thoroughly absorbed by your microfiber towel.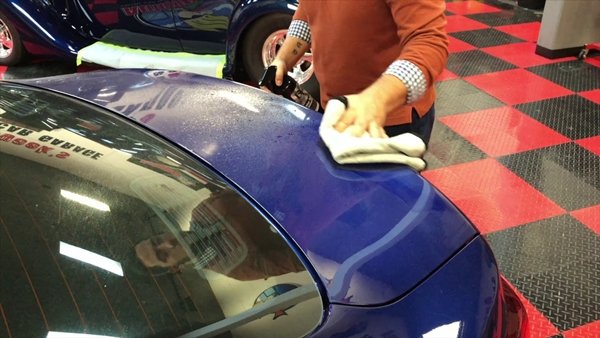 Be sure to use a microfiber cloth
>>> Related: How to safely remove tree sap from car
Other cleaning materials you can use besides vinegar
There are different types of water spots that can be left on your car. Those that come with few minerals tend to be removed easier. However, there is also water that contains a large number of minerals that can be "baked" on your car once it is evaporated.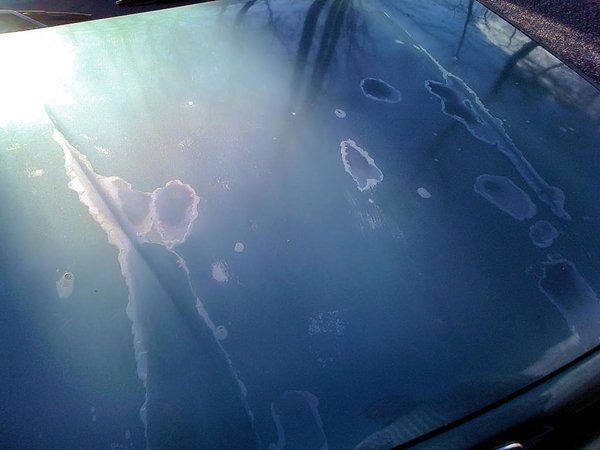 Leaving a water spot for a long time can result in this
If the simple water and vinegar mixture did not work, you can opt for a clay bar. A clay bar is a synthetic resin compound that can remove embedded minerals or pollutants on your car's exterior. Moreover, clay bars are completely safe and can help your car look new for a long time.
To get started, spray a clay lubricant on the water spots so your clay bar can smoothly clean your car. Do this gently in a back and forth motion. Don't wipe the clay bar in a circular motion to achieve the best result.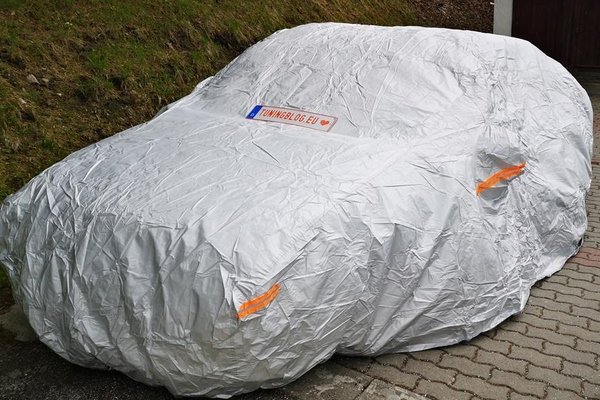 Use a car cover if you will not use your car for some time
Once the water spots are removed, finish it off with a microfiber towel. Remember to use a microfiber towel as it provides better results than a cotton towel. Wipe your car in the direction away from your vehicle so nothing will be left on the exterior.
Tips to prevent water spots
Rain is one of the most common reasons why water spots exist. If you are unlucky, even sprinklers from your neighbors can cause water spots if left unattended. So to avoid water spots, park your car inside a garage.
Not only will this prevent water spots, but it will also prevent dust and dirt from scratching your paint. Moreover, it's also ideal to wash your car regularly to prevent water spots from building up in your vehicle's exterior paint.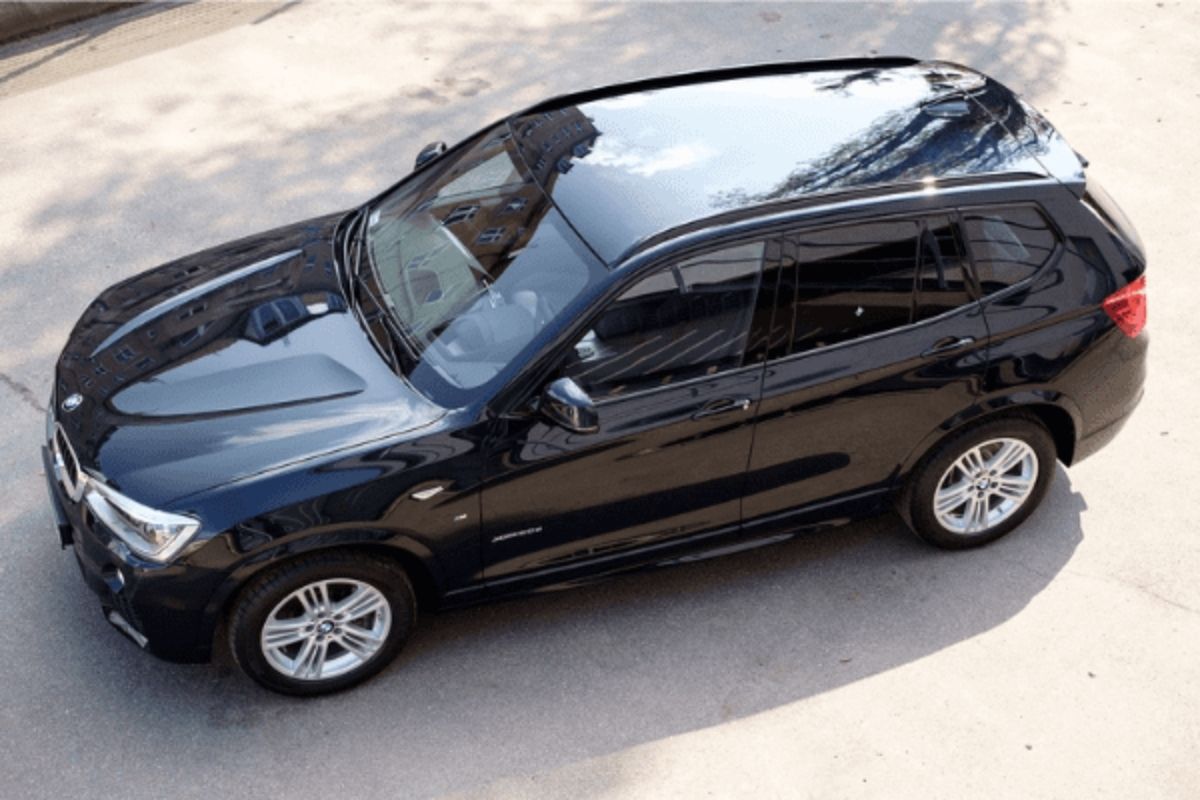 Clean your car at all times to avoid damages
Another tip is to make sure that no water will be left on your after you wash your car. Even a small amount of water can be baked on your car especially in direct sunlight. Always make sure that your car is dry at all times before leaving it in your parking spot.
The last tip we can give is to wax your car from the front to the rear end. Wax can help prevent water from residing on your car's exterior, hence preventing water spots.
You can avail of waxing services in your local car wash stations just in case you don't know how to apply wax. Plus, it will provide a shine that will make your car look better on the go.
Water Spot Removal: FAQs
Q: How much is a clay bar in the Philippines?
Using a clay bar is a great way to wipe off water spots on your car. On average, you can get a clay bar for around Php 200 only.
Q: How are water spots formed on my car?
Water spots are formed whenever water on your car is evaporated.
Q: How much is waxing in the Philippines?
It depends on the amount of wax you want to put on your car. The price for waxing your car in the Philippines ranges from Php 500 to Php 2,000.
Q: Are water spots harmful to my car?
Yes, water spots will cause damage to your car when left unattended for a long time. This damage is called etching.
Q: Can rain form a water spot on my car?
Yes, any type of water will form water spots on your car. Rainwater contains acid which will be embedded in your car once water is evaporated.
Here at Philkotse.com, we value your interest in the automotive industry. Visit our website to find out more.


Rex Sanchez
Author