1. Toyota RAV4 2018 Philippines: Introduction
Up until now, when I hear the name Toyota RAV4, the first thing that comes to my mind is 1997, two-door RAV4 owned by one of my favorite customers in the previous auto shop I've worked for. Surely, she is one handful of a customer that her car was retained in my memory until 7 years later.
Moving forward, Toyota RAV4 has evolved through the years, standing strong among the whole lot of other SUVs that came out from different car brands. This year, another new and improved Toyota RAV4 has been released and if you are interested to buy a new SUV, you probably are considering it too.
Before you do so, why doesn't Philkotse.com go ahead and look at this Toyota RAV4 2018 Philippines a little bit further? Let's take a look at the important things you need to know about this beauty.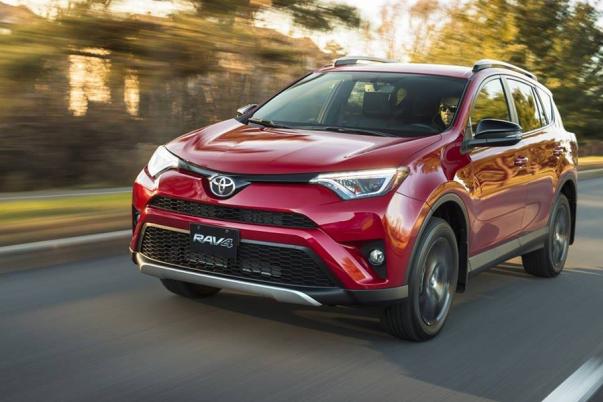 This year, another new and improved Toyota RAV4 has been released 
2. Toyota RAV4 2018 Exterior
Of course, being an SUV or Sports Utility Vehicle, Toyota RAV4 maintains its image of being sports oriented to cater the needs of people who have an active lifestyle. You can enjoy using this if you are the type who loves to go outdoors, up to the terrain and go in for some adventures. 2018 Toyota RAV4 exterior is equipped with terrain-treading alloy wheels which means you can use it for all kinds of surfaces, may it be on road or rough off road.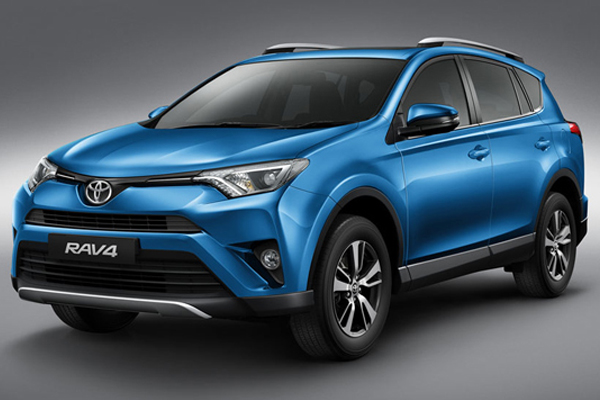 What's cookin' good lookin? The Toyota RAV4 2018
Don't be fooled by the sleek design of this new RAV4. It may seem that it is just made for out of town road trips on smooth tracks, but this can totally handle itself pretty well no matter where you use it. The RAV4 comes in eight colors, which include: Blue Metallic, Orange Metallic, Dark Red Mica Metallic, Bronze Metallic, White Pearl, Silver Metallic, Gray Metallic and Black Mica.
3. Toyota RAV4 2018 interior
As for the interior, for a mom like me, the first important thing that I'm looking for is not how it looks like, but how much space does it offer. It is vital for me that it has enough space for people to sit comfortably and for storage as well. The 2018 Toyota RAV4 interior offers a five seating capacity, and with all the back seat popped up straight, it will still offer you ample space for some grocery shopping bags or even luggage. When the back row is folded, more space can be utilized if you are going for a long trip on your own or with a single companion.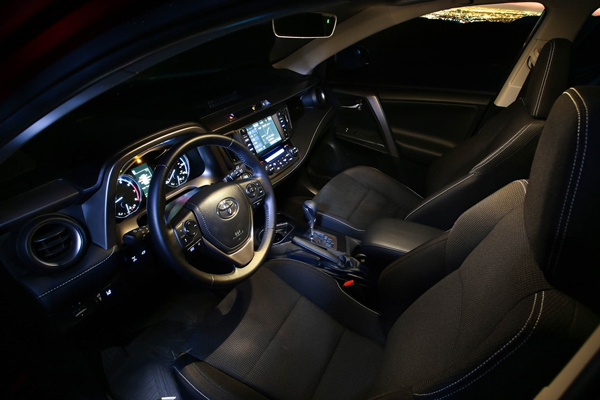 The new Toyota RAV4 gets a sophisticated interiors 
Design wise, its interior is as sleek as its outside appearance. The seats are available in three different materials, depending which type of RAV 4 you're going to choose. Car seat variations include: natural leather, sporty fabric and fabric. So, it can give you proper options depending on your personality. If you are like me who is leaning more towards comfort versus style, you can choose to have fabric seats over natural leather for more breathability and comfort.
>>> Read more: 
4. Toyota RAV4 2018 Philippines: Engine
Under the hood, the 2018 Toyota RAV4 Philippines is powered by a 2.5L Dual VVTi, 4-cylinder engine that is designed for an efficient fuel consumption, while not compromising the performance. It also offers a hill-climb assist and downhill-assist system which enables whoever drives it to go up and down the slopes in an effortless manner. So you can enjoy an adventurous ride without stressing your body too much in driving.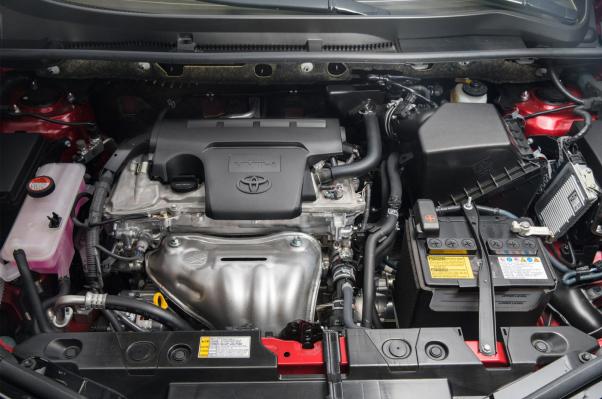 The RAV4 2018 is powered by a 2.5L Dual VVTi, 4-cylinder engine
5. Toyota RAV4 2018 Review: Safety features
Apart from storage space, this is the next most important thing for me to consider when looking out for a vehicle. You can totally have a sleek and sexy car, but if the safety features are not that impressive, then it's going to be out of my options. Since the Toyota RAV4 Philippines, besides being designed for the adventurous, it is pretty obvious that it's also a family vehicle where you can take your children for a weekend getaway to the beach or somewhere close to nature. Having children also means safety is a priority.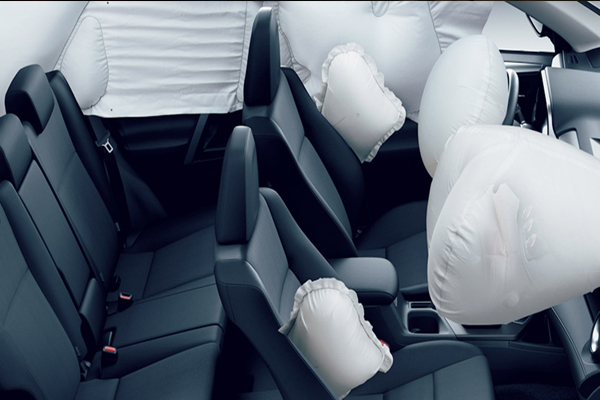 Airbags available for maximum absorption during impact
For this RAV4, it offers ample protection to its driver and passengers, having SRS airbags installed. If you choose the RAV4 Premiums, besides the driver and passenger in front, it also has SRS Airbags on the curtain shield and the side. If you picked the RAV4 premiums and Active +, it'll also come with a knee airbag. It also has Anti-Lock Brake system which ensures that the car driver can still control the car's movements in cases of slippery roads. The Toyota RAV4 2018 also has Vehicle Stability Control which enables the car to be consistently stable while turning on a curve. This feature also helps in preventing side skids.
6. Toyota RAV4 2018 Philippines: Entertainment
This is another important thing that I look for in a car. RAV 4 Premiums offer 6.5" Digital LCD Monitor which features a smart touchscreen. It is also equipped with the typical car entertainment features including DVD, CD, tuner, MP3, Aux, USB, iPod and with Bluetooth Connectivity. You can also make some calls and stream audio.
On the other hand, RAV 4 Active + offers 6-speakers and same audio capabilities minus call functions and audio streaming; and RAV 4 active has the same as RAV 4 Active Plus, except that it has 4 speakers.
7. Toyota RAV4 2018 price in the Philippines
Before going to the car specifications, most of the car buyers will take a look at the price first. Let Philkotse.com now give you the up-to-date Toyota RAV 4 2018 price in the Philippines for its different variants. The Toyota RAV4 2018 specs can be downloaded here.
Toyota RAV4 2018 price in the Philippines

| Model | 2017 SRP | 2018 SRP | Difference |
| --- | --- | --- | --- |
|  Toyota Rav4 2.5 Active 4x2 AT | P1,295,000 | P1,420,000 | P125,000 |
|  Toyota Rav4 2.5 Active+ 4x2 AT | P1,478,000 | P1,599,000 | P121,000 |
|  Toyota Rav4 2.5 Premium 4x2 AT | P1,900,000 | P1,959,000 | P59,000 |
|  Toyota Rav4 2.5 Premium 4x4 AT | P2,103,000 | P2,134,000 | P31,000 |
|  Toyota Rav4 2.5 Premium 4x4 AT White Pearl | P2,118,000 | P2,149,000 | P31,000 |
|  Toyota Rav4 2.5 Premium 4x2 AT White Pearl | P1,915,000 | P1,974,000 | P59,000 |
|  Toyota Rav4 2.5 Active+ 4x2 AT White Pearl | P1,493,000 | P1,614,000 | P121,000 |
|  Toyota Rav4 2.5 Active 4x2 AT White Pearl | P1,310,000 | P1,435,000 | P125,000 |
>>> Check out new & used Toyota RAV4 for sale in the Philippines
8. Toyota RAV4 2018 Philippines: Conclusion
It seems that this vehicle is a bit pricey compared to others who are offering if not the same, most of the features as well. If you are into active and sporty style, then this is the perfect partner for you. Now that we have enumerated and defined the new features of the Toyota RAV4 2018, all you have to do is select which one would best fit your personality and budget.

Ivy Kristia Padura
Author
Recent posts