Regarding an increase in the price, is it worth to pay P1,638,888 to drive home a 2019 Chevrolet Colorado High Country Storm?
There's a storm on the horizon and this vastly improved and upgraded mid-sized pick is going at ramming speed! Other pickups in the power race should beware because this is one beast of a truck that will satisfy the most testosterone-driven of blokes.
Why bother with a 2.0-liter power plant that needs more than one turbocharger? A special variant from Chevrolet Colorado is the true-blue powerhouse of a rig that has pure and performance-driven DNA in it. Still, need convincing why Chevy High Country Storm 2019 is the go-to beast of choice?
Pickup enthusiasts will have more to look forward to other than big tires and a roll bar. Get driving convenience of a car with one of the deeper wadding depths rated for any truck. If Godzilla were a pickup truck, then pick out this bad-ass four-wheeled Kaiju from the others.
Chevrolet Colorado High Country Storm
1. Chevy High Country Storm 2019: Exterior
From the outer looks that belie the beast underneath is a façade that is fiercely strong and ready to rock and rumble in the pickup wars. Chevy did not play coy and just went for the jugular instead! It's hefty, brawny and comes with design accents to make it noticed.
Dark and accentuated accents applied on the hood, door handles, with blackened side-view mirrors that includes a noticeable yet subdued hood! They did not stop there and went the whole nine-yard to complete the macho-machine look with alloy wheels that are 18-inches to add more attitude.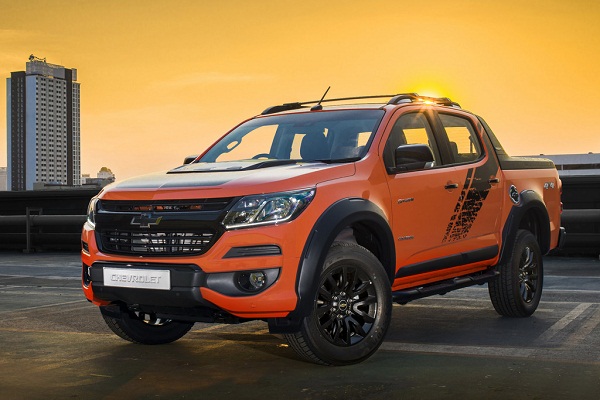 Chevy High Country Storm 2019 í ready to rock and rumble in the pickup wars
Capping everything about the look is the black rear bumper with a rear-sport bar that's connected to the bed of the truck! High Country Storm is an orange and black cyclone that can't be missed. By the way, orange and black is the new White and why settle for any other truck?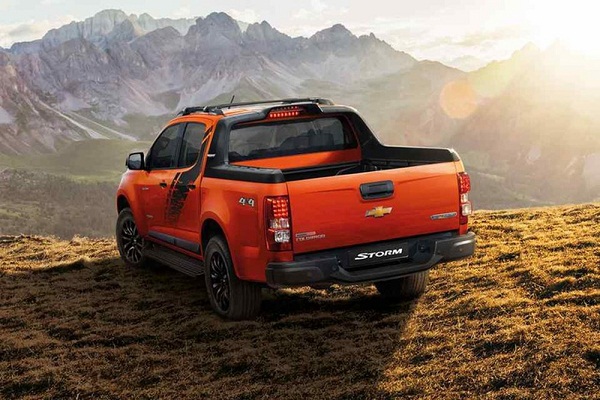 The new Colorado comes with a black rear bumper with a rear-sport bar
2. 2019 Chevy Colorado High Country Storm: Interior
Who said the High Country Storm - a special edition of the Chevrolet Colorado 2019 is just another tough on the outside but soft inside? No chance and no way with the objective of making the cabin as posh as possible. It's all about love it and loves it that both driver and passengers would say when overlapped by one of the better interior trims for your money.
Enter the doors and you'll get a whiff of leather seats that give a touch of class for a rugged car. Not settling for a cheaper look by using hi-spec materials as finish inside the cabin compartment with faux metal trim for a premium look!

The cabin appearance is finished with faux metal trim for a premium look!
No need to move any lever or button to get the best seating position with power, six-way adjust driver's seat that's very convenient and is standard for this trim level.
Providing entertainment is the touchscreen infotainment that's 8-inches long and a two-in DIN type. Everyone will love the latest MyLink infotainment software to pair any mobile with! No way of missing anything with all the standard USB, AUX, Bluetooth, with a wireless call feature.
Apple nerds will go gaga knowing that the stereo has Apple Carplay, Siri Eyes Free, and best of all is voice recognition software.
3. 2019 Chevrolet Colorado High Country Storm: Comfort Features
Chevrolet does not end all the good stuff there with a bundle of comfort features for an easy and relaxing drive! This truck is packed with all the power features like keyless entry, roof rack, and a sunroof that is standard for this model.
Fear not because this pickup has added these power features for better comfort or convenience. Come with power suite that has electric power steering for better control, speed-sensing door locks, power windows, and power outlet for gadgets too.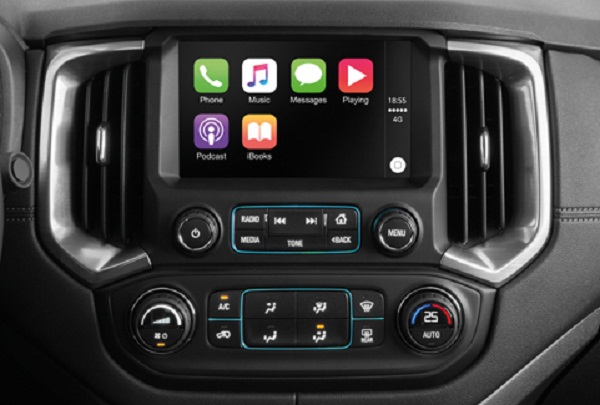 2019 Chevrolet Colorado High Country Storm dashboard
Last but not least is steering wheel audio controls for good measure! Better yet the infotainment still has buttons and dials reasonably place for better control. Riding in the passenger compartment you'll notice the precisely engineered reduced noise, vibration, and harshness (NVH) levels that are good points with the Storm.
All these engineering results in a truck that is 8% reduced noise with its renovated designs for the doors, windows, and seal for the windshield glass! Features a thicker front door glass with a 10%  thickness increase. Topping off the cake is the refurbished headlight shape which slices the wind better and an auto AC for better cooling.
>>> Look for more affordable Chevrolet cars for sale
4. 2019 Chevrolet Colorado High Country Storm: Engine and Performance
Serious about above and beyond the city scene driving then consider it. Settling for a 2.0-liter, bi-turbo is cool but this comes in a 2.8-liter engine with 500 torque and 200 horsepower that isn't a small engine! The Duramax engine further proves its power with a tow-limit of 3.5-tonnage and better yet is having 800-millimeter wadding depth too.
Hit low or high enough water to cross safely as long as the alternator is dry! Most of its closest competition will have at least 400-480 torque and 150-190 horsepower which is quite lower though. Performance upgrades are plenty with updates in the engine, transmission, and body mounts for a smoother ride on pavement or off-road.
>>> Related: CHEVROLET SONIC 2013 FOR SALE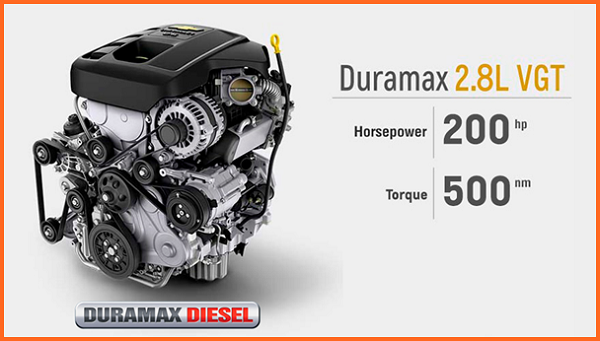 Chevy Duramax 2.8L VGT engine
Getting this smooth ride is done with better damper tech and upgraded ECU software with updated springs that lend better control via electric power steering. Selectable riding modes are available with a drive-by-wire 4X4 system that electronically adapts to any terrain automatically.
From the engine, transmission to other performance systems which make it a very responsive truck! Still features pretty basic suspension and brakes that are equipped but have more than enough premium equipment though.
5. 2019 Chevrolet Colorado High Country Storm: Safety Features
One of the drawbacks is the dual airbag with driver knee airbag used when others feature seven in all! Other than this glaring gap in available airbags which is balanced out by other relevant equipment to note. Not to be left out with premium car safety features like the Forward collision alert, lane departure warning, and front and rear sonar for parking assist!
Provided is rear parking cam when backing up for better visibility when parking. Checking tire pressure is a breeze with a Tire Pressure Monitoring System to make sure the tire pressure is normal while driving.
There is more to have with cruise control, traction control, hill descent control, hill start assists, trailer sway control, and electronic stability control as the available driving aides.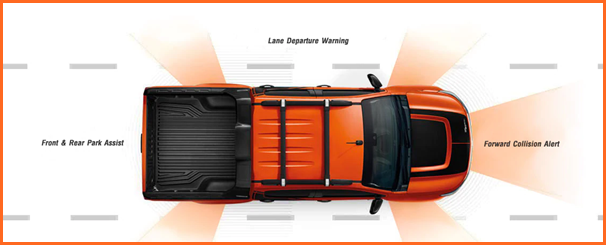 2019 Colorado High Country Storm comes with Forward collision alert, lane departure warning, parking sensors
One last bonus is remote start activation via key fob that opens windows a bit. These open windows will let out the heat for better cooling! Safety is important and the Storm has it covered at times. Get all premium class equipment for better safety, all the time!
With the price tag of PHP 1,638,888 that's competitively priced and more affordable than another option with a 2.0-liter engine. Seriously this gives other similar "overly upgraded" trucks that are more suited for a Baja run that in both normal city and off-road conditions! Refer to our monthly-updated Chevrolet Philippines price list to keep updated the changes for pricing of all Chevy models.

Know more about Chevrolet Colorado 2023

The Chevrolet Colorado is a midsize pick-up that's equipped with a 2.8-liter diesel engine that produces 500 Nm of torque, earning the distinction from many individuals as the "King of Torque." The Colorado shares the same platform and chassis as the American brand's best-selling SUV, the Chevrolet Trailblazer. Built to conquer tough roads, the Chevrolet Colorado offers an all-around performance through its impressive balance, handling, and fuel efficiency. Its engine, muscular body, and height enables it to power through heavy-duty workdays and exploring new roads. The pick-up is marketed in two engine options which are the 2.5-liter Duramax Turbo-Diesel engine and the 2.8-liter Duramax Turbo Diesel. These two engine types power five different variants of the Colorado. The model's base variant is the 2.5L 4x4 LS MT followed closely by the 2.5L 4x2 MT LT. The larger engine lineup consists of the 2.8L 4x2 AT LX, the 2.8 4x2 AT Trail Boss, the 2.8 4x4 MT LTZ, the 2.8 4x4 AT LTZ, and finally the 2.8 4x4 AT High Country Storm.