The innovative Volkswagen T-Cross 2019 has surfaced online before alleged debut this September.
Official announcement affirms Volkswagen T-Cross 2019 will gather all elite traits from available products of the company, ranging from T-roc, Touareg, Tiguan to Tiguan Allspace. This baby SUV is rumored to have its official debut at Paris Motor Show in September. Albeit uncertain, we can expect this design will be premiered till November at last.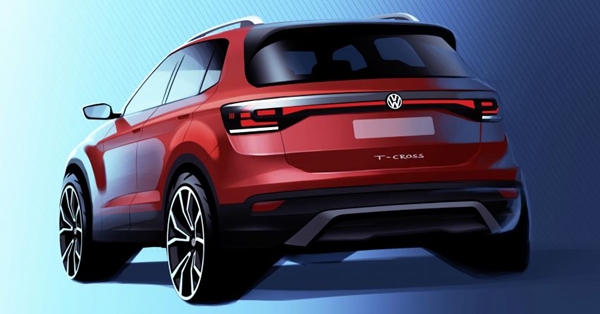 Volkswagen T-Cross in its recent leaked teaser image
The all-new Volkswagen SUV: first sketches
With a view to producing optimal compact SUV, the all-new T-Cross is reduced to 4,107 mm long while the T-roc and Tiguan is 4,178 mm and 4,486 mm respectively. Volkswagen will also apply its well-known MQB platform using modular design for this release. Besides, a variety of safety technologies and driver assistance gadgets should be mentioned as well.
Spy photos have shown that Volkswagen T-Cross 2019 will have an extending light bar to connect taillights, more restrained styling design with delicate roof spoiler and rails. Arches in wheels and doors are more noticeable, but this might be a common technique in sketches only.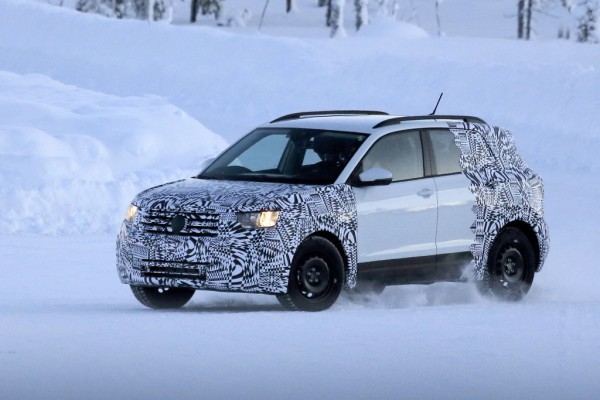 Leaked photo of Volkswagen T-Cross
What's more, the all-new model also presents hi-fashion headlamps in trapezoid shapes, surrounding fog light in square and Tiguan-esque grille. A closer look inside the SUV reveals more room is offered for knee and luggage while all seats can adjust for users' comfort.
According to Volkswagen, T-Cross will run on either petrol or diesel engines ranging from turbocharged 1L, both for manual and automatic gearboxes. However, customers can just experience front-wheel drive only.
The Volkswagen T-Cross 2019 price is expected to start from £17,000, equivalent to about P1.2 million.
>>> More updates from Volkswagen: