Why settle for premium Japanese when German luxury is better? Consider the Mercedes AMG CLA 35 2020 as your personal ride.
More cars are packing their best features, and the Mercedes AMG CLA 35 2020 sub-compact is no exception. There's a lot equipped inside this premium compact luxury sedan with Mercedes trademark engineering and everything else.
Don't forget the adjective which is luxurious and synonymous with Mercedes as one of the front runners in advanced automotive technologies. If you're curious about what it has to offer, there's quite a number of tweaks done to it too!
New Mercedes-AMG CLA 35 2020 - is it worth the extra £££ over the A35 hatch or saloon?
1. Mercedes AMG CLA 35 2020: Introduction
Improvements in engine performance aspects that give it a good edge compared to similar options. There's quite a lot of competition who can squeeze the most out of engines despite the size! Owning the CLA 35 is very convenient with satellite navigation as a standard feature for going about, without getting lost!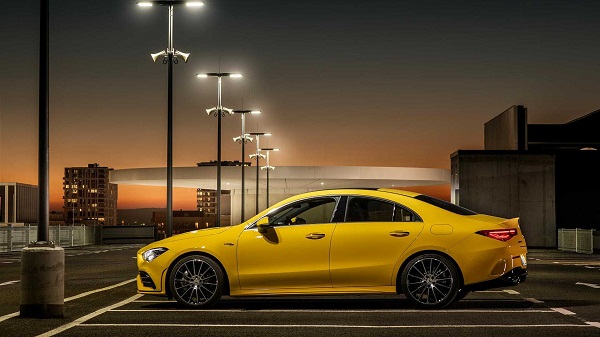 Mercedes AMG CLA 35 2020: A sleek, modern and smart four-door coupe
Superlatives to describe this sub-compact, four-door coupe is sleek, modern, and smart which is enough to get a buyer to sign the dotted line! Emphasizing a fierce and eye-catching design statement with exceptional technology to bring together another model in Mercedes lineup.
2. Mercedes AMG CLA 35 2020: Dynamic design
The CLA 35 comes with more plus points for the lucky owner. Keeping up the style factor with tweaks that gives anyone an eyeful, with design cues which enhances its visual impact. Expect lines that slash horizontally through the grille, chrome trim, and the corner inlets on the front bumper on the left and right side.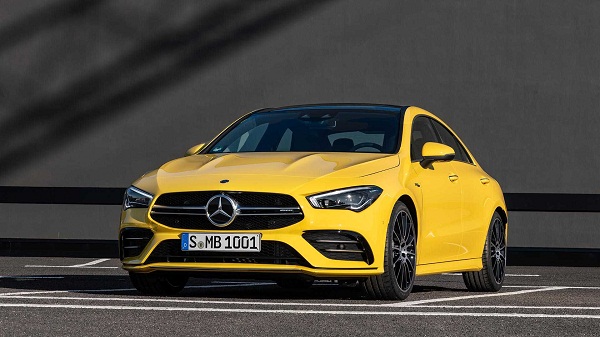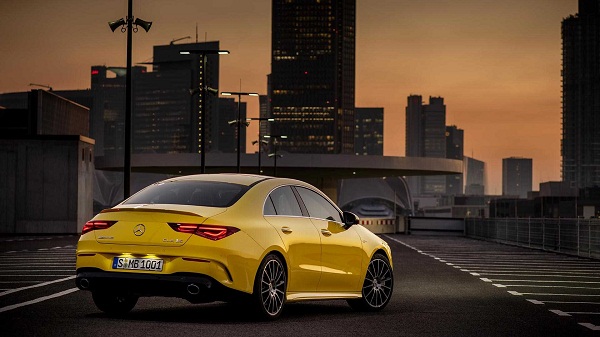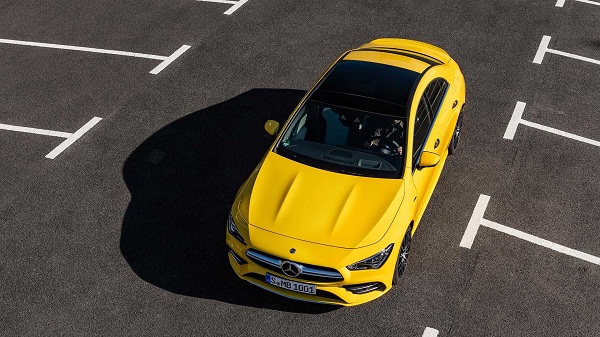 Big wheels seem to be something that is always in vogue with Euro cars. Feast your eyes on the 18-inch low profile wheels, with an optional 19-inch upgrade for a flashier look! Run along to the back is diffuser and round exhaust ports that give the CLA 35 its distinctive aural signature.
3. Mercedes AMG CLA 35 2020: Inside the cockpit
Step inside the car and you'll have the most modern and sophisticated features crammed into one cockpit. Classic and timeless is the rich and posh two-tone layout that is nice and soft to touch. No cheap plastics used but the best materials for the interior.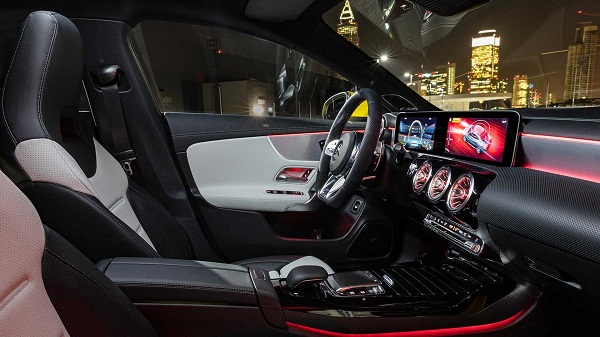 Luxury leather for the interior
Color combos to choose are black and red or black and digital grey for the cockpit. Center of attraction is the 10.25-inch touchscreens that are interfaces to be used by the driver. Enabling navigation of key car functions and entertainment with improved voice command features.
Voice control gets upgraded by the kit that is powered by Mercedes Benz User Experience (MBUX). It allows precise voice control for hands-free control of the infotainment system. The MBUX allows drivers to use hands-free control without touching the responsive touchscreens too often.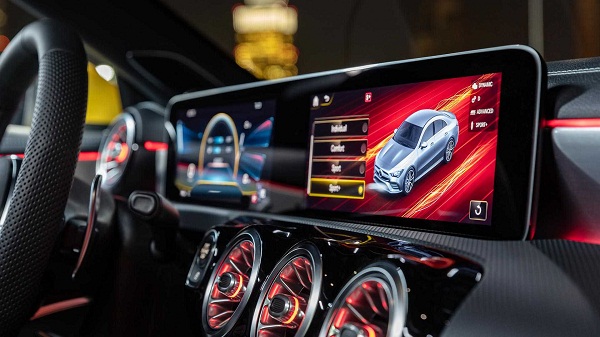 Hands-free control infotainment system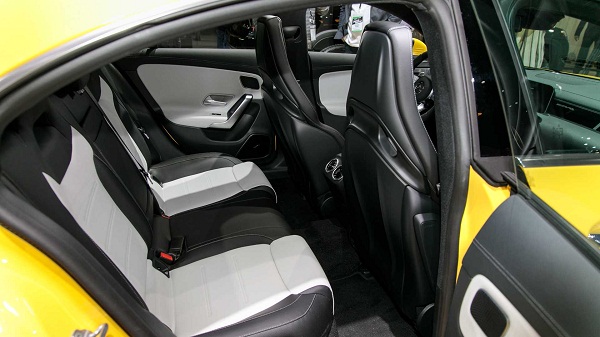 This car has everything from performance to an in-car mobile concierge, for handsfree use. A host of technologies that enhance driving in ultra-advanced cars that are premium selections.
Mood lighting is a bit on the unusual side, but the CLA 35 has an option to select LED ambient lighting in 64 colors, to fit the driver's mood.
>>> Refer to our Mercedes Benz CLA Class for sale to look for your dream coupe.
4. Mercedes AMG CLA 35 2020: Under the hood 
Small but punchy is the engine under the hood which is a match for almost a match to its bigger siblings. Losing a bit of size is not a problem at all, because this car is made to have gargantuan features. Lesser cars don't have what it offers in terms of torque (Nm) and horsepower (Ps).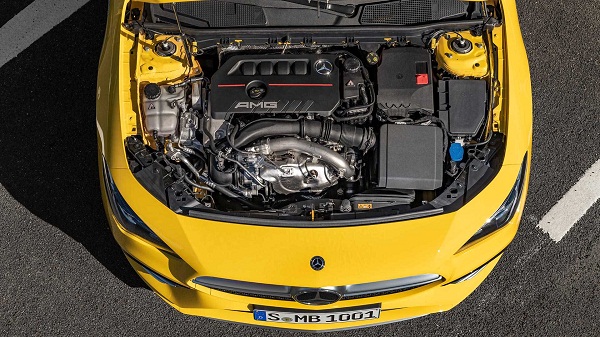 Mercedes AMG CLA 35 2020 can reach 62 mph in 4.9s
Generating about 302 Ps and 401 Nm of torque, it can reach 62 mph in about 4.9 seconds flat! The AMG is small though the twin exhausts give a satisfying roar for the 2.0-liter engine. The engine is a high torque 2.0-liter Inline-4 turbo engine, that gets a seven-speed gearbox, to match the engine.
5. Mercedes AMG CLA 35 2020: Gearbox and drivetrain 
One would argue that shrinking this four-door coupe is not indicative of how well the gearbox performs. High-performance cars are always equipped with a dual-clutch transmission (DCT) to allow crisp and swift shifting for when driving near the knife's edge.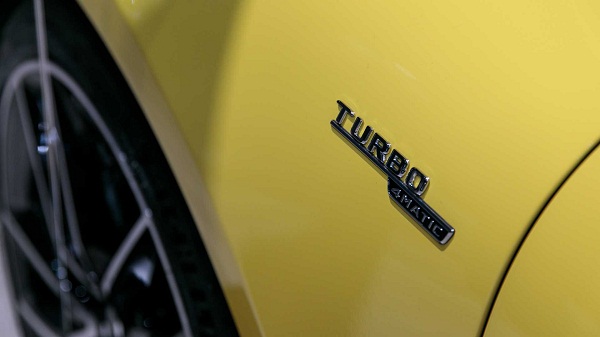 All-Wheel Drive (AWD) is responsible for keeping maximum grip and control for all tires on the road
A gearbox with seven-speeds that uses a clutchless differential for the quickest shifts that are less than standard AT and MT transmission. It's important to keep traction and grip for safer and energetic sport driving that allow safe maneuvering with better control.
This car is capable of 250 kph that is the ceiling of its electronic speed limiter. Linked to the rear axle and the rear differential is torque vectoring control to keep the rear wheels on an even keel when on the move.
6. Mercedes AMG CLA 35 2020: Suspension and Control
A small car that is big on driving with confident control that is done by standard Direct-Steer system which adjusts how much the steering wheel is turned. A reduced track between the wheels to have more control when cornering.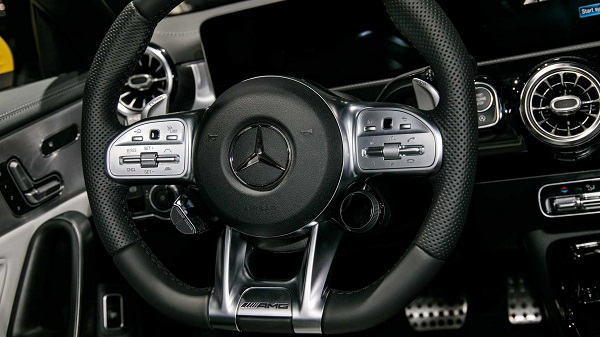 Direct-Steer System
Body sway is improved with bigger anti-roll bars as standard equipment for better driving stability. Linked to the rear axle and the rear differential is torque vectoring control to keep the rear wheels on an even keel when on the move.
Overall and improved independent rear suspension gains more grip that means more stability and control. Interested in adaptive dampers that are optional for an improved ride?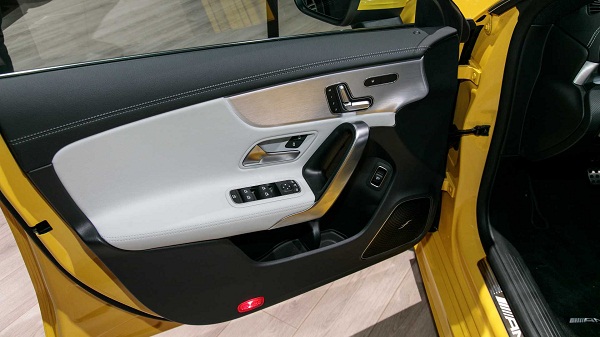 Or select a soft suspension mode or maybe stiffer dampers when roads get a bit too rough. Installed under the CLA 35 is an aluminum shear panel that improves torsion and gives stiffer support in the front. To complete it are two diagonal braces for rigid support, under the engine!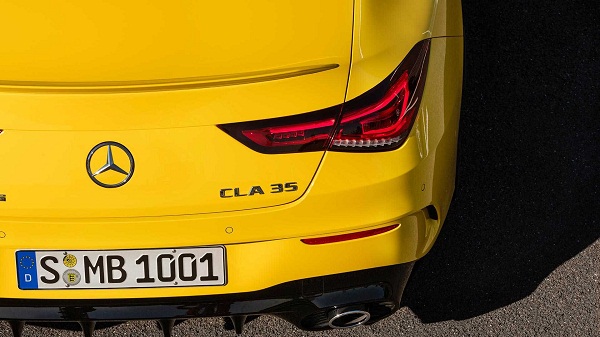 There's a lot going for the Mercedes AMG CLA 35 2020 sub-compact everything that it is full of substance, not just all looks. All the features are premium, and even the insides ooze the best money can buy! It will cost a pretty penny, but it's worth it.
This car is perfect for the younger set with everything that its bigger sibling has. Make it a point to visit Philkotse because there's info about the latest cars and more!

Know more about Mercedes-Benz CLA-Class 2023

The Mercedes-Benz CLA-Class is a subcompact executive sedan available in the Philippine market. Locally, this model has only one variant: the CLA-Class 180 Progressive 1.3 AT. Currently, 2023 Mercedes-Benz CLA-Class price tag of Php 3,190,000.
Under the hood, the Philippine-spec CLA-Class uses a 1.3-liter turbocharged inline-4 gasoline engine that can make up to 208 horsepower and 350 Nm of torque. Power is then sent to all four wheels through a seven-speed dual clutch gearbox.
Size-wise, the CLA-Class has a length of 4,688mm, a width of 1,830mm, and a height of 1,439mm. It also has a wheelbase length of 2,729mm, and a ground clearance of 160mm.
Locally, the Mercedes-Benz CLA-Class primarily competes against the BMW 3 Series 318i Sport as both of them are executive subcompact sedans.

Norjan Ismail Abbas
Author
Recent posts