The 2-door Jeep Wrangler JL 2019 was recently tested in India.
The fourth generation of the Jeep Wrangler (Jeep JL) started in India just this year. Varunswnt, a forum member of Team-BHP has shown aerial shots of the Jeep Wrangler JL 2019 model that was taken while ARAI was conducting the test. With ARAI testing being done in India, there is a chance that the vehicle may be launched soon in the Indian market.
The collection of test vehicles are comprised of one Rubicon hardtop model and two hardtop Wranglers. The featured model displays an Overland badging and there is a possibility that the Sahara trim that comes along with export-spec Overland pack. The Overland pack gives Wrangler a more sophisticated aesthetic design.
The Jeep Wrangler with an Overland pack have the following inclusions: 18-inch unique Alloy wheels, body color hard spare tire cover, body color grill, headlamp bezels and last but not the least, the Overland badging. The jeeps interior looks equally stunning as it showcases its all black leather interior to add a hint of sophistication and masculinity to the vehicle. The test model is said to be an automatic transmission.   
Below are some worth-noticing figures regarding the Wrangler dimensions and power
|  Criteria | Details |
| --- | --- |
|  Length |  4,334 mm |
|  Width |  1,894 mm |
|  Height |  1,839 mm |
|  Wheelbase |  2,459 mm |
|  Ground clearance |  260 mm |
| Engine | 2.2 litre, Multijet II turbocharged engine |
| Fuel | Diesel |
| Number of cylinders | 4 |
| Additional Feature | Start/ Stop (ESS) Technology |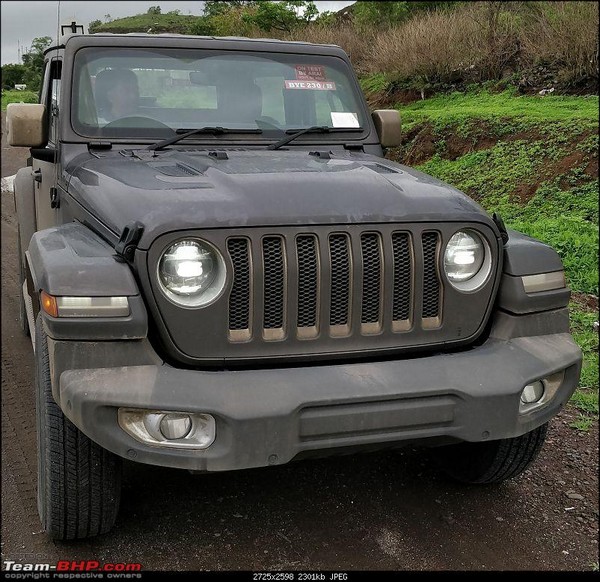 The fourth-gen Jeep Wrangler (JL) is likely to be released in India along with the Sahara and the Rubicon.
Jeep Wrangler JL 2019: Power capacity
This four-cylinder unit produces 197bhp and 450m of torque respectively. The engine is paired with an eight-speed A/T gearbox. A Command-Trac 4x4 system also comes with the Wrangler Jeep JL Test vehicle. It boasts of having a partial, dual-speed transfer case that comes with a 2:72:1 low-range gear ratio which is expected in the upcoming Sahara model.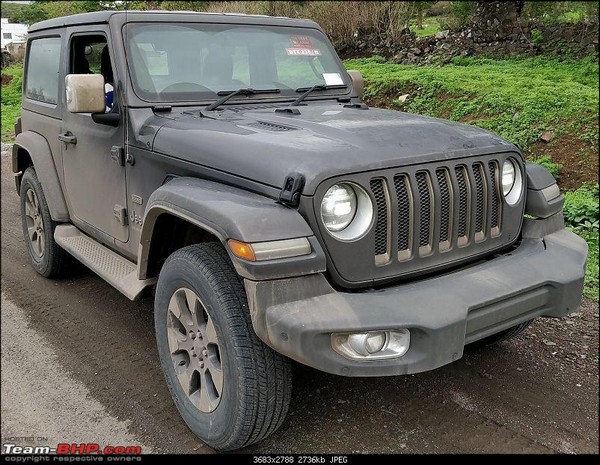 The Jeep Wrangler JL is recommended for off-terrain drive.
Jeep Wrangler JL 2019: Engine options
The Jeep enthusiasts have 2 options to choose from:
First is a 3.6-liter Pentastar V6 naturally aspirated fuel engine along with a 2-liter four-cylinder, turbocharged gasoline engine.The 3.6-L engine is expected to churn 284PS with an rpm of 6,400. Torque is at 347Nm with an rpm of 4,100 and also features the ESS technology. The Jeep offers two transmission options to its future clients. You can choose from a 6-speed M/T or an 8-speed A/T gearbox.
The 2.0L turbocharged 4-cylinder motor is part of the Global Medium Engine (GME) architecture family. It is expected to churn into 272PS with an rpm of 5,250. Its torque should be at 400 Nm with an rpm of 3,000 and with the ESS feature included. It comes with an 8-speed A/T as well.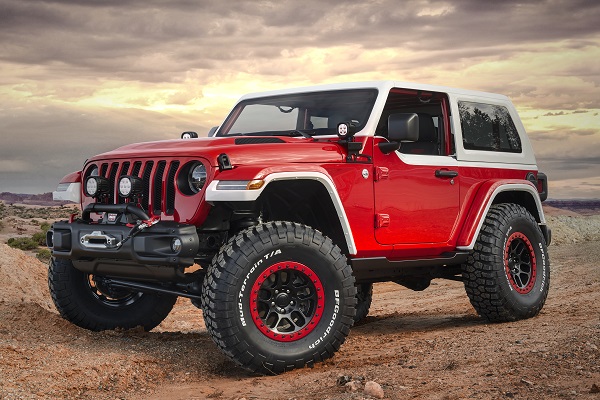 Jeep Wrangler Unlimited Sahara 2019 is perfect for the outdoors.
According to the report provided Team-BHP, it was also mentioned that the Rubicon is also going through some tests in India. The Wrangler Rubicon gives extra off-road capabilities and is accompanied with the 4x4 Roc-Trac system that introduces a dual-speed transfer case along with a low-range gear ratio of 4.0:1. Along with it is the sturdy upgraded version of the Dana 44 front and back axles and the electric Tru-Lok front and back axles lockers. One of the good selling points of the Rubicon is the electronic sway-bar disconnect which is a new feature that allows drivers to have an extra wheel travel.
The new 2018 Jeep is anticipated to keep the Wrangler JL interiors with state of the art equipment which includes tail lamps as well as flashy LED head lamps, an 8.4-inch touchscreen entertainment system is equipped with navigation, an Apple CarPlay for I phone loyalists and an Android Auto, full leather upholstered seats, four airbags and more.
Jeep Wrangler Unilimited Sahara 2019 specs table

| | |
| --- | --- |
|  Price | Available upon request at your local dealership |
|  Transmission Type | Automatic  |
|  Engine size | 2.8L  |
|  Displacement | 2,798 cc  |
|  Number of cylinders | 6  |
|  Number of valves | 24  |
|  Transmission category | 5-speed automatic  |
|  Fuel type | Diesel  |
|  Number of doors | 5  |
|  Number of seats | 5  |
|  Driver's airbag | Yes  |
|  Front Passenger's airbag | Yes  |
|  ABS with electronic stability and brake assist | Yes  |
|  Immobilizer | Yes  |
|  Security alarm | Yes  |
|  Stability control | Yes  |
|  Cruise control | Yes  |
|  Leather upholstery | Yes  |
|  Wheel size | 17 inch  |
|  Wheel metal type | Alloy  |
|  Air-conditioning system | Automatic air conditioning |
|  Entertainment system | Uconnect 135 system with AM/FM Radio CD/ DVD player and Alpine speakers  |
|  Keyless entry | Yes  |
|  Power steering | Yes  |
|  Power windows | Yes |
|  Steering wheel audio control | Yes |
The target release date of the Jeep Wrangler JL 2019 model in India would be in the last quarter of 2018. Comparing it to the latest generation, the JL has a potential to be assembled locally in India to generate more sales at a competitive price range.
If you are interested to know more about the vehicles, below are the current market prices of the following Jeep Models in the Philippines. Please note that prices may subject to change anytime.
>>> Related posts:


Liza Campos
Author