Exterior
Here's a brief review of the 2018 version, but it's close to 2015 so you can easily relate to the Hyundai Accent 2015.
To summarize in one word, the exterior of this car is "stunning," featuring the Fluidic Sculpture along with an iconic cascading front grille. The front of the car also features a bolder hood finished with character lines that run towards the front grille.
The side of the car gets more alluring thanks to a sweeping roof, sharp cues, as well as lines that canter along the length of the car. The door handles are colored while the rearview mirrors are equipped with side repeaters. At the rear of the car, the sporty bumper and tail lights add beauty to the car's overall exterior.
Interior
The interior of the car gives its driver and passengers a comfortable drive, using premium materials and cutting-edge technologies.
The cockpit is sparkling and glossy, featuring a black steering wheel, a chrome Hyundai logo, and an illuminated instrument cluster. The seat frame has been made lighter but still provides great protection from collisions while the driver seat comes with 6 adjustable modes for the most comfort.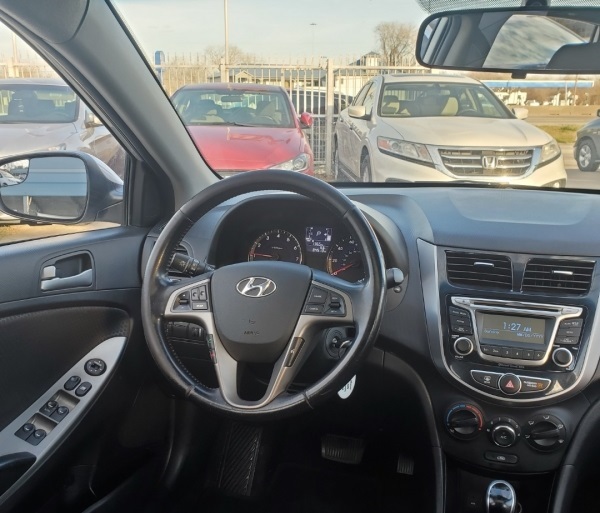 Safety
Hyundai packed a bunch of features to make sure you can enjoy your ride and stay safe at the same time. These include a 6-airbag system, electronic stability control, anti-lock braking system, traction control, vehicle stability management, and a rearview camera.
Technology
The car comes with an LCD radio, paired with a Radio Data System that you can connect through a USB or AUX. Besides, there is climate control, central door locks, power windows, and push-button start/stop for the engine.
You can also read the full review of this Hyundai Accent model on our car review page.