Hyundai Accent sedan 2018 Philippines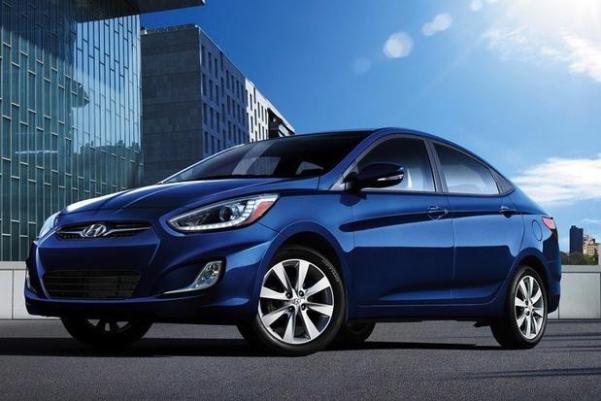 Body Type

Sedan

Engine

Transmission

Seats

Doors
It's not an easy task to find the right first car for the budget-conscious young professional. Beaming with enthusiasm and just sheer excitement, anyone looking for the right 4-wheel companion for the first time may seem overwhelming and honestly, this makes it very easy to screw up. Fortunately, Hyundai's reputation as a dependable brand with great offerings and amazing after sales service is tailor-fitted to the budget-conscious Filipino professional. And with its best-selling Hyundai Accent in the B-segment, it is just difficult to go wrong.
Offering 5 generations of reliability that is evidenced by the Accent's ubiquity in the Philippine roads, the 2018 Hyundai staple offers a host of new features. Updated with a bolder exterior, a more sophisticated interior, better performance and top of the line safety technology, this is the first time car owner's real definition of a bang for his buck.
1. Hyundai Accent sedan 2018 Philippines: Exteriors highlights
Following the Korean car manufacturer's 'Fluidic Sculpture' design philosophy, the 2018 Accent boasts its updated features such as the updated cascading grille sided by its LED daytime running lights. Adorned with the iconic Hyundai chrome emblem, the character lines running toward the grille are noticeably sleeker and bolder, with a more aerodynamic feel. This fact is complimented even more on the side profile that extends to a sweeping roof. Juxtaposing the bold but smooth front is an almost boxy rear sporting the shifting tail lights. Finally, completing its smooth and suave exterior are the 17-inch alloy wheels that are providing just a low enough ground clearance to make sense for a practical and aerodynamic engineering.
2. Hyundai Accent sedan 2018 Philippines: Interior highlights
Subcompacts have the tendency to be vanilla in terms of style- which in all fairness is not bad for a first timer. The 2018 Accent, however, tries its best to stand out especially with what it can offer in terms of features. The cabin exudes premium comfort with ample space and utility. The interiors are basic but make up for class with its overall glossy yet sophisticated feel. The ambient colors of black accentuated by grey detailing in its upholstery tones down the gloss with some muted sophistication and allow other details such as the chrome Hyundai plating to shine through and be noticed. The infotainment system, although basic and functional with its 7-inch color TFT LCD Audio touchscreen equipped with Android Auto and Apple Carplay, is basic at best and leaves something to be desired. Space is 36L more than the previous model and the interior space can cater up to 3 adults with ample legroom.
3. Hyundai Accent sedan 2018 Philippines: Engine performance
The 2018 Hyundai Accent houses a  1.6-liter Gamma 4-cylinder Gasoline Direct Injected (GDI) powertrain mated with either a 6-speed manual transmission or automatic. The engine is very capable, supplying the sedan with 132 hp and 161Nm of power. Driving with power this raw for a subcompact can get rough, but all thanks to its rigid chassis system that is technologically developed for a quiet and smooth ride.

4. Hyundai Accent sedan 2018 Philippines Price
Hyundai Accent 2018's price point starts at P695,000 which is the ballpark figure for a first timer's car budget.
Car price

:

₱695,000

Transmission

: Automatic

Body type

: Sedan
Trending
Recent Hyundai promos
Recent Hyundai Accent cars for sale