With a more upmarket-looking exterior and roomy interior, does Suzuki Ciaz 2019 hold up well in the very competitive segment?
In this review...
Introduction

Exterior

Interior

Engine

Handling

Safety Features

Specsheet

Price

Verdict
1. Suzuki Ciaz 2019 Philippines Review: Introduction
Introduced initially in 2014, the Suzuki Ciaz is the compact car that was meant to replace (or at least compliment) the aging SX4 sedan.
In its current and only iteration, the Ciaz has a considerable presence not only here in the Philippines, but also in Africa, Latin America, and parts of Asia. With its 2018 facelift, the Ciaz has had a lot of improvements done to it in terms of styling and safety features. But the main selling point of the Ciaz remains to be its roomy interior which is said to be the best in its class.
While not as popular as its major competitor which is the Toyota Vios, Suzuki does have a solid reputation for compact vehicles like the Swift Dzire, the Swift hatchback, the Jimny, and the Ertiga.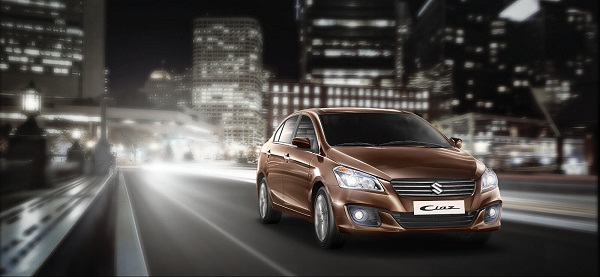 Starting at Php ₱823,000, the Suzuki Ciaz is a major contender in the Philippine auto market's sedan segment
So in this Suzuki Ciaz Philippines review from Philkotse.com, you will get more acquainted with this sedan and see how it fares against the competition.
2. Suzuki Ciaz 2019 Philippines: Exterior Review
The first thing you might immediately notice with the 2019 Suzuki Ciaz exterior is its size compared to segment rivals. Visually further adding to its heft are the large taillights and headlights, along with a wide, chrome, horizontally oriented grille. Together they lend a more premium look - a little subtler than the ultra-modern front fascia of the Toyota Vios. 
One the side, one's eyes will be immediately be drawn towards the very visible character line that runs from the top of the front wheel to the tip of the taillights. This feature again lends a classy and clean look while still evoking a sense of sportiness.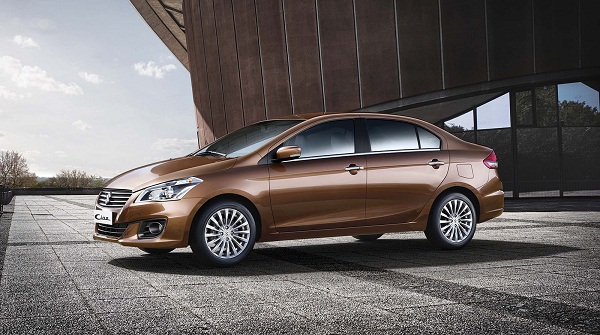 The Suzuki Ciaz is a sporty sedan yet it comes with an air of sophistication one would expect from a more expensive vehicle.
 Also, spoked wheels give the Suzuki Ciaz 2019 sedan a more premium look like those in more premium vehicles.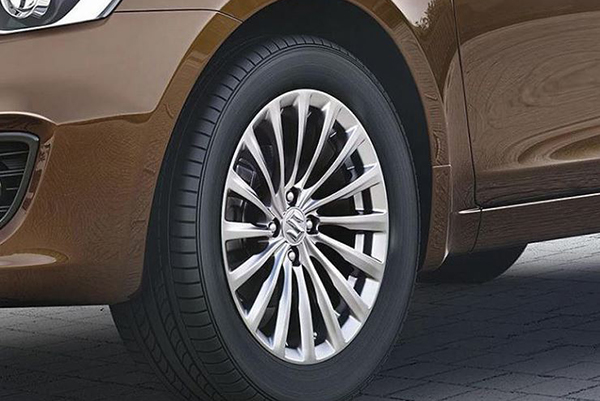 Spoked wheels just like those fancy classic cars
Towards the rear, higher-trim models have a tasteful amount of chrome spread throughout; from the door handles to the "S" logo on the boot lid.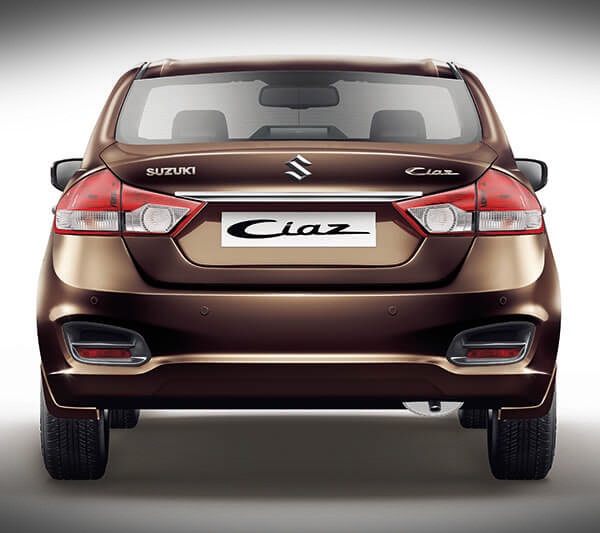 The rear boot door of the Suzuki Ciaz has a chromed Suzuki logo. Fancy
Overall, the 2019 Suzuki Ciaz is a classy looking vehicle which some might mistake for a much more expensive luxury sedan.
YOU MAY WANT TO READ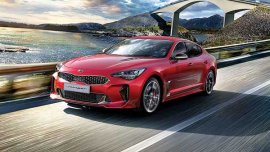 Model Price Philippines
₱ 3,235,000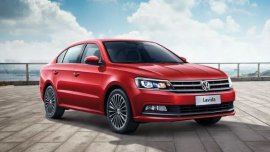 Model Price Philippines
₱ 1,251,000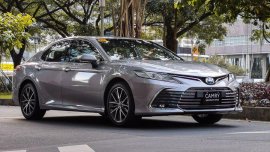 Model Price Philippines
₱ 2,442,000 - ₱ 2,457,000
3. Suzuki Ciaz 2019 Philippines: Interior Review
Well-spaced controls on the dashboard, as well as a black color theme, mark the 2019 Suzuki Ciaz interior. Most car owners know, of course, that a dark interior can be more resistant to stains that may come from age or a spilled drink.
Take note, however, that the higher trim levels of the Suzuki Ciaz take this up a notch by using black faux leather for the seats and some parts of the interior door panels and the dash, giving the Ciaz an even more premium feel - and increased stain resistance.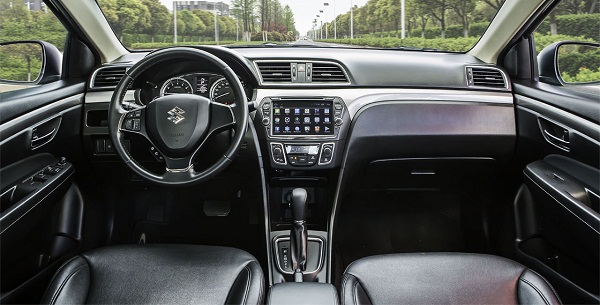 The Ciaz's dashboard as you can see here is neatly arranged and is filled with amenities. It also looks fancy, especially in the GLX trim.
There are pieces of plastic here and there but, overall, they fit well and there are no noticeable gaps to them. Also, the AC button controls and other instruments are easy to use.
GL models get a touchscreen infotainment system that's also capable of navigation. Also, there's ever-useful Bluetooth connectivity, USB and AUX ports, a CD player, and AM/FM radio.
The GLX receives Android OS with Mirror Link capability. However, Apple CarPlay is unavailable for all variants of the Ciaz.
Thanks to its long wheelbase, the Suzuki Ciaz 2019 sedan has tons of legroom, but the rear seats might have problems in terms of headroom especially for taller passengers. While the sloping roofline gives the Ciaz sportiness, it does appear to limit passenger headspace.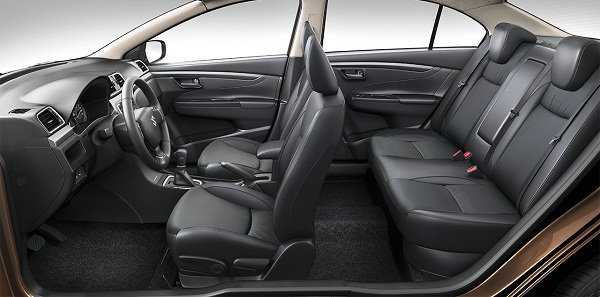 The GLX trim level of the Suzuki Ciaz has leather-clad seats. Comfortable and easy to clean!
Finally, the Suzuki Ciaz 2019 trunk provides a massive 495 liters of cargo capacity which is perfect for people who are always on the go. Compared to the Toyota Vios' 326 liters, the Ciaz is indeed the car you'd want if you're planning to haul loads of stuff in your daily drive. Also, the Ciaz cabin has lots of cubby holes, cup holders, and door pockets to store your gadgets.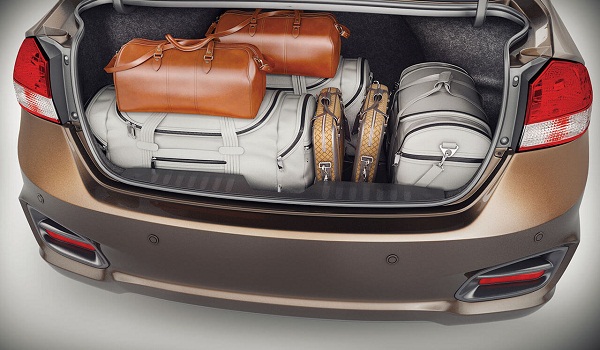 Suzuki Ciaz 2019 trunk provides a massive 495 liters of cargo capacity
4. Suzuki Ciaz 2019 Philippine: Engine Review
For the version of 2019 Suzuki Ciaz Philippines only has one engine choice and it's a 1.4 liter inline-4 capable of making up to 91 horsepower and 132 Nm of torque. Not bad for the Ciaz's size and weight and isn't that much or less in comparison to other cars in its class.
Power is then sent to the front wheels with a smooth 4-speed automatic transmission. For the most affordable GL 1.4, a 5-speed manual transmission is available.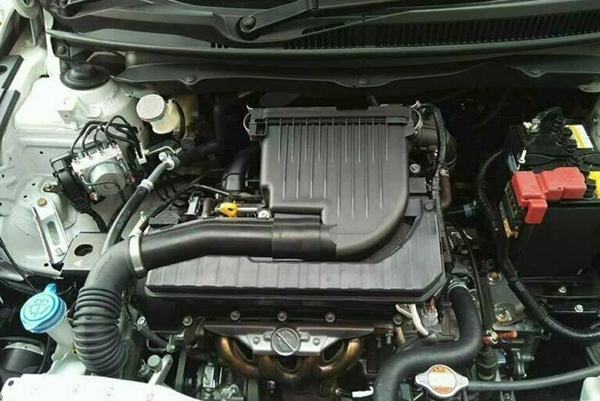 The Ciaz's 1.4-liter engine doesn't have that much in terms of performance, but it is supremely fuel-efficient 
5. Suzuki Ciaz 2019 Philippines: Handling
Despite the car's soft suspension, there's actually minimal body roll on twisty roads. This is all thanks to its front MacPherson Strut suspension and a torsion beam with coil springs for the rear. Also, the Ciaz has ventilated disc brakes for the front and drum brakes for the rear which provide decent stopping power.
As for fuel consumption, the Suzuki Ciaz manual version can muster up to a recorded 28 km/l.
Overall, it's a comfortable car to drive and can handle tight city traffic and provincial, twisty hilly roads with no problem at all. But apart from the minimal body roll, smooth shifting, and impressive fuel efficiency, the Ciaz doesn't have the zippy handling of a Honda Civic.
Summing up, it's comfortable.
6. Suzuki Ciaz 2019 Philippines: Safety Features
The available versions of the Suzuki Ciaz 2019 for the Philippine market are actually well equipped in terms of safety. All across its trim levels, it gets dual airbags up front, anti-lock braking, EBD, child safety locks, and many others.
Of note is that keyless entry also comes standard in all trims, and a push start button is also available for the GLX variant.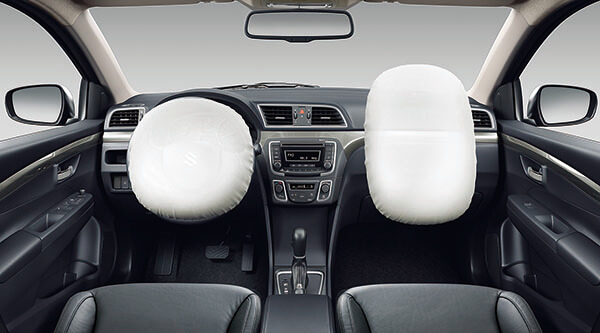 Here are the Suzuki Ciaz's airbags mid-deployment
>>> Widen your choice with our Cars for sale section.
7. Suzuki Ciaz 2019 Philippines: Specsheet
Overall

Name

Suzuki Ciaz 2019

Body Type

Compact sedan

Dimensions

Length

4490mm

Width

1730mm

Height

1475mm

Wheelbase

2,650mm

Ground Clearance

160mm

Number of Seats

5

Engine & Performance

Engine Type

1.4-liter, inline-four

Number of Valves

16

Fuel Capacity

45 liters

Transmission 

5-speed manual/4-speed automatic

Max Output

92hp

Max Torque

13Nm

Safety Features

Driver and front passenger airbags

Child safety locks

Anti-lock braking system

Crash sensors

EBD

Child safety locks

Keyless entry

Other features

Front Suspension

MacPherson strut

Rear Suspension

Torsion beam with coil spring

Front Brake

Ventilated disc

Rear Brakes

Drum

Tire Size

R15 for GL and R16 for GLX
*Visit the nearest Suzuki Philippines dealerships for further details regarding latest promos, financing options, etc.
8. Suzuki Ciaz 2019 Philippines price: How much is it?
Suzuki Ciaz is more expensive than its competition and it has fewer variants. Check out the table below for detailed Suzuki Ciaz 2019 price list in the Philippines
| | |
| --- | --- |
| Variant | Price |
| Suzuki Ciaz 2019 GL 1.4 L – MT | P823,000 |
| Suzuki Ciaz 2019 GL 1.4 L – AT | P873,000 |
| Suzuki Ciaz 2019 GLX 1.4 L – AT | P 978,000 |
>>> Get to the most updated price page of the Suzuki Ciaz with downpayment and monthly installment.
9. Suzuki Ciaz 2019 Philippines Review: Verdict
In other countries where the Suzuki Ciaz is available, there are other engine options like the 1.5-liter inline-four diesel engine in India and a 1.2-liter inline-4 gasoline engine in Thailand. What interests us though is the diesel engine as it comes with the recent facelift of the Ciaz.
The India-spec Ciaz also has a six-speed manual which, of course, very useful for a more economical highway cruise. The diesel engine has reported having 200Nm of torque.
For the 2019 facelift that isn't yet available here in the Philippines, Suzuki has equipped the Ciaz loads of new features like LED projector headlamps, LED daytime running lights and LED fog lights. The facelifted Ciaz also has an electronic stability system.
The greatest change is the availability of a 1.5-liter hybrid engine which provides for a larger 103hp rating, and even more fuel economy.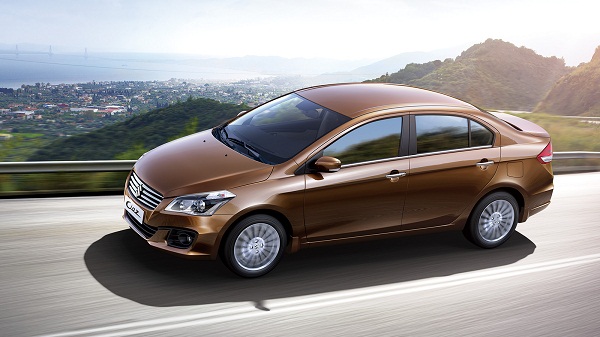 Posh-looking, afforable and above-average performance sedan
Overall, the Suzuki Ciaz is a very affordable but very posh-looking vehicle that deviates from the usual, ultra-modern-looking Japanese brand sedan. While its performance is just about average, it does have a very impressive fuel economy, massive cargo space, and high comfort levels for all of its occupants.
As such, the Ciaz can indeed perform well as a daily driver for a small family, especially for those with kids who are going to school due to the sedan's large cargo space. We all know kids these days lug around these massive school bags filled with books, yes?
So if you have the desire to stand out gracefully from the crowd of the usual sedans we see here in the Philippines you might want to get the Suzuki Ciaz. 


Cesar G.B. Miguel
Author