Subaru Impreza 2019 Philippines comes with AWD, a ton of safety features and great driveability.
In this review...
Introduction

Exterior

Interior

Engine and Performance

Ride and Handling

Safety

Specs

Conclusion
1. Subaru Impreza 2019 Philippine Review: Introduction
Now when it comes to Subaru, what one might immediately think about are its crossover models, namely the Outback and the XV, both of which right now are top-sellers for the Japanese automaker here in the Philippines. Subaru though is still no slouch when it comes to sedans.
While the sedan market segment here in the country is still pretty huge, most sedan models we commonly see nowadays are front-wheel drive and are powered typically by inline-four engines. These make those aforementioned vehicles easy to manufacture, easy to maintain and thus, very affordable.  
When it comes to Subaru however, its entry-level sedan offering for the Philippine market comes with several unique qualities. It is powered by a boxer engine and more importantly, it has all-wheel drive.
Ladies and gents, let's take a deeper look at this new sedan in the in-depth Subaru Impreza 2019 Philippines Review brought by  Philkotse.com!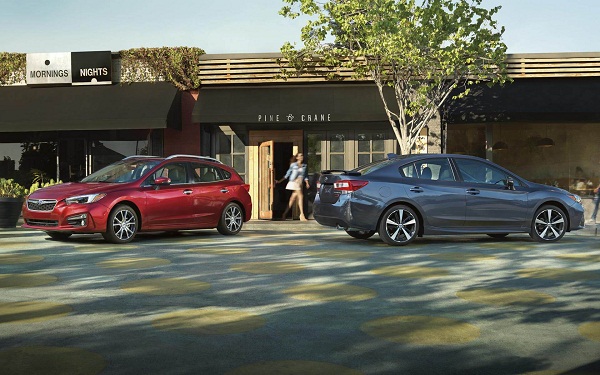 2019 Subaru Impreza is the most affordable Subaru right now
Since 1992 and through five generations, the Subaru Impreza 2019 came with AWD. This made the car very desirable for enthusiasts and normal drivers alike mainly due to the added traction the AWD layout provides especially in dangerous driving conditions.
For enthusiasts though, AWD means more horsepower coming in contact with the driving surface. This is very useful and sometimes critical in some racing events like rallying where aside from tarmac, vehicles are also put through various terrains.
2019 Subaru Impreza: Review
Due to this advantage, the Impreza, specifically the WRX and WRX STI variants, has been extensively used in motorsport especially in rally racing.
While those two variants of the Impreza are indeed available here in the Philippines also, we would have to talk about them in their own articles and for now, let's focus on the 2019 Subaru Impreza specifically the 2.0I-S CVT variant. The only non-WRX variant available right now in the country.
2. Subaru Impreza 2019 Exterior
As you might have seen from our vehicle sales listings, there are indeed hatchback models for the Impreza. Those variants are not sold anymore in the country because the crossover XV has somewhat replaced that particular body-type of the Impreza. The hatchback Impreza is still available in other countries.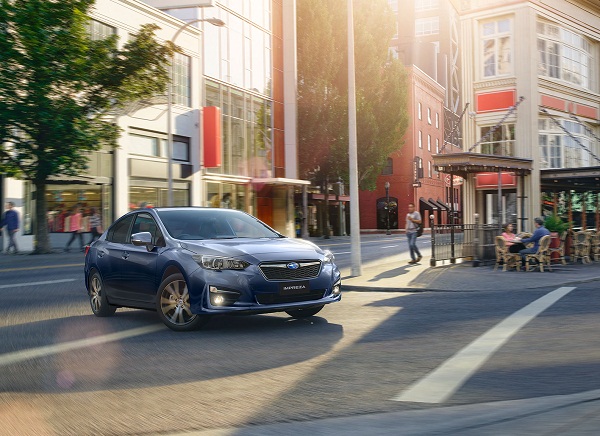 A larger and wider 5th-gen Impreza on the road
The sedan available here is now in its fifth generation and is noticeably larger and wider than the previous version. While the ride height remains largely the same, the 2019 Subaru Impreza is 45 mm longer and 35 mm wider. But despite this increase in size, the aforementioned Subaru is still within the size range of compact sedans.
Overall, the 2019 Subaru Impreza exterior looks downright attractive. It gives off this athletic feel while also looking sleek and refined. It has just enough rakishness to it to imply that it's quite different from other sedans of its class.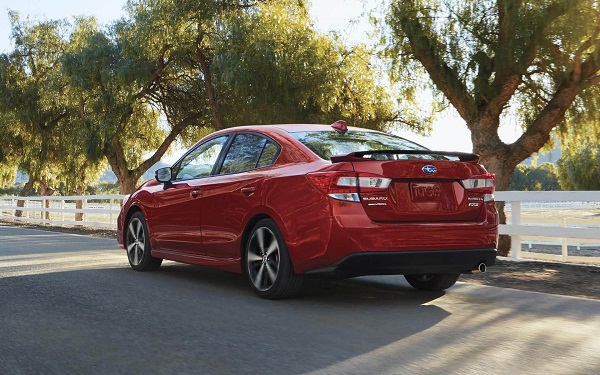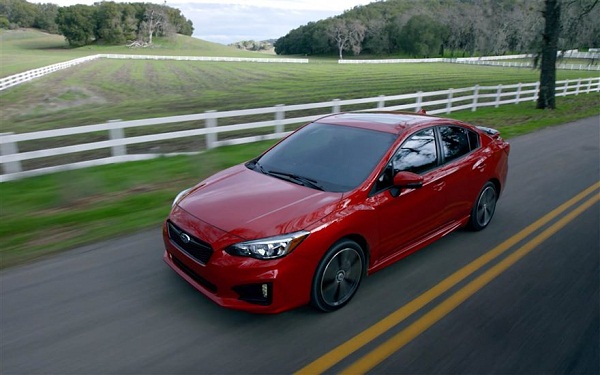 The 2019 Subaru Impreza does not stand out that much but it does look good from any angle
This theme continues through the front and the rear of the car especially if one remembers how the Impreza's more outlandish WRX and WRX STI cousins look like. There are some similarities with other Subaru vehicles, of course, but the Impreza is just too subtle and much more graceful in comparison.
Upfront, the Subaru Impreza exterior is equipped with LED daytime running lights, LED headlights, a very cool looking shark-fin antenna, rear fog lamps, folding door mirrors with LED turn indicators, and a set of very modern looking 17-inch wheels which is probably the most stand-out looking part of the car's exterior.
YOU MAY WANT TO READ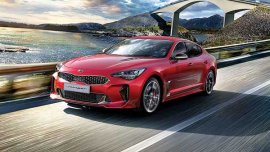 Model Price Philippines
₱ 3,235,000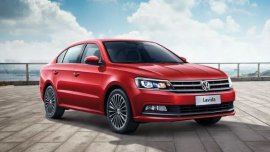 Model Price Philippines
₱ 1,251,000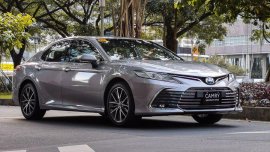 Model Price Philippines
₱ 2,442,000 - ₱ 2,457,000
3. Subaru Impreza 2019 Interior
Now if you didn't know, the Subaru XV is actually based on the Subaru Impreza. That's why when one looks inside the sedan, you will find a lot of similarities between the two. There are the multi-function steering wheel and its buttons, the three screens (infotainment system, the gauge cluster, and the additional instrument screen), and the design of the pedals.
The only difference is that the 2019 Subaru Impreza interior has a darker tone. It is mostly covered in black plastic and fabrics while the XV's has some orange accents on a number of its interior parts. While some people like the splash of color inside the XV, some might also appreciate the classy subtleness that the Impreza's interior displays.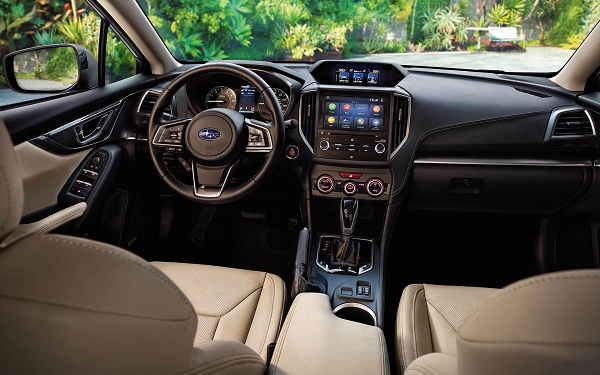 Aside from looking good, a darker-colored Interior does help in preventing stains
The one thing we do not like with the Subaru Impreza interior is the kind of plastic Subaru used for the panel that houses the shifter. It feels cheap and if you touch it with a fingernail you might feel that annoying, hair-raising feeling when you scratch a blackboard.
Otherwise, the interior is roomy and high-tech. The driver gets an eight-way electronically adjusted seat. The touchscreen infotainment system is decent and it has Bluetooth connectivity, an aux port, and USB port. There's a dual-zone automatic air-conditioner and the steering wheel can be tilted and telescopically adjusted.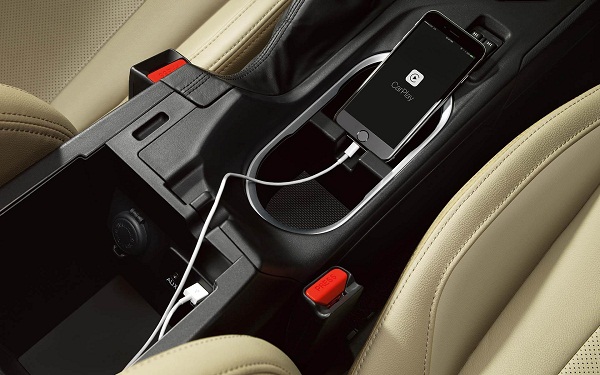 The infotainment system is decent with Bluetooth connectivity, an aux port, and USB port
There's decent headroom, knee room, and even a foldable elbow rest with cup holders in the second row. In addition, these rear seats can also be folded - increasing the already decent 450 liters of cargo space to a whopping 1,080 liters. Pretty handy.
There is however a catch when it comes to the rear cabin of the Subaru Impreza 2019. There's a large protrusion in the center of the floor which is due to the sedan's AWD layout so a third person riding in the rear might have to adjust his/her legs a little bit.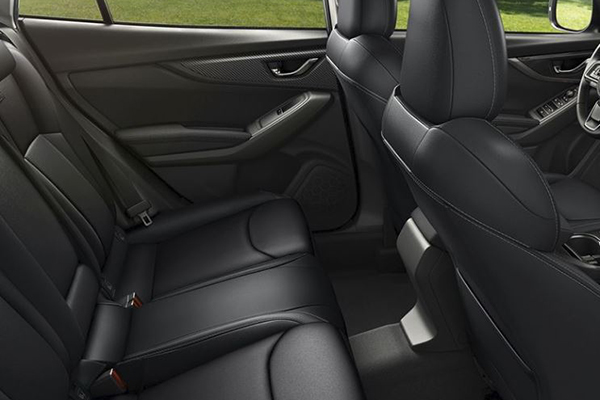 That bulge on the rear passenger cabin can be a pain sometimes
4. Subaru Impreza 2019 Philippines Review: Engine and Performance
Now here comes parts that make the 2019 Subaru Impreza stand out. Instead of the usual inline-four that most sedans get nowadays, the Impreza since its inception always came with two things: a boxer engine and an all-wheel-drive system.
With regards to the engine, it is a horizontally opposed, four-cylinder, double-overhead-cam gasoline engine with a displacement of 2.0-liters. And despite being naturally aspirated, it can make a decent 153hp at 6,000 rpm.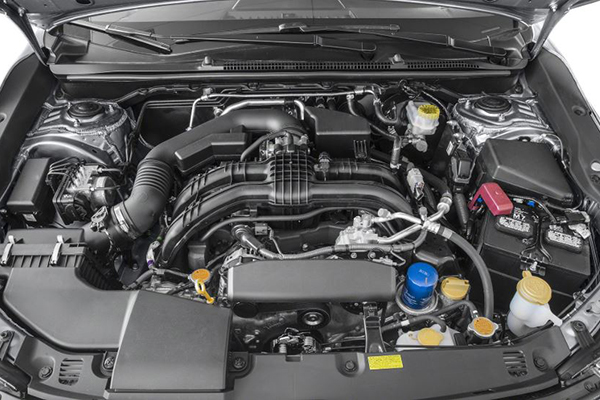 Due to the boxer engine's design, vibrations caused by the engine are minimal 
While the torque figures of the 2019 Impreza Philippines is only 196Nm at 4,000 rpm, power is distributed evenly through the sedan's excellent AWD and that's something Subaru has indeed developed to perfection over the years. In the Impreza it provides for smooth acceleration and power when you need it.
In other countries, there are still manual variants of the Subaru Impreza. Here in the Philippines though, we only get the CVT variant which can be manually shifted using paddles.
5. Subaru Impreza 2019 Review Philippines: Ride and Handling
Now when you first take a seat in the 2019 Subaru Impreza's driver's seat, you'll immediately notice the low riding position. This reflects the car's overall height. While you'd have to watch out for large speed bumps and the like, this gives the Impreza a low center of mass which adds greatly to its cornering ability. This also makes the car much more stable to the point that body roll is minimal.
Thanks to the excellent AWD, driving through twisty roads comes effortlessly. It will keep all the vehicle's wheels on the driving surface and you will feel in control of the car.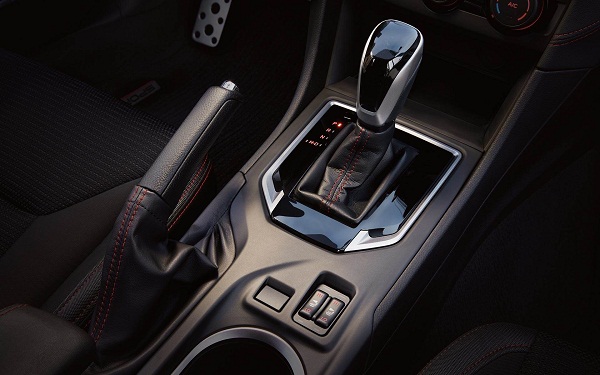 Impreza 2019 is equipped with Excellent CVT Shifter
In regard to its CVT transmission, it does simulate gear shifting well and at low speeds. But despite its excellent CVT, we just wish that the manual version could make it here. The Impreza is a driver's car, after all. If you are looking for other cars that have a similar engine and performance to this Subaru Impreza 2019 Specs, you can find the best deals in our cars for sale section.
6. Subaru Impreza 2019: Safety
When it comes to brakes, the 2019 Impreza 2.0I-S gets an excellent set of ventilated discs all around. The car gets high marks all around from the Japanese New Car Assessment Program, from the Asian New Car Assessment Program, and from the IIHS.
This is thanks to a lot of features like the Impreza's ABS with electronic brakeforce distribution, SRS front, side, knee, and curtain airbags, Isofix, brake assist, Subaru's vehicle dynamics control system, and it is the highly-rated reinforced frame.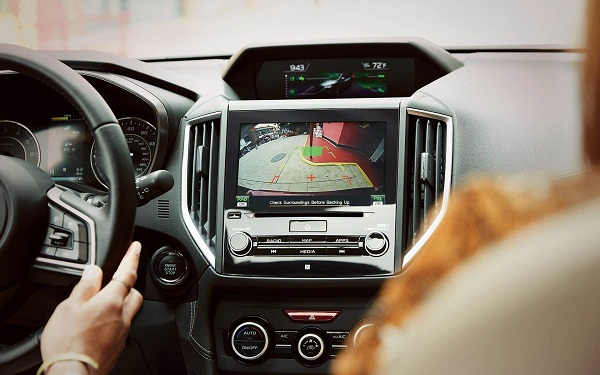 Standard Rear-Vision Camera and available 8.0-inch display
The Subaru Impreza also has an excellent array of driver-assist technologies like lane change assist, blind-spot detection, rain-sensing wipers, smart entry and push to start, and PIN code access.
In all, the 2019 Subaru Impreza is a safe vehicle. Its symmetrical all-wheel-drive contributes to a winning combination that's a prime candidate for a family vehicle.
7. Subaru Impreza 2019 Specs
Overall

Name

2019 Subaru Impreza 2.0I-S CVT

Body Type

Compact sedan

Dimensions

Length

4,625mm

Width

1,775mm

Height

1,455mm

Wheelbase

2,670mm

Ground Clearance

130mm

Number of Seats

5

Engine and performance

Engine

2.0 liter gasoline 4-cylinder Boxer engine

Number of valves

16

Fuel capacity

50 liters

Transmission 

Lineartronic CVT

Max output

153hp@6,000rpm

Max Torque

196Nm@4,000rpm

Safety features

Driver and front passenger airbags

Knee and curtain airbags

Child safety locks

Anti-lock braking system

Crash sensors

EBD

Brake assist

Isofix

Vehicle dynamics control system

Lane change assist

Blind-Spot detection

Other features

Front suspension

MacPherson Strut

Rear suspension

Double Wishbone

Front brakes

Ventilated Disc

Rear brakes

Ventilated Disc

Tire size

205/50 R17

Subaru Impreza 2019 price in the Philippines
Subaru Impreza 2.0i-S CVT
P1,458,000
*Refer to our Subaru Philippines price list to catch up with the latest prices of other Subaru cars.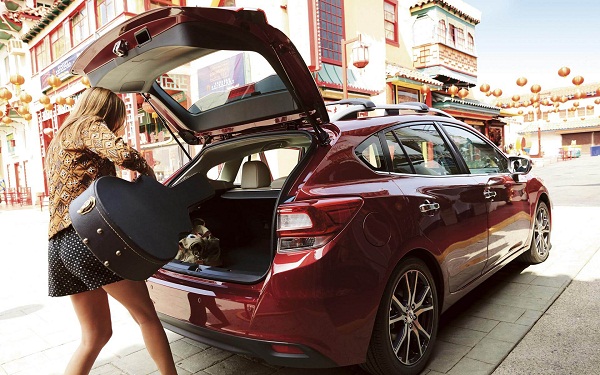 Impreza 2019 is definitely a Spacious Sedan trunk
8. Subaru Impreza 2019 Philippines Review: Conclusion
In its present form, the Subaru Impreza 2019 is a really unique sedan especially if you compare it with its competitors such as the Honda Civic RS Turbo, the Kia Forte EX, and the Mazda 3 Skyactiv R.
While all of those competitors have front-wheel-drive layouts, the all-wheel-drive 2019 Subaru Impreza comes at a similar price point and has a lot of points going for it like its excellent array of safety features. In addition, the Impreza can actually give you around 24 km/l highway and around 10 km/l fuel efficiency - not bad at all.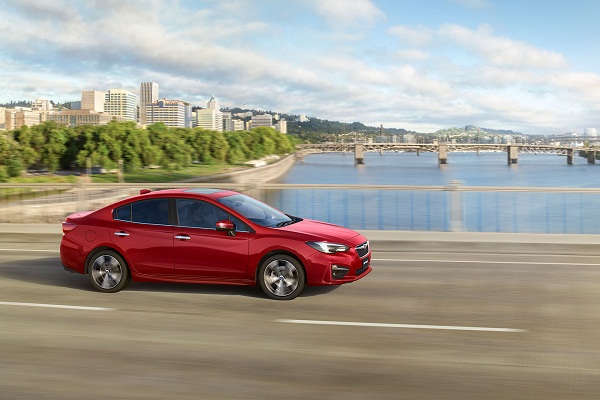 So do you think the 2019 Subaru Impreza's P1,458,000 price tag is just right?
Also, note that the only other relatively affordable vehicles in the Philippines with AWD are crossovers - and the Subaru Legacy sedan which is priced at around P1.8 million. So take these facts into consideration when out and about for a sedan in this price range. It also has an impressive set of safety equipment and driver-assist technologies, and overall it is fun to drive.
So, if you want a sedan that's practical, relatively fuel-efficient, aesthetically pleasing, and is actually not boring, the Subaru Impreza might be a good choice for you. In addition, its sole variant available here in the Philippines right now comes at around P1,458,000. For a vehicle with all-wheel-drive, that's quite an affordable price wouldn't you say? Head up to your nearest Subaru dealerships in the Philippines to find the latest promos of Subaru right now!


Cesar G.B. Miguel
Author