Who says small hatchbacks are boring?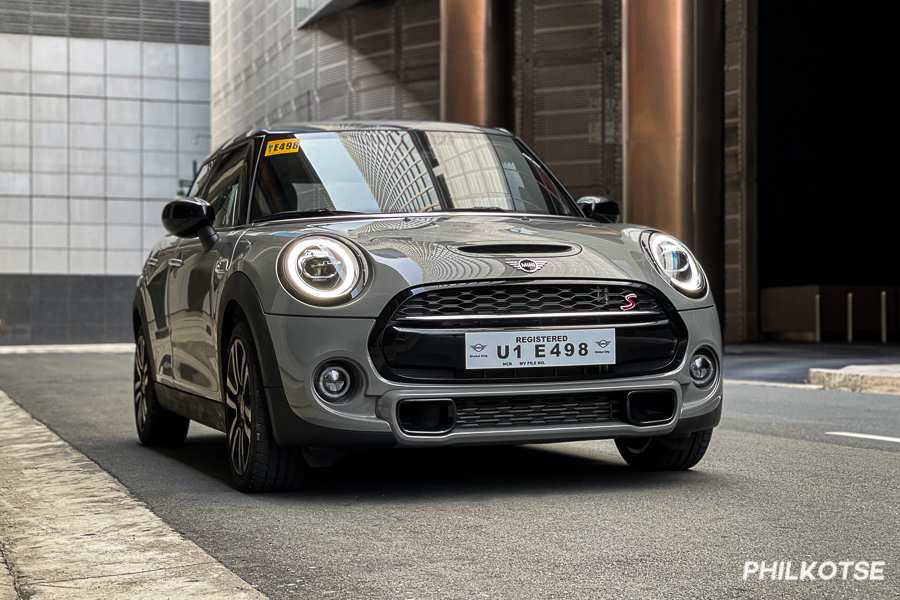 In this review...
Introduction

Exterior

Interior

Tech & Safety

Engine & Performance

Fuel Efficiency

Verdict

Price

Color Options

Specs
2021 Mini Cooper S 5-Door Review: Introduction
There's a good reason why the movie Italian Job – both the original film from 1969 and the 2003 remake – used Mini Coopers as their heist getaway vehicles. While Italian supercars like a Ferrari or a Lamborghini, or maybe even an Alfa Romeo, are best candidates with their incredible performance, Mini Coopers are more perfect for the job – they're quick, they're peppy, and they're small enough to zip through tight spaces.
 
Does this still hold true today? I've sat a considerable time behind a Mini Cooper S in five-door flavor for this review, and here are my thoughts.
2021 Mini Cooper S Full Review: Beyond Nostalgia
Overall exterior & Interior design, build quality, form vs function

Number of safety & tech features, consistency during usage

Power delivery, acceleration, transmission, suspension, handling

Overall Ride Comfort, Space, Storage Areas

Sticker price vs overall package
2021 Mini Cooper S 5-Door Exterior Review: Neo-classic
Staying faithful to its original design with an eye to the future is probably the hardest job for designers. In this regard, BMW's then-head of design Frank Stephenson has done a considerable great job in reinventing the Mini under the German automaker's direction.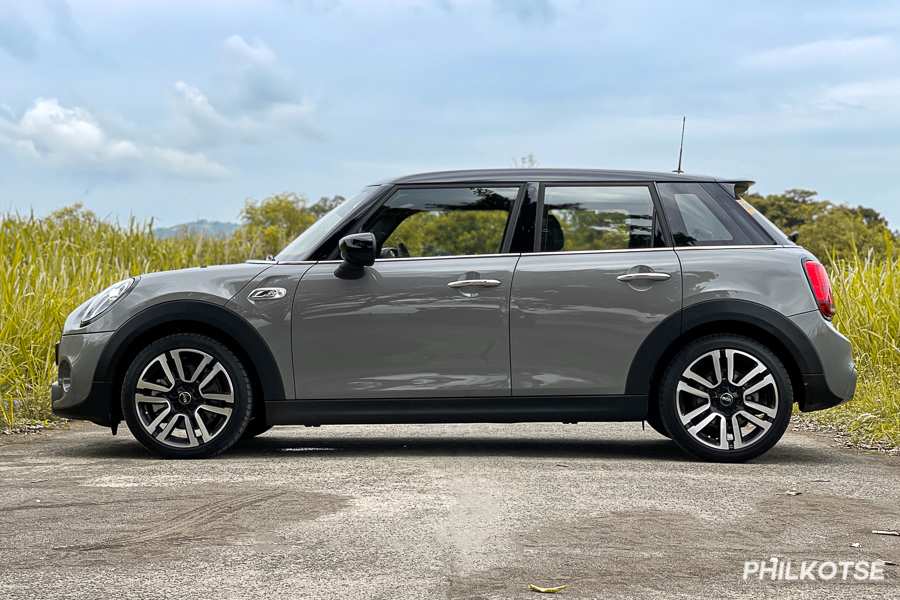 The Mini Cooper S 5-Door from the side
The round elements are still there, along with the signature winged emblem and mustache grille. But what I truly appreciate is the increase in size that's needed for various market requirements. Bigger but still small, but more on that later.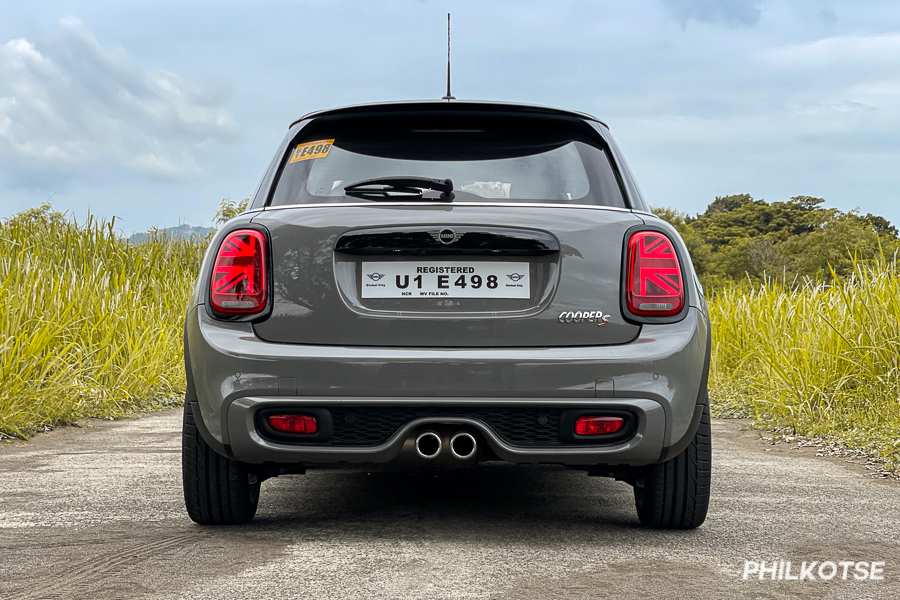 The Cooper S 5-Door's rear end
The PH-spec S variant I drove comes with LEDs, while the Union Jack graphics on the taillights are a good reminder that the Cooper is still a British vehicle despite its German affiliation. The cladding on the sides and the wheel arches are a bit weird to my taste, but at least it blends well with this gorgeous-looking Moonwalk Grey paint color of the media tester that I absolutely adore.
YOU MAY WANT TO READ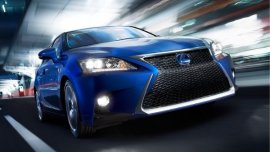 Model Price Philippines
₱ 2,458,000 - ₱ 3,178,000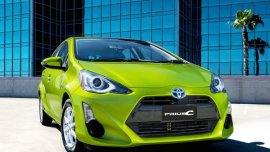 Model Price Philippines
₱ 1,970,000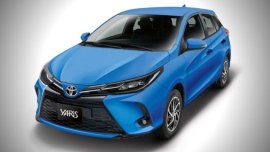 Model Price Philippines
₱ 973,000 - ₱ 1,114,000
2021 Mini Cooper S 5-Door Interior Review: Circles, Youthful, Tight
Despite the increase in size and status as a 5-door model, though, the Mini Cooper S is still tight in the cabin. Sure, it's more livable than its previous version, but my wide build and 5'6" height is just a perfect fit at the front cabin; I can only imagine the struggle for taller individuals.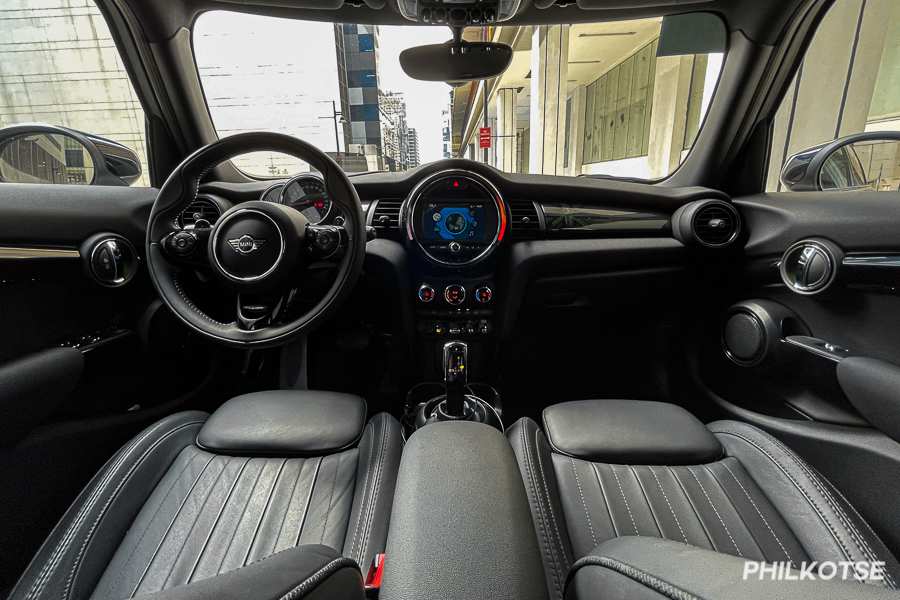 The Cooper S 5-Door's cockpit
However, the rear's tight for me but still comfortable, so I guess fitting four persons inside the cabin is a matter of who's riding where. Noticed I mentioned "four" as despite being listed as a five-seater, the center passenger at the back will more likely prefer public transportation rather than tease chances of claustrophobia and backaches. Less than 300 liters of default trunk space, on the other hand, isn't much but I was able to fill it with grocery items for one month including a sack of rice. Quite surprising, to be honest.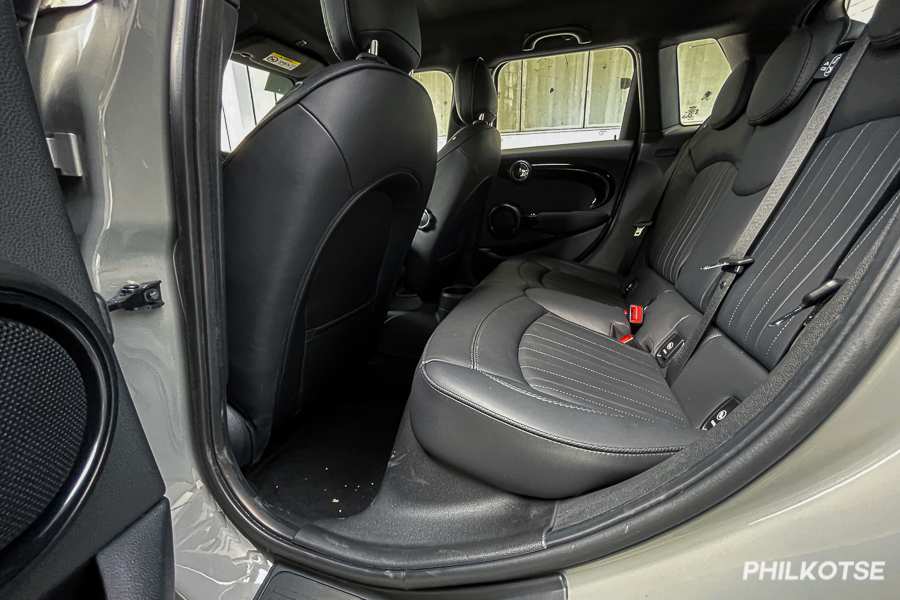 Taller and wider folks might have issues with the Cooper S 5-Door's rear seats
The shortcomings in space are reprieved by the use of high-quality materials in the cabin. They're all soft to the touch and pleasing to the eyes – a cohesive, youthful approach to styling enhanced by a circular theme and a flurry of British branding.
2021 Mini Cooper S 5-Door: Tech & Safety Review
The Cooper S comes with a lot of tech features you'd expect from a European vehicle, such as power windows and side mirror, a high-resolution rearview camera, proximity sensors front and back, heads-up display, regular cruise control and limiter, and a Mini version of the BMW iDrive infotainment.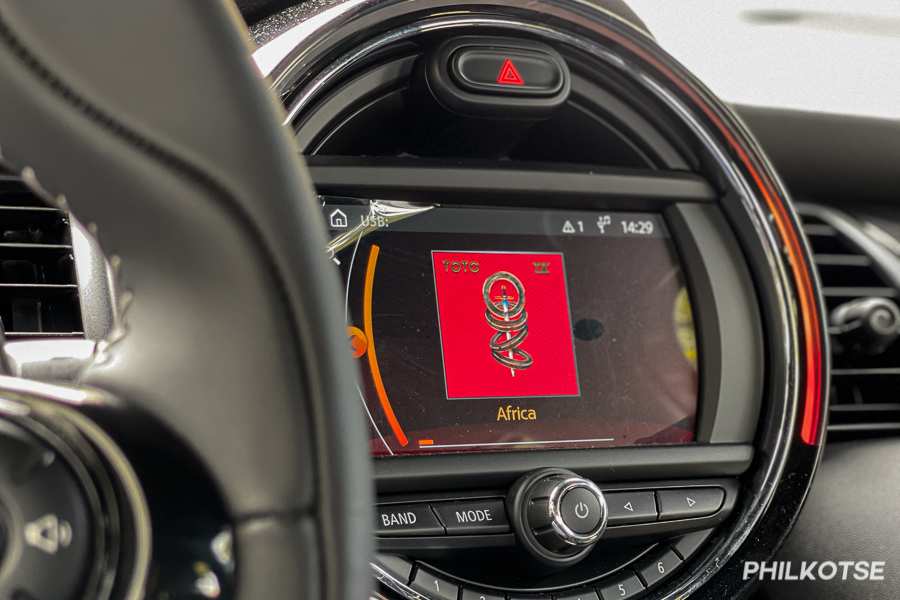 The circular shape framing the touchscreen is definitely the interior's highlights
Can't help but look for electronic seat adjustments and parking brake, considering this price point, but guess some cost-cutting measures had to be made. There isn't Apple CarPlay and Android Auto, as well, but that's okay as Bluetooth connection is seamless and Spotify's integration into the system is remarkable.
 
Safety-wise, the Mini Cooper S is well equipped with necessary features but lack auto emergency braking and blind-spot monitoring – again, things I expect at this price point.
2021 Mini Cooper S 5-Door: Engine & Performance Review
Probably the Cooper's strongest suit, especially in this S variant, is its performance. Now, Minis of yesteryears have been known for its go-kart feel, and that's still apparent in the current model. That's quite expected since the Mini Cooper S in five-door configuration is in between a Honda Brio and City Hatchback in terms of size, but carries a 2.0-liter twin-scroll turbo engine that puts out an output of both Hondas combined – 192 hp and 280 Nm of torque coming from the BMW B48 gasoline engine.
The Cooper S 5-Door's gear shift lever
That said, even on its Normal drive setting, the Mini Cooper S was peppy and reacts to accelerator inputs with urgency. The 7-speed sport DCT downshifts without hesitation, although there's a little but almost negligible turbo-lag.
 
Nevertheless, it was a fun-to-drive machine, complemented by very tight steering that translates to good control, confidence, and great ground feedback. Even the suspension's been tuned for sporty drives, without sacrificing comfort with its noteworthy noise insulation.
2021 Mini Cooper S 5-Door: Fuel Efficiency
Despite the great driving performance, Mini has found a way to somehow keep the Cooper S relatively fuel-efficient. 
 
In the city, I got around 8 km/L in a two-day back-and-forth drive between Makati and Parañaque amid the pandemic traffic. On the highway, with the cruise control set at 90 km/h, I averaged 18 km/L. Those numbers are impressive, with all things considered.
2021 Mini Cooper S 5-Door Review: Verdict
Beyond being a pop culture icon, the Mini Cooper S, even while under BMW, has kept the things that made it a great car – most of them you can find in its iconic design and thrilling on-road performance.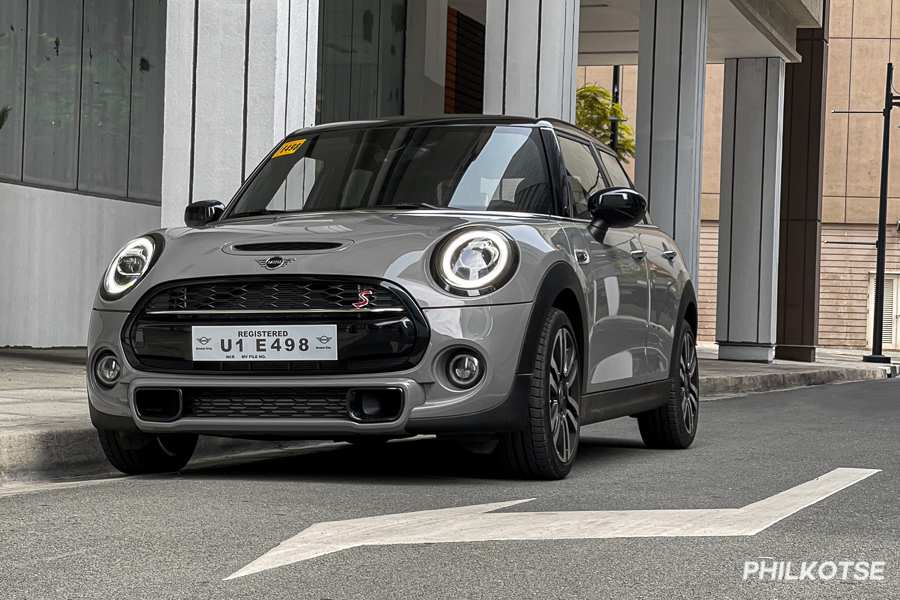 it might not have that much space, but many will appreciate its nimbleness
But at Php 3.1 million for this 5-Door Mini Cooper S, I'm sure that one of you dear reader will find it a bit expensive, and I won't blame you.
 
Then again, this isn't just any ordinary vehicle you'll see on the road. It's a Mini, and you'll buy one because you want one, non-negotiable. And no other small car can be this quick, nimble, and refined – all at the same time. Being cute while doing so is just a bonus.
2021 Mini Cooper S 5-Door Review: Price
| | |
| --- | --- |
| Mini Cooper Variants  | Price  |
| Cooper 5-Door  | Php 2,650,000  |
| Cooper S 5-Door  | Php 3,100,000  |
2021 Mini Cooper S 5-Door Review: Color Options
Mini Cooper S 5-Door Color Options 
Blazing Red, British Racing Green, Electric Blue, Lapisluxury Blue, Moonwalk Grey, Orange, Pepper White, White Silver, Moon Walk Green 
2021 Mini Cooper S 5-Door Review: Specs
Overall 

Make  

Mini 

Name 

Cooper S 5-Door 

Body Type 

5-door hatchback 

Dimensions and Weight 

Length 

4,005mm 

Width 

1,932mm 

Height 

1,425mm 

Engine and Transmission 

Type 

2.0-liter twin-scroll turbo 

Max Power 

192 horsepower 

Max Torque 

280 Nm 

Transmission 

7-speed Sport DCT 

Chassis and Suspension 

Brakes (Front/rear) 

Disc/Disc 

Suspension (Front/rear) 

MacPherson Strut/Multi-link 

Wheels and Tires 

17-inch Alloy wheels 

Exterior 

LED Headlamps 

LED daytime running lamps 

LED taillights 

Shark fin antenna 

LED turn signal indicators 

Interior 

Leather seats 

Automatic air-conditioning 

Six-way adjustable driver's seat 

Power Sunroof 

6.5-inch touchscreen with audio streaming, USB, and Bluetooth 

12-Volt power outlets 

Cruise Control 

Sport Mode and Green mode selector 

Safety and Security 

7 airbags 

Anti-lock braking with electronic brake-force distribution 

Electronic stability control 

Traction control 

Hill-start assist 

Reverse camera 

Blind-spot view camera and monitor 

Reverse parking sensors 

Automatic headlamps 

Security Alarm 

ISOFIX


Jacob Oliva
Author
Recommended articles