You can post as many car listings as you wish on Philkotse. And it's totally for FREE.
Philkotse.com is a leading portal for automotive classified ads in the Philippines. With a comprehensive automobile database and advanced SEO technology, Philkotse.com strives to become the most trusted and efficient platform for buying and selling vehicles online.
Our superior SEO technology ensures that all vehicle listings posted on Philkotse.com will appear on top rankings of all search engine results, which means higher traffic and more exposure to your potential customers. Philkotse.com also allows unregistered users to post a listing easily and conveniently, while registered users can manage your listings via a friendly, easy-to-use interface as well as enjoy additional benefits of a verified seller account.
Please note that, all fields with (*) are required.
How to become a registered user?
1. Click the "Sign up" button on the top right of the Homepage.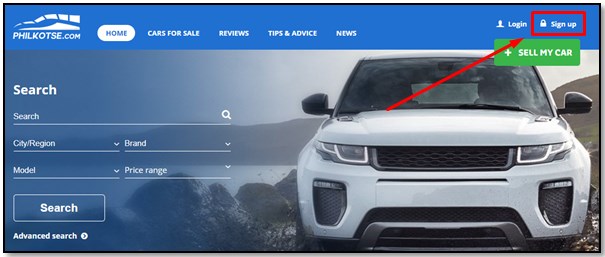 2. Enter your email address, full name, phone number, and address.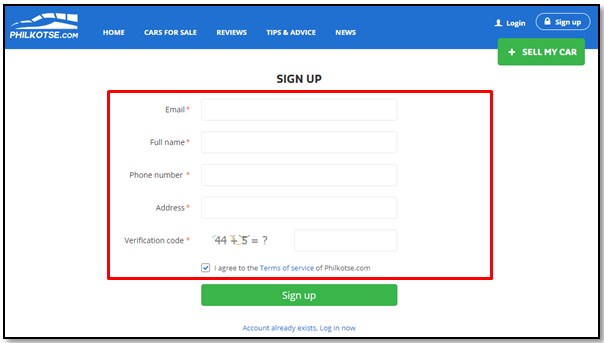 3. Check "I agree to the Terms of service of Philkotse.com" and click "Sign up" when you finish.
How to post a listing if I am an unregistered user?
If you're a website visitor and just want to list your car for sale without registering as an user, simply click on "Sell my car" near the top right of the screen and follow the instruction below.

1. Select the location for your listing. Fill up the car details as indicated in the General information and Specification section.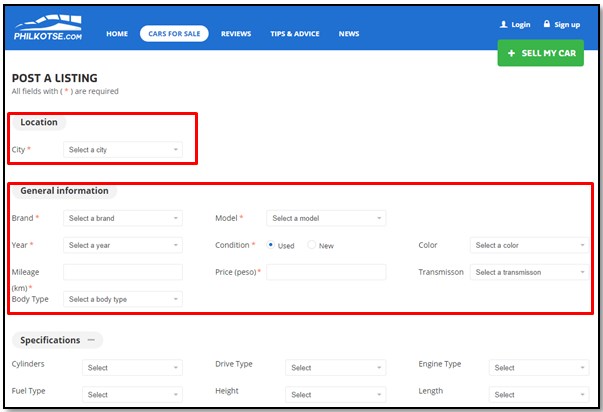 2. Upload images if you have any. You can upload up to 6 images, each less than 4MB. The first image will be the representative picture of your listing.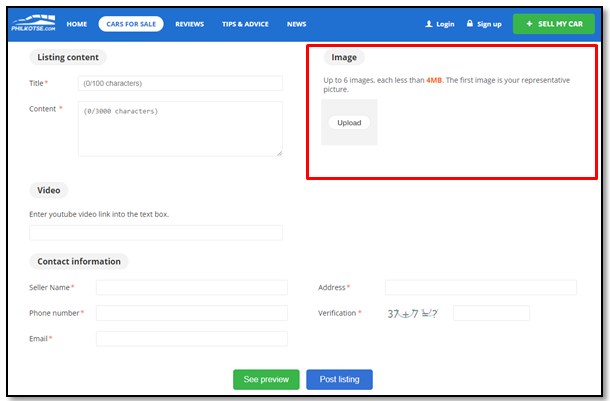 3. Fill the Title and Content of your listing in the Listing content section.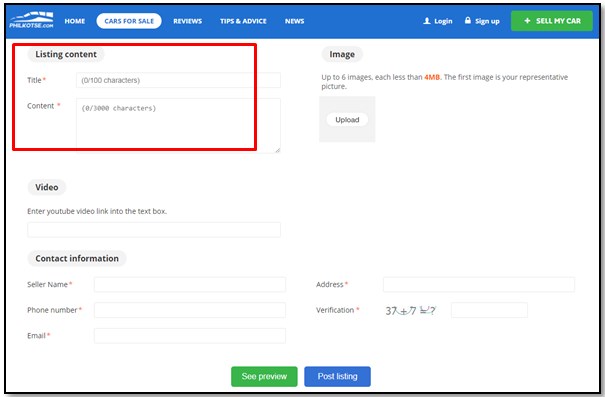 4. Enter your name, phone number, email address in the Contact information field. Your email will not be used for marketing purposes and will not be displayed in your ads. Please make sure that the phone number on your listing matches with the requested format. The submitted phone number must be valid.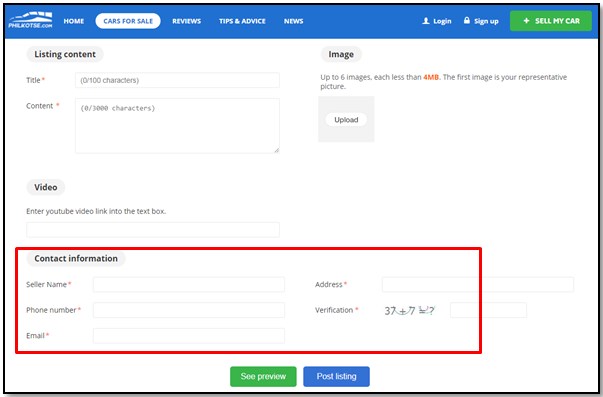 5. If you want to check your listing before submitting, click on "See preview". If everything is ready to go, click on "Post listing" or and you are done!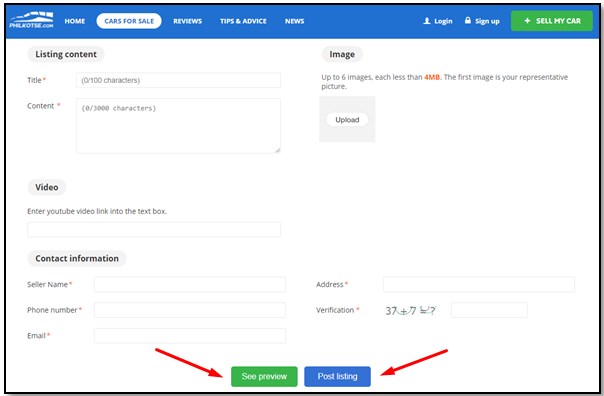 All the listings will be screened carefully before final posting. Philkotse will go into the tiniest details of each listing to see if anything violates our rules and regulations. It will take some time until sellers can view all their listings. After the screening process, your listings meet all our requirements and should be online in few moments. Simply click on "See preview' to view your ad.