Exterior:
About the exterior, Hyundai Tucson is equipped with a sturdy pair of halogen headlamps and initiator lights, as well as LED tail lights. All four variants of the line have rear spoilers to ease your motions on the road.
The newest and most updated model GLS, however, possesses the additional side initiator light features and fog lamps at the front of the design. All Tucson hybrids use 17-inch alloy wheels except for the GLS, which utilizes an 18-inch alloy wheelset instead.
Hyundai Tucson colors include Red Crimson, Magnetic Force, Aqua Blue, Dusk Blue, Winter White, White Cream, Stellar Silver, and Black Noir Pearl.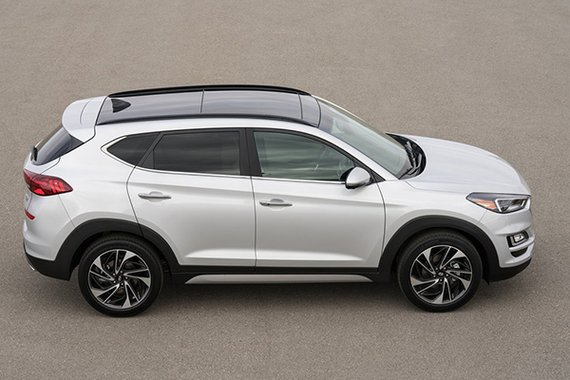 Interior:
The space inside a Hyundai Tucson Philippines hybrid automobile can provide seatings for up to five adults. The air conditioner installed inside the vehicle does an excellent job at keeping the entire space cool and ventilated. The vehicle's seats have soft fabric covers for passenger's comfort, and the steering wheel is also cladded in leather.
Besides those basic features, the GLS model update includes a tilting driver's seat for maximum customization, controlled by the vehicle's electrical system. Rear AC vents are also added to assist with ventilation and airflow.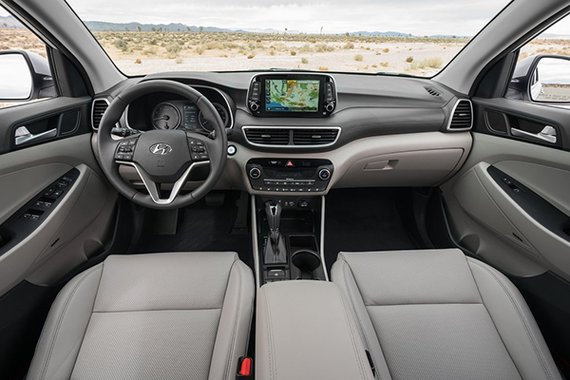 Safety:
Hyundai also provides top-notch safety functions like dual-front airbags, anti-lock braking with electronic brake-force distribution, and stability control for Tucson models.
Technology Features:
Inside the vehicle, you will find lots of techs to entertain yourself on the rides, such as a 3.8-inch floating audio display screen to which you can connect your USB, Bluetooth, or aux-in with.
The GLS model has a seven-inch interface for you to mess around with the same method of connections, aside from Apple CarPlay and Android Auto for you to play audio directly from your phone. As for audio quality, all Tucson head units have a built-in six-piece speaker system for your enjoyment!
The driver on the Hyundai crossover hybrid is also rather interesting. It contains a push-to-start button in place of the traditional key start, a tilt and telescopic steering column for versatility, a digital trip computer, analog gauges, and more. If you find parallel parking to be quite challenging, the model also has reverse cameras and parking sensors!