Subaru WRX STI 2018 will win over Filipino customers thanks to its powerful engine, "pro" handling abilities, and good-quality interior.
In this review...
Capacity & Performance

Exterior

Interior

Accessories

Engine & Performance

Verdict
1. Subaru WRX 2018 review Philippines: Great capacity & High performance
The Subaru WRX STI 2018 is similar to a "brilliant kid" but only gets Cs and Ds at school. 'No breakthrough', 'lack of delicacy', 'mediocre results' are words people usually use to describe the Subaru WRX STI. However, when it is put under more difficult challenges that require strong abilities, the "child" of Subaru reveals its great capacity and high performance.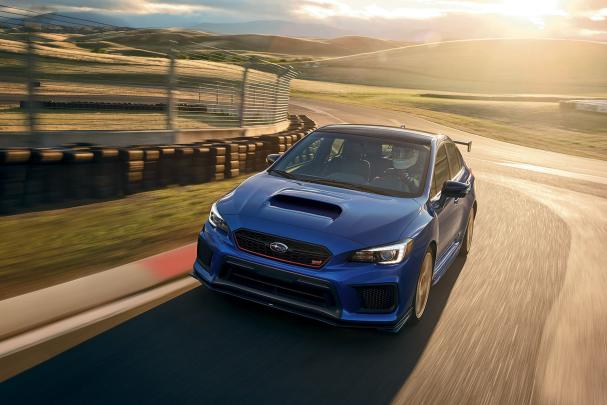 The Subaru WRX STI 2018 will convince Filipino drivers with exceptional powers
The Subaru STI models are given excellent handling capabilities on narrow tracks and at very high speed. High performance drivers who would want to push the car into its limit will find out how powerful the WRX STI really is when it reaches maximum potential. There were still, however, greater expectations for this modestly designed four-door model.
According to automotive experts reviews, the WRX STI's appeal lies partly in the high performance while partly in its applicability and family utility. The main limitation is that the model still has to improve on style. Subaru has developed the WRX STI Type RA variant with many improvements in efficiency, but we will have to wait until 2020 for the latest generation of WRX and STI.
New Subaru WRX STi 2018 - Review
Now let's take a closer look at our Subaru WRX STI 2018 review to find out what the Japanese manufacturer Subaru offers with its WRX STI 2018.
Subaru WRX STI 2018 Specs in the Philippines
Body size (L x W x H)
4,595 mm x 1,795 mm x 1,475 mm
Wheelbase
2,650 mm
Engine
2.5 EFI Turbo EJ25
Transmission Options
6-speed MT
Maximum Power
305 hp @ 6,000 rpm
Maximum Torque
393 Nm @ 4,000 rpm
Tire Size
245/35R19
>>> Latest update: 2021 Subaru WRX STI: Expectations and what we know so far
2. Subaru WRX 2018 review Philippines: Exterior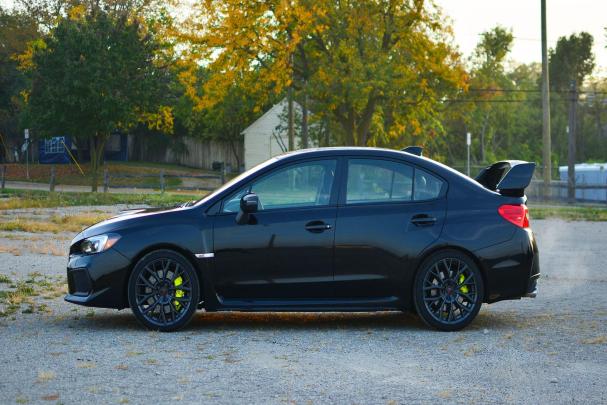 The Subaru WRX STI 2018 has a dynamic design with many embossed lines
The 2018 Subaru WRX STI exterior design is not much different than the current model. However, the Japanese automaker has yet to apply the new Subaru Global Platform found in the Subaru Impreza 2017 to the WRX.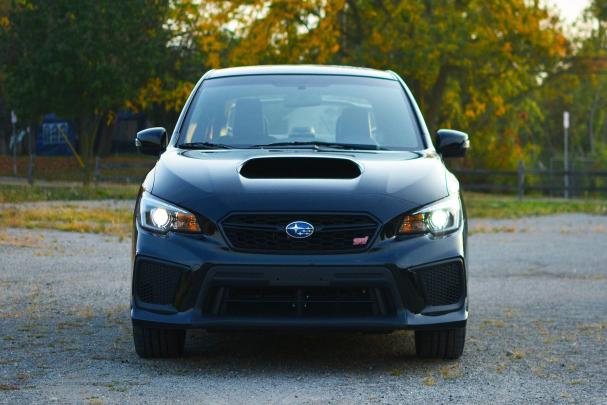 The front design is neat and sportive
A more compacted car front equipped with LED headlamps creates a more powerful and vivid look for the Subaru WRX STI 2018. The grille is designed lower and wider, which brings the same impression.
Another notable feature of the exterior is an attractive-looking lacquered roof rack. The car also has 19-inch dark gray aluminum wheels and standard Yokohama Advan Sport V105 245 / 35R-19 tires.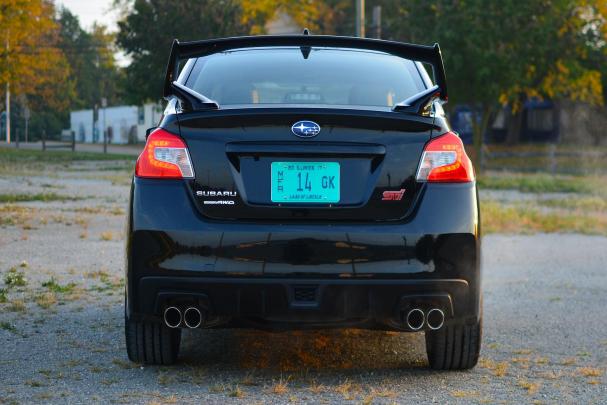 The car tail is distinguishable with a large sportive wing
The Subaru WRX STI 2018 retains the same rear design as its predecessor, and no significant changes were made. The brightest spots are a large sportive wing fixed to the trunk lid and the dual exhaust tubes placed in both sides.
YOU MAY WANT TO READ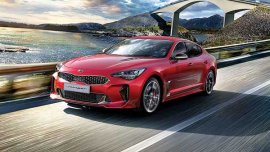 Model Price Philippines
₱ 3,235,000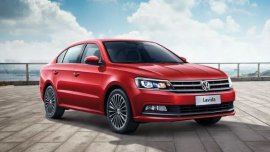 Model Price Philippines
₱ 1,251,000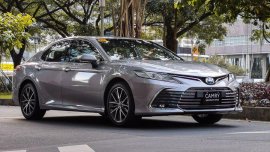 Model Price Philippines
₱ 2,442,000 - ₱ 2,457,000
3. Subaru WRX 2018 review Philippines: Interior
The Japanese manufacturer has also tried to bring some improvements to the interior
This is a high-performance version so you might think that the interior is not the strongest suit of the Subaru WRX STI. However, the Japanese manufacturer has also tried to bring some improvements to the Subaru WRX STI 2018 interior.
The most noticeable feature in the center console area is a multifunction screen above the entertainment screen. This screen displays the turbocharger pressure - a new feature that the WRX STI's competitors do not have.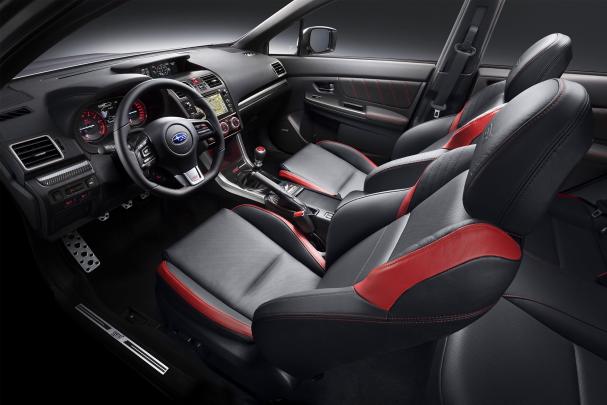 The 2018 WRX STI's car seats and cabin are upgraded from previous versions
The fancy Recaro sports seats are the standard for the STI and STI Limited models. The large car cabin is also equipped with attractive red seat belts, and foldable cup sockets in the front and rear seats. The driver's seat can also be manually adjusted in six directions.
4. Subaru WRX 2018 review Philippines: Accessories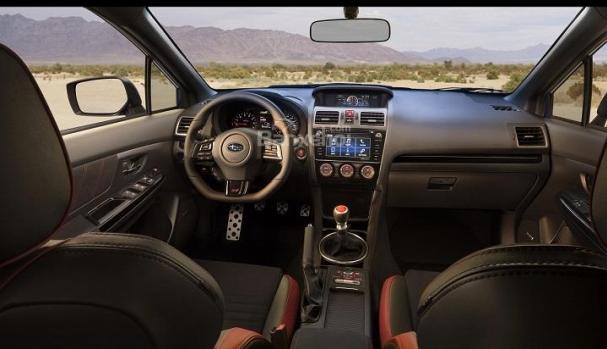 Subaru WRX STI has a 7-inch STARLINK Multimedia Plus system
Although the Subaru WRX STI 2018 does not have many high-tech features, its electronic devices are reliable and user-friendly. Subaru's STARLINK Multimedia Plus 7-inch system, which includes satellite HD Radio, Bluetooth, Siri Eyes, and a standard 6-speaker audio system, is compatible with applications like Pandora, iHeart Radio, and Aha. If you choose to upgrade to the STI Limited Edition, you will have better STARLINK system with navigation menu, touch screen and a Harman Kardon 9-speaker system.
STI models are equipped with an automatic two-zone air-conditioner and a 3.5-inch LCD screen. The STI Limited version is not different in performance but adds features including an automatic sunroof, smart key and start button, Harman / Kardon audio system and an 8-way adjustable Recaro seat. Another option is a lower wing instead of a standard STI wing.
Safety-wise, one significant modification to the 2018 WRX STI, as compared to the 2017 model, is that the center differential is now fully digital, instead of being controlled both mechanically and electronically. Subaru named this feature Multi-Mode Driver Controlled Center Differential (DCCD), and it significantly enhances the car's already superior handling ability.
The standard safety features of the WRX STI include active driving assistance, blind spot detection, and overtaking vehicle alert. The WRX STI Limited model provides more advanced safety features known as the Subaru's EyeSight package.
5. Subaru WRX 2018 review Philippines: Engine & Performance
The upgrades and improvements made to the Subaru WRX STI 2018 unfortunately does not target the engine, that is starting to become obsolete. The standard WRX is equipped with a 2-liter 4-cylinder engine with a capacity of 268 horsepower, and the high-performance model STI utilizes a 2.5-liter turbocharged engine with 305 horsepower. This capacity only exceeds the 2004 STI by 5 horsepower.
Subaru also equips its car with SI-Drive, which is essentially a driver mode selector that governs the engine's power supply capability. Using the center console, the driver can select either Intelligent, Sport or Sport Sharp modes, depending on which is more important at the time, engine response or fuel efficiency. The SI-Drive makes WRX STI more user-friendly, which is one important advantage against its competitors in the high-performance automotive market.
The fuel economy of STI's engine is quite disappointing. STI's fuel consumption level of 13.8 liters/ 100km in the city or 10.2 liters/ 100km on the highway, is much less fuel-efficient than that of its direct competitor - the Volkswagen Golf R.
For the engine to reach its maximum potential, the driver needs to use his right hand actively (switching gear and modes) and his left leg very frequently (pushing the quite-heavy clutch pedal). To many people, this could be serious muscle training, especially, if they are driving long distances everyday.
The STI is equipped with Brembo brake system, and its performance is as good as expected, able to completely stop a 112 km/h-moving vehicle after only 48 meters.
The STI could meet the most demanding user's expectations in handling ability by providing strong body control and good balancing ability. The steering wheel is, in addition to being terribly well balanced, reactive and responsive. Instead of the automatic steering support of the standard WRX, the STI utilizes hydraulic power support, making steering wheel more efficient (14.3:1 steering ratio versus 13.3:1 in the standard WRX).
Using "hard" air suspension may make the driving experience more bumpy than newer rivals such as the Volkswagen Golf R, the WRX STI still has the advantage of smooth speeding.
Although Subaru usually has less or none understeer within the steering range, the 0.93g brake pads make it very difficult for the WRX STI to compete with the Ford Focus's 1.04g and Honda Civic Type R's 1.02g in terms of road grip.
There are no longer days when the Mitsubishi Evo was the only rival to the powerful STI. The Subaru WRX STI is now facing fierce competition from the Focus RS 350 horsepower, Civic Type R 306 horsepower and Volkswagen Golf R. The WRX STI ranked only third in the race of high-performance cars. However, in the competition with Ford and Volkswagen, the Subaru still has comparative advantages in handling ability, better-looking exterior design and more elegant interior accessories, all at a similar or lower prices.
6. Subaru WRX 2018 review Philippines: Verdict
We can rely on the Subaru WRX STI 2018 for its ability to handle well in almost any road condition or terrain. In the 2018 version, the car is revamped with a stronger exterior design, higher quality interior accessories and noise resistance ability. It is said that 2020 will see the launch of all-new Subaru WRX and WRX STI models which are re-engineered with new engines and upgraded designs. But before then, there is still a lot to appreciate about the 2018 version.
Subaru WRX 2018 prices in the Philippines

| Variants | Price |
| --- | --- |
| Subaru WRX STI Standard | P2,518,000 |
| Subaru WRX STI Limited w/ Wing | P2,618,000 |
| Subaru WRX STI Limited w/ Lip | P2,618,000 |
>>> View full Subaru WRX STI price list with monthly installment
Subaru WRX 2018 Pros & Cons
Pros
Cons

The race car-like design is attractive
The steering system is sensitive and well-performing
The spacious interior provides extra utility

The clutch and gear shifter are quite heavy
The chassis design lacks strength and requires fortification
The interior is less than appealing in terms of appearance and style
Finally, hope that the Subaru WRX 2018 Review Philippines on Philkotse.com has provided you with useful information about this great high-performance sedan.

Recommended articles