Get the latest reviews of the Isuzu MU-X 2016 Philippines with prices, buying advice, pictures, expert ratings, special features, and specs on Philkotse.com.
In this review...
Overview

Exterior

Interior

Accessories

Engine & Performance

Verdict
1. Isuzu MU-X 2016 review Philippines: Most favorite SUV in the Philippines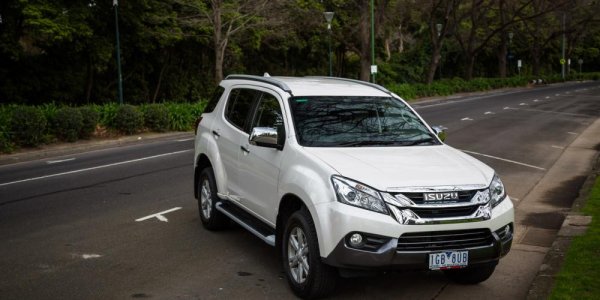 The 2016 Isuzu MU-X makes a leisurely drive but causes various controversies surrounding its own value

If you've been a discerning car user following the car scene in the world, you know without a doubt that one of the leading cars of the SUV set is the high-end 2016 Isuzu MU-X. Its price is up to $53.500, which makes it one of the cheapest SUVs in the mid-sized segment. The 2016 Isuzu MU-X makes a leisurely drive but causes various controversies surrounding its own value. Isuzu MU-X is suitable for those needing comfortable transport and seeking a car that provides a nice space to escape from an overcast of soot and smog in the street's surrounding air. Despite being out for a while, the new 2016 model still embraces the same design language found in its predecessors.

However it gives a new and more powerful 3.0 VGS engine churning out 163 hp and 380 Nm of torque, compared to its original 2.5-L power giving 136hp and 320 Nm of torque. Thanks to its plus 1800 to 2800 rpm peak torque and the smooth engine, some reviewers have called Isuzu MU-X a true workhorse plying many roads.

Additionally, as a 7-seater car, Isuzu MU-X can serve as a family car in a long vacation drive or even in a business errand, running way from the hectic tempo of the city.
>>> Related: ISUZU I-VAN 2017 FOR SALE
2. Isuzu MU-X 2016 review Philippines: Exterior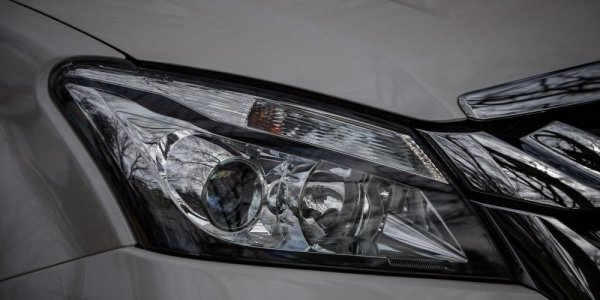 Although Isuzu MU-X inherits the same design language from D-MAX pickup and Holden Trailblazer, it witnesses a remarkable and unheralded improvement with the stylish and unmatched bob-tailed wagon.

Aside from decisive advantages, the Isuzu MU-X Philippines is not an impeccable car due to its poor high-beam throw, imperfect on-road performance at night, poor wheel form, and no snazzy LED tail lights and running lamps. If Isuzu MU-X just depends on some good attributes like a set of integrated roof rails or a rear spoiler assembly, customers would seek Obsidian Grey MU-X instead.

Isuzu MU-X delivers cars to customer's door as a customer retention strategy.
YOU MAY WANT TO READ
Model Price Philippines
₱ 1,179,000 - ₱ 1,373,000
Model Price Philippines
₱ 1,368,000 - ₱ 1,885,000
Model Price Philippines
₱ 998,000 - ₱ 1,332,000
3. Isuzu MU-X 2016 review Philippines: Interior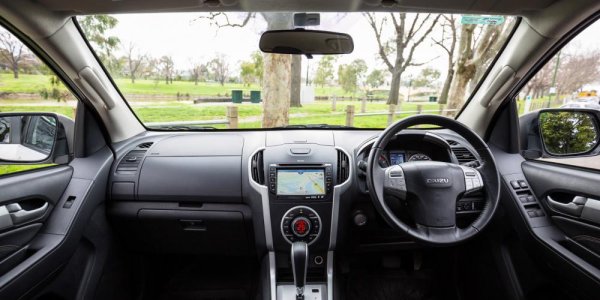 Isuzu MU-X offers some most heightened features: handy convenience features instead of rigid material options; the consonant dashboard; large capacity of the twin glove boxes; dash-top cubby; center console cup holders and stowage bin; sunglasses holder; door bins and vent mounted cup-holders.

The car holds suitable form switchgear and large LED number climate control. The keyless entry beneath car users' left knee would not be a better improvement for MU-X, further reducing customer's satisfaction.

Isuzu MU-X embraces the comfortable feeling with ANCAP-rated five-star safety as well as stability and traction control programs, and six airbags around the cabin. Isuzu MU-X's rear-view camera displays up in the rear-view mirror.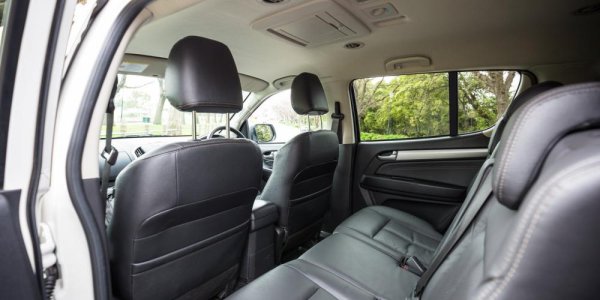 This new model also scores its 30.2-degree entry and 25.1-degree departure and a well-rounded system with the rear using a five-link solid axle to allow decent articulation as well as comfort on-board.

Isuzu MU-X holds a bash plate for the sump and transfer-case to keep vital and pricey factors.

It can provide a 5-seater and a third row when needed. Designed sophistically to make the most of its inner space, Isuzu MU-X's inside can expand to 1830 liters from its original 235 liters of spaces. By this noticeable feature, Isuzu MU-X is versatile enough for a family in a long vacation drive.
>>> Related: Brand-new and pre-owned Isuzu MU-X for sale on Philkotse
4. Isuzu MU-X 2016 review Philippines: Accessories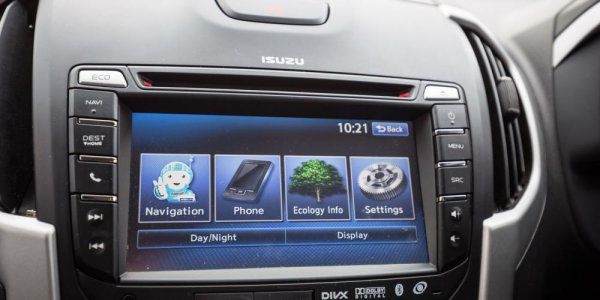 Identifying the sun's potion is a meaningless function of Isuzu MU-X

Isuzu MU-X offers 8-speaker surround sound system and a big screen to watch AVI or region-4 DVD movies. Despite being old-fashioned, the 8.0-inch touch screen still satisfy people's needs thanks to its flawless performance and navigation ability via a cool mini MU-X to spot your location. However, identifying the sun's potion is its meaningless function.
5. Isuzu MU-X 2016 review Philippines: Engine & Performance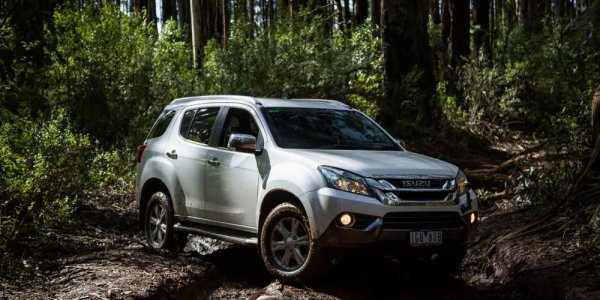 Isuzu MU-X eats up 8.3L/100km frequently in order to keep the big wagon operating quietly.

This new model of Isuzu provides the impressive 5-speed automatic transmission operated by a manual-shift mode for better off-road or towing control and "Terrain Command" 4x4 system allowing for in-cabin to switch between two-and four-wheel-drive high-range while on the move.
6. Isuzu MU-X 2016 review Philippines: Verdict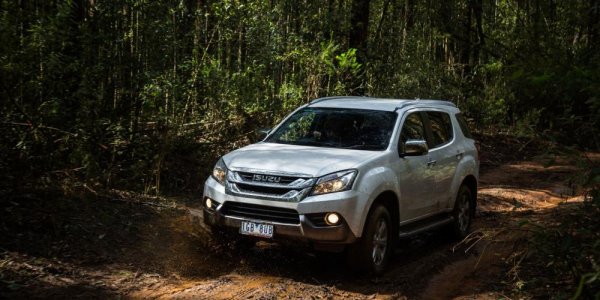 Isuzu MU-X scores the 10-inch flip-down monitor in the roof supporting family's trip on the go but loses a point because of the low-priced leather.

Although Isuzu MU-X is designed with the high-riding stance of the wagon, the non-powered tailgate is quite heavy and difficult to pull up high.

Hauling cargo is actually complicated with Isuzu MU-X because of the boot floor. When the box is full and owners want to open the hatch, the stored goods would be on the verge of collapse and may fall out the back.

Providing the 230mm ride height, however Isuzu MU-X holds the low-side steps that can be susceptible to ruts and edges.

Concerning ownership, Isuzu MU-X should offer some special benefits for owners to have their cars checked every six months or 10,000km then they can save $2325 in three years to come.

Isuzu MU-X's steering needs a more efficient design instead of looking just huge right now.

The streets in every country seem the same day in and day out and people's travel demands are on the move. Therefore, the 4x4 wagon Isuzu MU-X seems truly a necessary car that is expected to generate excitement and enjoyment for its owners.