Exterior
The Brio Amaze 2015 measures 3,990 mm in length, 1,680 mm in width, and 1,485 mm in height.
While this car doesn't have the most gorgeous exterior on the market but there are impressive things that will catch your eyes. First of all, there are multi-reflector illuminating headlamps, stunning turn signal lights, and a sport-style chrome grille.
On the rear of the car, there are LED brake lamps to provide better visibility as well as bulb-type tail lamps finished with chrome accents, creating a contrasting appearance. Honda used the same color for the mirrors and the entire car.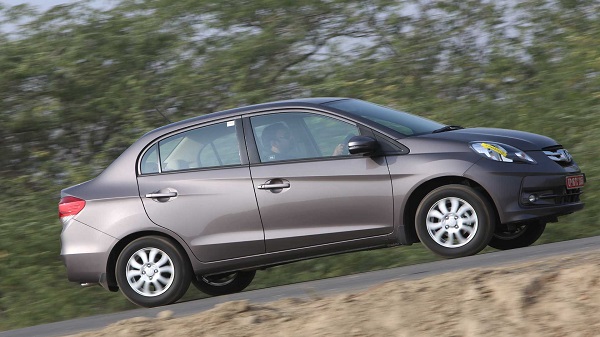 Interior
The interior of the 2015 Honda Brio Amaze features beige and black as the theme colors. Beige is used on the lining at the door, the panels, along with the roof. Meanwhile, the dashboard is black.
Inside the car, there is a 1-DIN stereo, a 2-DIN navigation system, an advanced auditory system, depending on which variant you choose. It also houses support for connectivity including Bluetooth, AUX-IN, USB, and DVD/CD for the infotainment system.
Nevertheless, the 2-DIN system does not support Bluetooth as the audio is sent via a dual or quad-speaker system, which also depends on the variant of choice.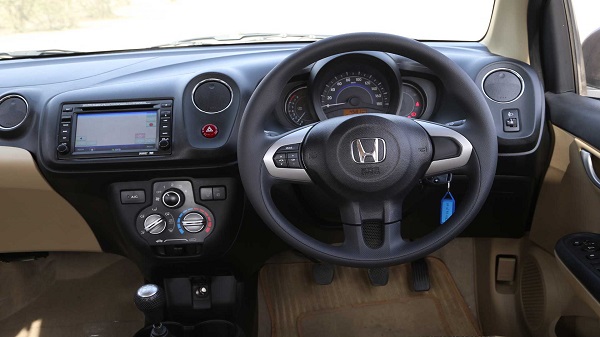 Safety
The safety features on this Honda car is pretty basic, including 2 airbags and anti-lock brakes.
Technology features
In terms of technology features, the Honda Brio Amaze 2015 comes with power steering, power windows, power door locks, climate control, and power mirrors. It doesn't have steering wheel controls.