Exterior:
Almost all Nissan Patrol Royale reviews claim that impressive is a perfect adjective to describe this car. This car has an exterior that is both solid and luxurious from front to back.
Its dimensions of 5,165 x 1,995 x 1,955 mm (L x W x H) and ground clearance of 273 mm can explain the solid aspect of this model.
Contributing to this luxurious look is a unique sense from the large chrome grille, projector headlamps, and LED headlights.
On its side, the SUV has a floating roofline with a dark A-pillar and functional vents to exhaust heat away from the engine area.
The Patrol Royale comes with chrome door handles, outside rearview mirrors, and diamond-cut alloy wheels, which add to the vehicle's luxurious appearance.
The Patrol Royale maintains its subtlety in the back with a modest rear appearance. The small lamps on its tail further assist the big rear windscreen in making the rear door seem larger.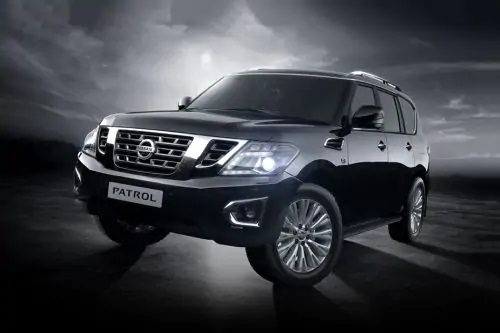 Interior:
Not only possessing a spacious and airy cabin, but the Patrol Royale also has sound insulation, which is the Thinsulate. This advanced material is an ultra microfibre insulation, capable of providing a quieter, more comfortable, and well-insulated cabin for users.
For a better experience on board, the brand carefully covers all seats with high-quality leather coming in two black and light brown color options. Nevertheless, the most noticeable change is the renewed diamond-shaped motifs, faux wood veneer, and chrome accents inspired by super-luxury SUVs.
The Patrol Royale can seat eight people comfortably. Moreover, to avoid unsatisfied experiences during bad weather, the brand even attaches temperature controls to the car.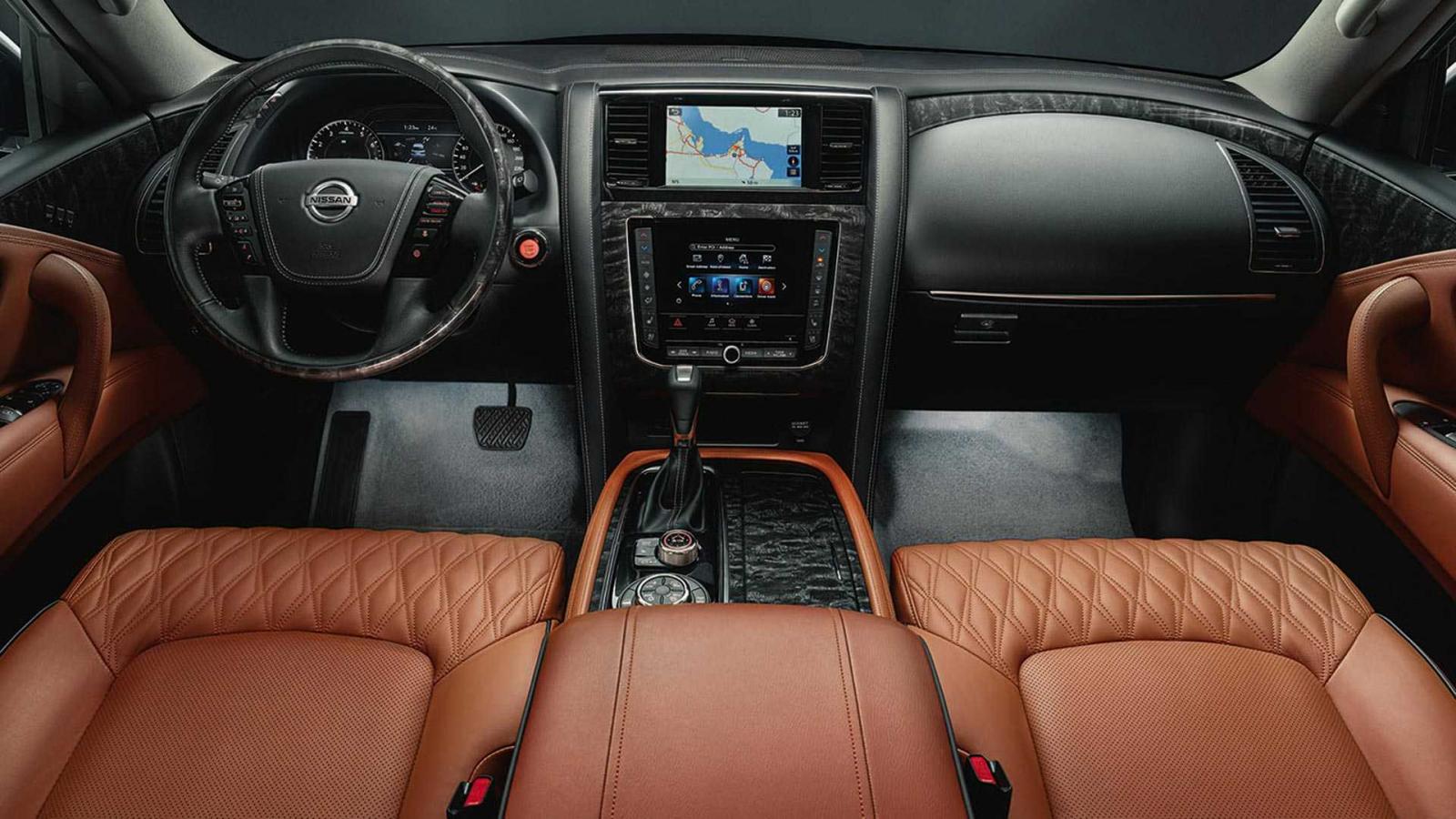 Specs:
Although it looks like a luxury car, the Patrol Royale has a large body that can accommodate up to eight passengers.
Powering this spacious car is the 5.6-liter eight-cylinder engine alongside a seven-speed automatic transmission with a manual mode. This powerful engine can produce 400 HP and 560 Nm of torque.
Safety:
Like other cars in the segment, the Patrol Royale also possesses six airbags in front, side, and curtain. It also comes with a sufficient braking package of a brake assist system, a surround-view monitor, and a stability control system.
Then what makes this model superior to other SUVs? It's the advanced secured sensors that empower the Patrol SUV. These include front and rear parking sensors, a 360-degree camera with front and rear ultrasonic sensors, and a security warning.
Technology Features:
Besides outstanding safety features, the Nissan Patrol offers an infotainment system that you can access through an 8-inch display. You can utilize the Bluetooth, USB, or AUX connectivity available in the car to connect and use this system.
Sounds from this technology will come from its 13-speaker Bose sound system. One surprising factor is that there are also two 7-inch screens in the middle row and wireless headphones to better serve passengers.