Ready for the star-studded seven-seater MPV battle royale.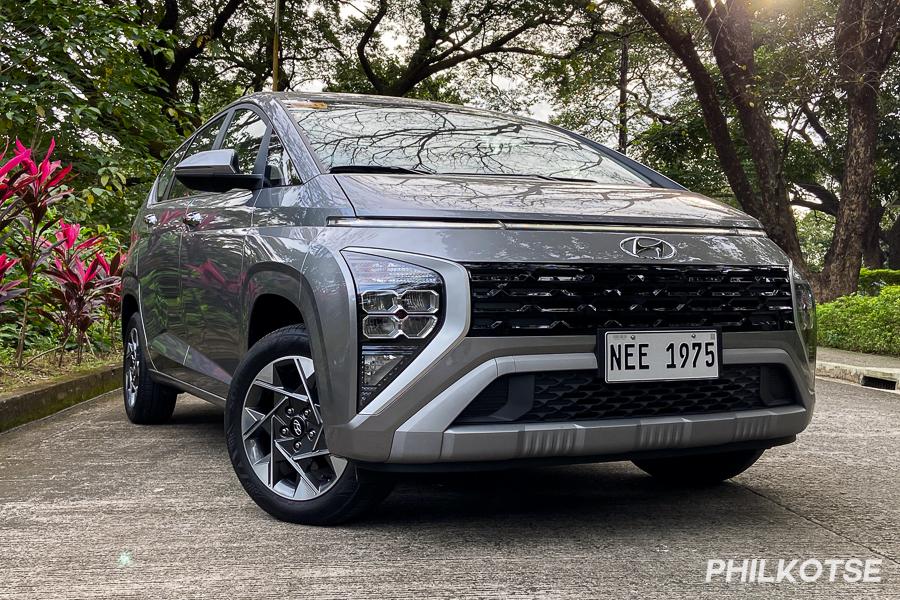 In this review...
Introduction

Exterior

Interior

Tech & Safety

Engine & Performance

Fuel Efficiency

Verdict

Variants & Price

Color Options

Specs
2023 Hyundai Stargazer GLS Premium Review: Introduction
Hyundai was once one of the top car brands in the Philippines in terms of sales. In 2019, the Korean automaker posted 33,763 units sold, which is a far cry from its 2020 sales performance where it sold 16,346 units. The sales numbers continue to drop in 2021 as Hyundai posted just 9,061 units.
The downward spiral in sales put Hyundai in a difficult position in the local market. Dealerships and Hyundai owners were also left in the dark as to what will happen to their chosen Korean car brand. Not until June 2022, when Hyundai passenger cars in the Philippines found a new distributor, Hyundai Motor Philippines (HMPH) led by Lee Dong Wok.
Hyundai Stargazer Review
By August 2022, HMPH officially launched its initial offering which includes the Creta, Tucson, Staria, and Santa Fe. This also signified that HMPH is determined to bring back Hyundai's glory days in the Philippines.
To further emphasize its urge to regain its foothold in the local market, HMPH entered the seven-seater MPV segment with the Stargazer, introduced last November 2022. Can the Stargazer stand among its segment rivals? And more importantly, does it have what it takes to be HMPH's volume seller vehicle? Here's Philkotse's 2023 Hyundai Stargazer GLS Premium full review.
Overall exterior & Interior design, build quality, form vs function

Number of safety & tech features, consistency during usage

Power delivery, acceleration, transmission, suspension, handling

Overall Ride Comfort, Space, Storage Areas

Sticker price vs overall package
2023 Hyundai Stargazer GLS Premium Exterior Review: Uniquely unique
The Hyundai Stargazer instantly stands out in the current sea of seven-seater MPVs in the Philippines due to its unique look. Its front end shares similarities with its larger sibling, the Staria.
The Stargazer's fascia also has a laid-back yet distinctive appeal. It veers away from the rugged-ish design seen on other MPVs in the local market such as the Mitsubishi Xpander or the Toyota Avanza.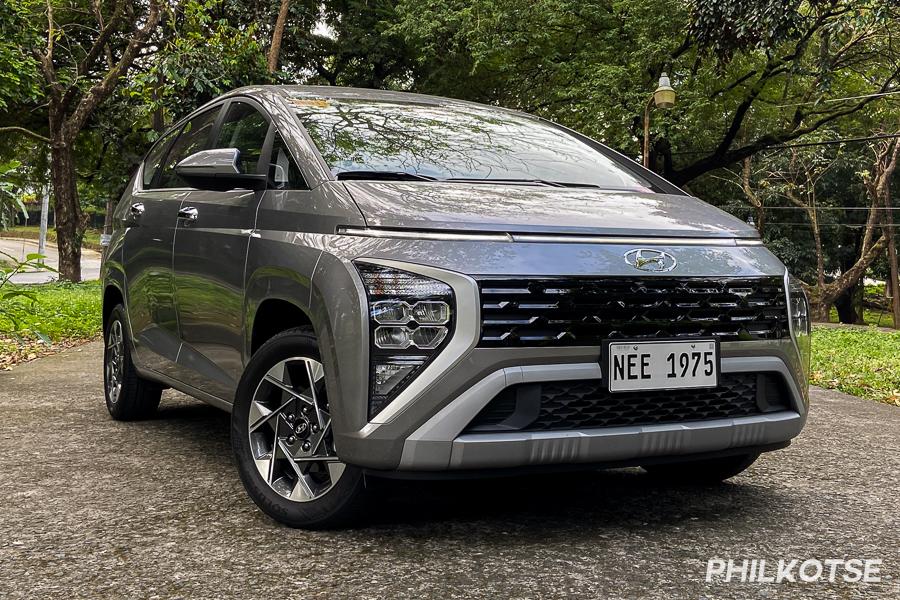 The Stargazer comes with a laid back front end design
This top-spec Stargazer GLS Premium comes with LED headlights and halogen fog lamps that are both housed in a boomerang-shaped cluster. It also has slim daytime running lights that are placed beneath the hood. The black grille, which reminds me of a cheese grater, blends well into the front end.
The said design combo gives a chill vibe demeanor, which makes it uniquely unique compared to its MPV rivals. It looks different, but it works. It might even be part of Daft Punk's music video in case they want to make a comeback.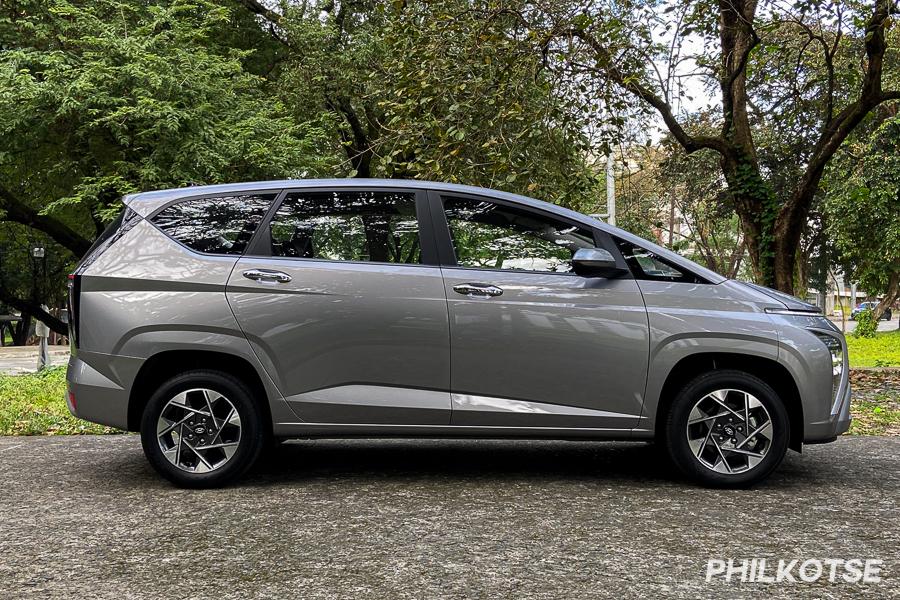 It has crisp character lines on the side
The laid-back demeanor is taken up a notch once you view the Stargazer on the side. It has crisp character lines that add swag points. What I liked most is the broken character line that's seen from the front fenders up to the front doors. Then, it gets cut for a bit before extending all the way back. The two-tone 16-inch alloy wheels further give style points to the Stargazer. Of note, this Stargazer also comes with power-folding side mirrors, and chrome door handles.
The same thing can be said when you look into the Stargazer's rear which sports a louder design compared to its front end. The LED taillights are among the design detail that makes the Stargazer shine from its rivals. The taillights, which are connected by a light bar, form the letter H when this MPV is viewed fully from the rear.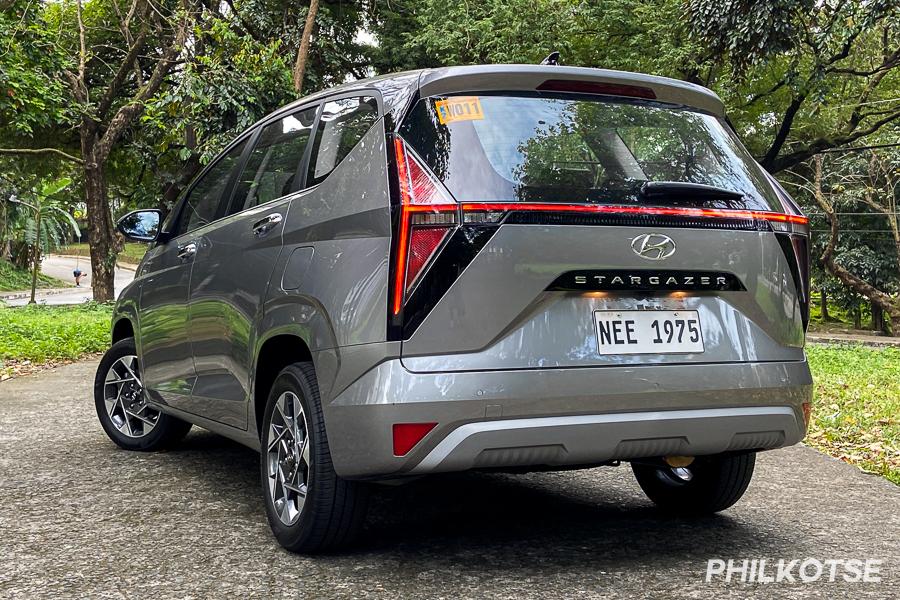 Look at that distinctive LED taillights
I also appreciate the use of a glossy black accent on the tailgate since I prefer it more than chrome. And oh, the tailgate follows the shape of the taillights. This means that when you open the tailgate, it has a pointed surface on each end.
YOU MAY WANT TO READ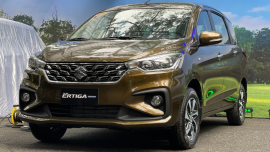 Model Price Philippines
₱ 954,000 - ₱ 1,153,000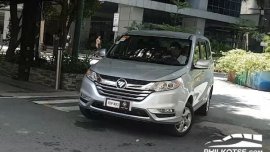 Model Price Philippines
₱ 520,000 - ₱ 708,000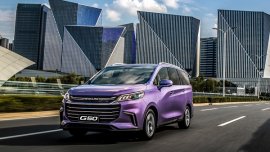 Model Price Philippines
₱ 948,000 - ₱ 1,338,000
2023 Hyundai Stargazer GLS Premium Interior Review: Keeping it lowkey
If the Stargazer's exterior is a looker, I find its interior more straightforward and simple. The cabin has a black interior theme with accents of flat silver. The use of hard plastic materials is easily seen and felt, which is expected considering the segment it's competing in.
The straightforward and low-key interior works for the Stargazer as it doesn't try too hard to impress you. I actually find the cabin design logical and practical since it has a generous number of storage spaces, which is more than 30.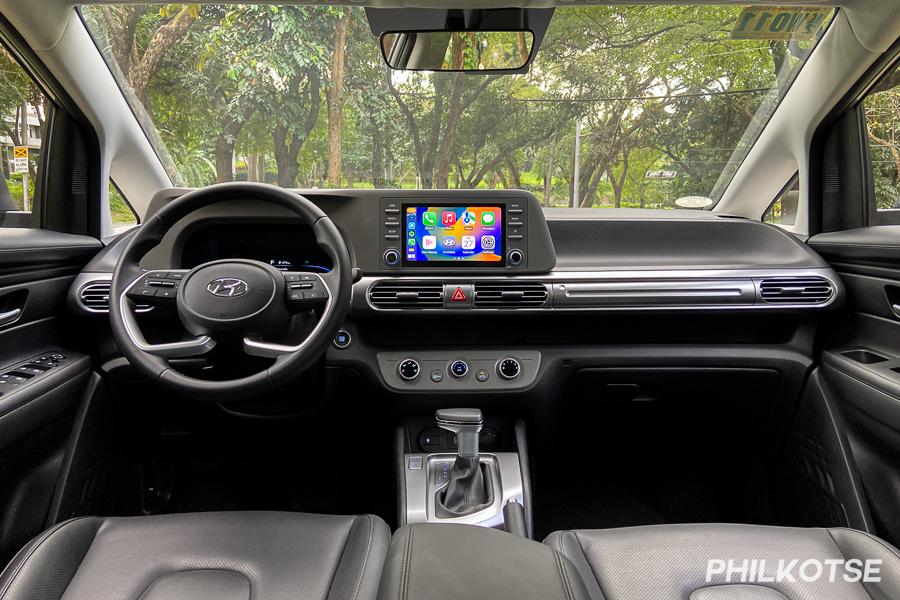 The Stargazer has a simple dashboard layout
Among those is the open tunnel or pad beneath the aircon vents, which allows you to stow an assortment of items. There's also a large space on the passenger side dashboard and a hidden tray between the center and front passenger aircon vents.
Those storage spaces make the Stargazer's cabin practical since it's an MPV that's meant to be a people hauler or a family vehicle. More people means more stuff that needs to be stowed away – and the Stargazer got you covered on that aspect.
Its low-key cabin layout works wonders, especially for those individuals who carry a lot of handy stuff. But, I still find the material that encloses the infotainment touchscreen, and the digital instrument cluster too bulky, and a bit out of place.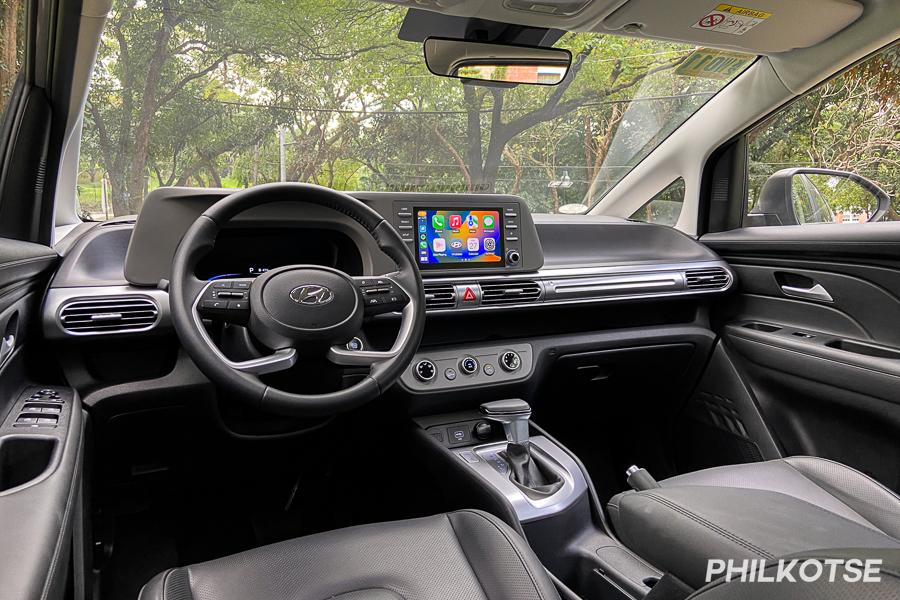 It features more than 30 storage spaces
Aside from being too bulky for my liking, it also has a different shade compared to the whole dashboard layout. While it may give a bit of an accent to the interior, I prefer it to be in flat black for the sake of continuity.
The tilt & telescopic steering wheel with artificial leather offers a nice grip feel but is not that stellar, which is again expected considering the Stargazer's price point. The seats, on the other hand, offer good cushioning.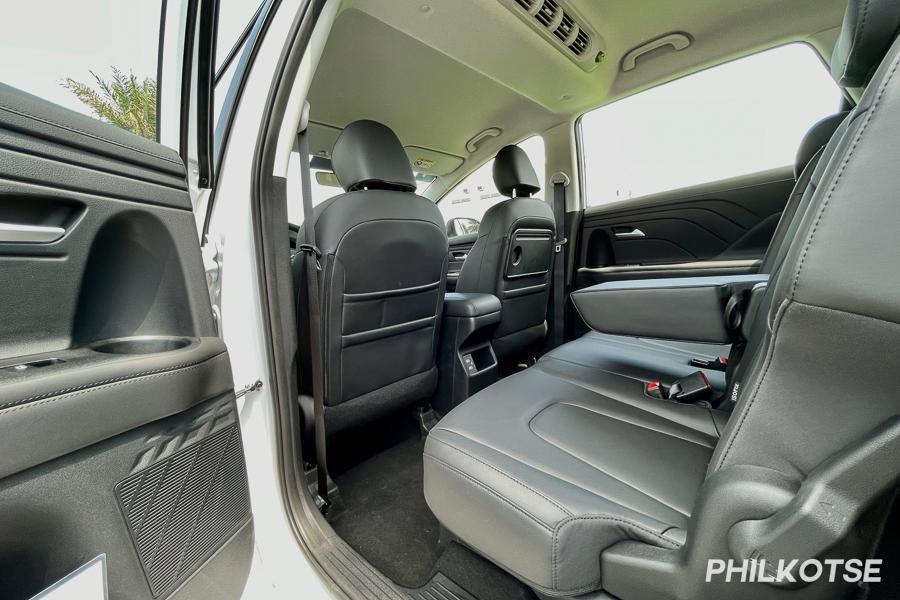 Second-row passengers get enough legroom
Second-row passengers get enough legroom, with space for up to three adults. The second-row seats can be folded at 60:40 configuration, and have a slide function to give third-row passengers more legroom in case needed. Second-row passengers standing 5'5" still have decent legroom even when the seats are fully slid to the front.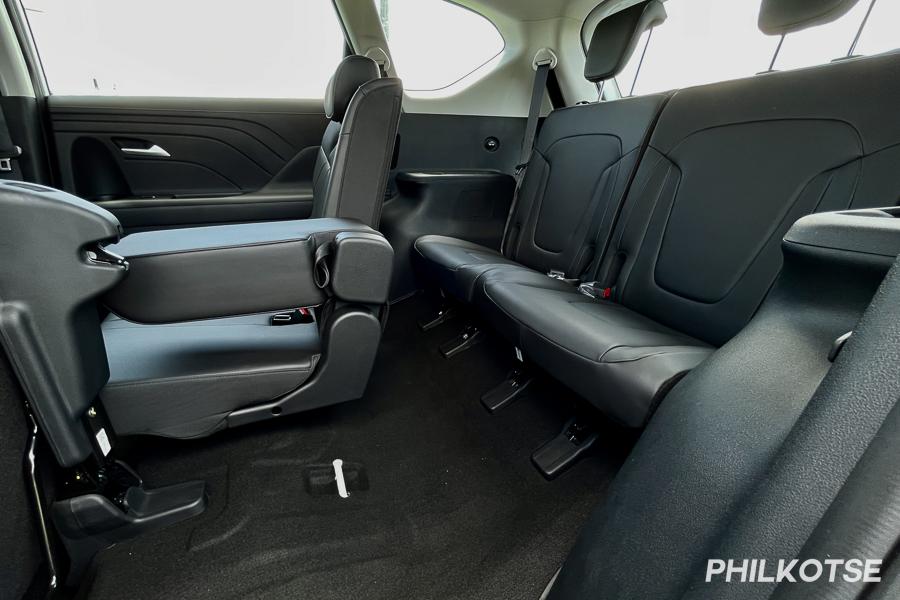 The Stargazer's third-row seats
Two average-sized Filipino adults can seat on the third row with manageable legroom, knee room, and seat height. Although, elbow room is quite a squeeze.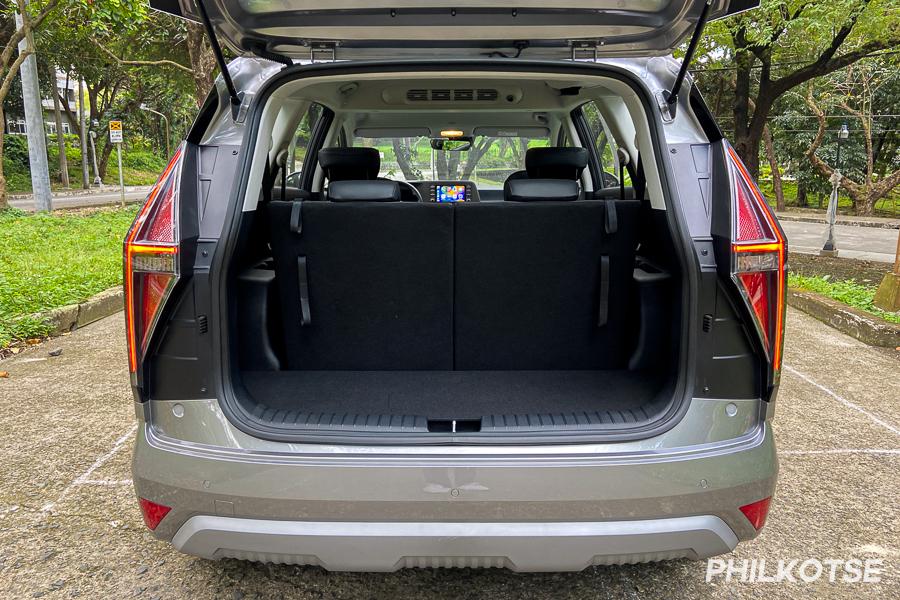 Even with the third row seats up, the Stargazer offers decent cargo space
When it comes to cargo space, the Stargazer can haul four to five overnight bags even when the third-row seats are up. It also has a luggage tray hidden beneath the cargo floor, an area where you can stow away your driving shoes or wet aqua shoes.
2023 Hyundai Stargazer GLS Premium: Tech & Safety Review
Hyundai makes up for the Stargazer's simple interior layout in the tech and safety department, especially with the top-spec GLS Premium. Why so? Well, it's packed with the essential modern features and then some.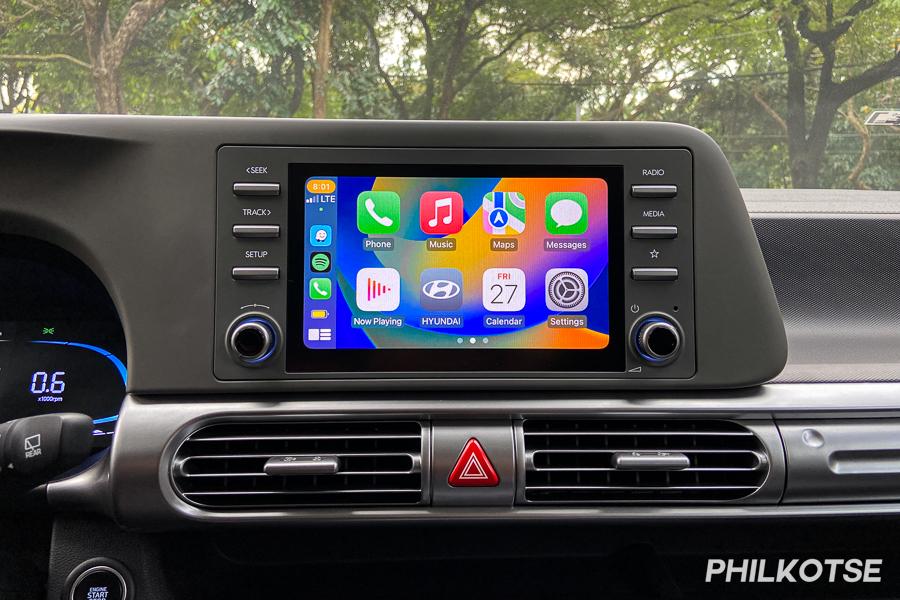 It has wireless Apple CarPlay
The Hyundai Stargazer's eight-inch infotainment touchscreen is equipped with a wireless Apple CarPlay, which is a big deal in its segment. See, the Xpander, Avanza, and even the all-new Honda BR-V don't come with wireless Apple CarPlay.
The Stargazer's wireless Apple CarPlay is complemented by a wireless phone charger. This allows you to keep your phone's battery full or sufficiently charged while you use apps like Waze and Spotify while you're driving on the road.
The said combo also eliminates the need to bring your phone's charger cable to access CarPlay and charging. It also allows you to have a clutter-free dashboard. In case you're wondering, connecting your phone wirelessly to the touchscreen is easy peasy.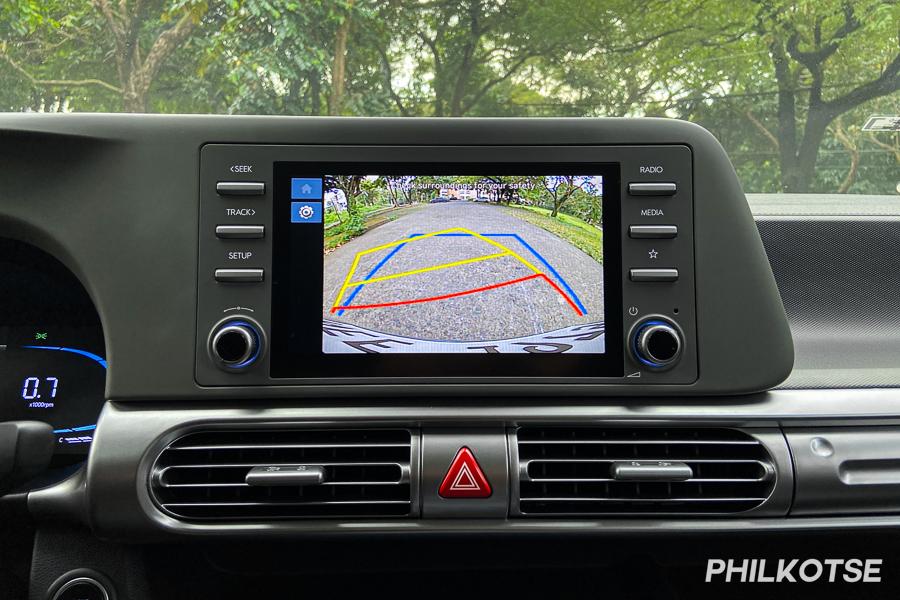 Rear camera with dynamic guidelines
The infotainment touchscreen transforms into a live feed coming from the rear camera. The rear camera has dynamic guidelines to further assist you when reversing. It has good image resolution but it is a bit grainy at night.
Hyundai's seven-seater MPV also comes with a digital instrument cluster that features crisp images. The cluster's interface changes depending on the selected drive modes, which are the following: Eco, Normal, Sport, and Smart. The Stargazer GLS Premium also has cruise control, which can come in handy if you drive often on expressways.
Another thing that the Stargazer boasts is its list of safety features. The top-spec GLS Premium variant is integrated with an advanced driver assistance safety (ADAS) suite. It includes the following: blind spot monitor, rear-cross traffic alert, lane keep assist, driver attention warning, forward collision avoidance, and high beam assist, among others.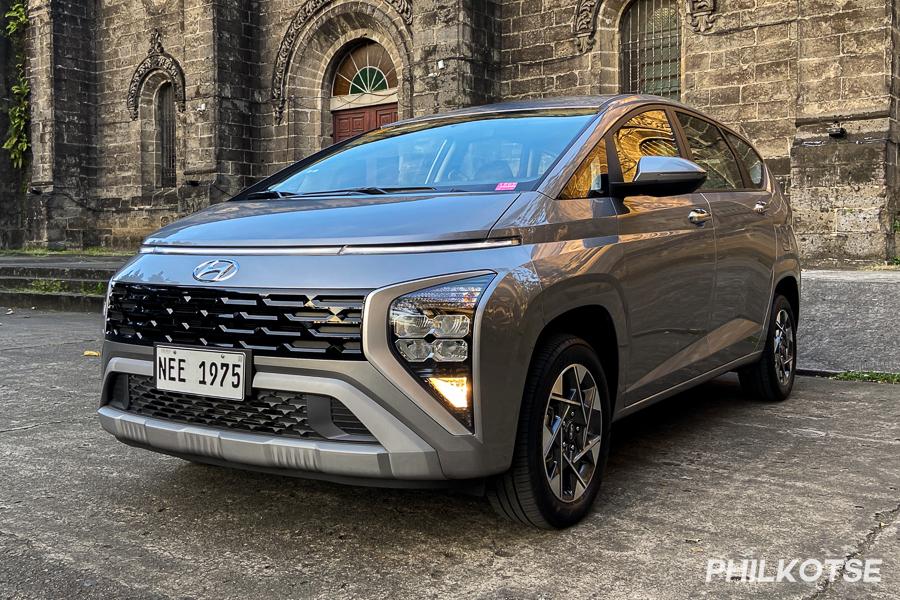 Distinctive front fascia
The Lane Keep Assist gives a slight steering torque to keep you centered within the lane. You'll feel a nudge on the steering wheel if the Stargazer detects that you're veering outside your lane. The steering torque basically functions in helping or assisting you to steer back into the center of your lane.
The only thing that took me off guard during the first few days of test-driving the Hyundai Stargazer is its warning sound. I find it a bit too loud in warning you in case there's a vehicle coming behind you. Although, you can set the warning sound volume to "Low" in case you find it intrusive in your overall driving experience.
2023 Hyundai Stargazer GLS Premium Review: Engine & Performance
Hyundai's seven-seater MPV is powered by a 1.5-liter gasoline engine that delivers 113 hp and 144 Nm of torque. It is then mated to an Intelligent Variable Transmission (IVT), which is Hyundai's version of the continuously variable transmission (CVT).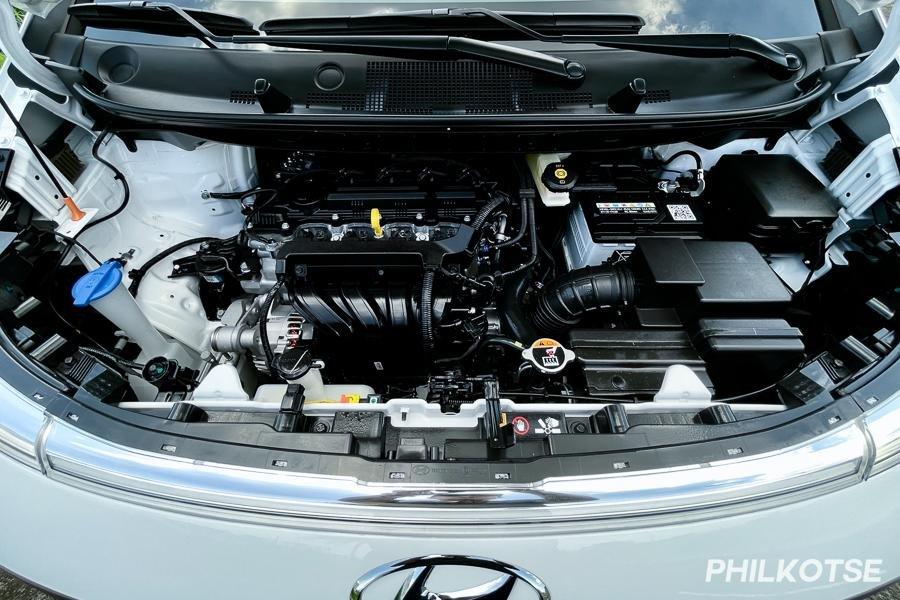 Powered by a 1.5-liter gasoline engine
IVT is not just a marketing jargon created by the Korean automaker. It is different from the conventional CVT as the IVT uses a chain belt that is said to yield better engine response when changing gear ratios. This means that the Stargazer's IVT is meant to give an improved driving experience due to the quicker ratio change resulting in a more responsive drive.
That said, the Stargazer has good engine response and it put outs adequate power even when six adults are onboard the vehicle. The IVT transmission did deliver its promised capability. It adjusts the gear ratios relatively quickly as compared to the conventional CVT.
Overtaking slower vehicles on the expressway is manageable even when the Normal drive mode is selected. The IVT also gives you confidence when you're driving through an uphill road as it gives the most optimum gear ratio in an efficient manner.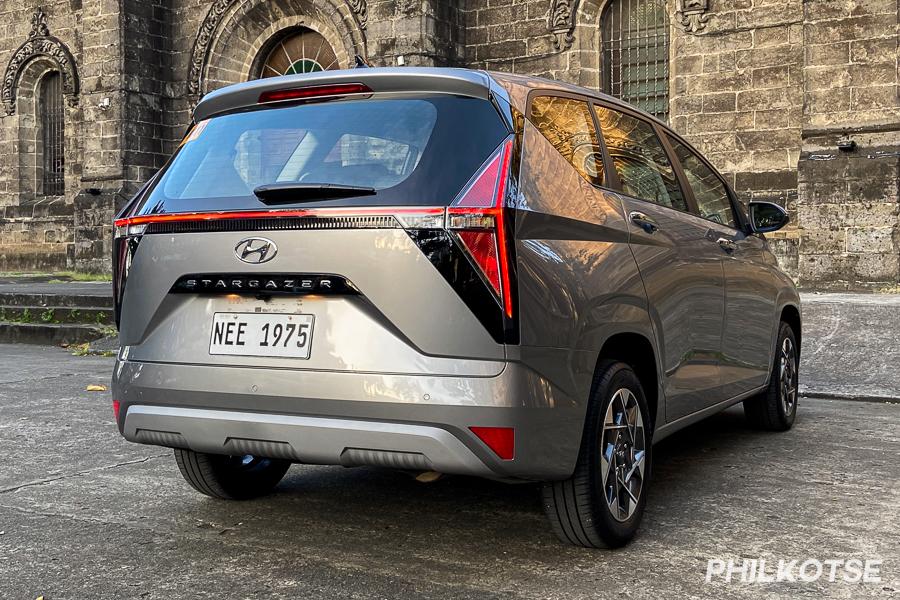 The Stargazer's taillights form the letter H
The Hyundai Stargazer also has a light steering wheel, which I find too feather-like. I wish that it has a tad more of a weighted feel. But, the light steering feel comes in handy especially when you plan on making the Stargazer your daily driver. It can help lessen driver fatigue since you can execute U-turns with minimal effort. The light steering is also beneficial when you're parking the vehicle. It does get firm once you start to gain speed, which is usually the case.
When it comes to riding comfort, I find the Stargazer's suspension leaning on the stiff side when I was driving solo. It then leans on the soft side once there are more passengers onboard the Stargazer, which I find logical since this vehicle is meant to be a people hauler.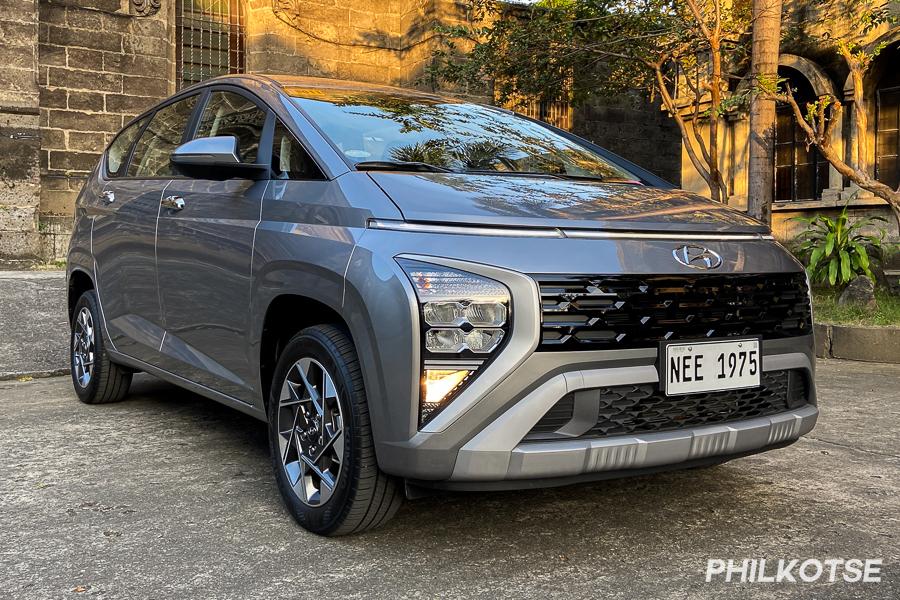 The two-tone alloy wheels add style points
One thing that I noticed is that the Stargazer's forward visibility is something one has to get used to. I find the dashboard layout a bit thick or bulky, which eats up a little of what you can see upfront. Think of the Honda Civic FD's dashboard. The good thing though is that the front quarter glass on the A-pillar is open, which helps minimize blind spots when driving the Hyundai Stargazer.
2023 Hyundai Stargazer GLS Premium Review: Fuel Efficiency
Hyundai PH's challenger in the seven-seater MPV segment returned 9.5 km/l while driving it around the city at an average speed of 16 km/h. On the open highway, the Stargazer posted 20 km/l at an average speed of 90 km/h. Of note, I was the only one inside the vehicle during the said test.
In comparison to its segment rivals such as the Mitsubishi Xpander, the Hyundai Stargazer returned better fuel economy. When we tested the Xpander, it yielded 8.3 km/l on city driving. It then posted 17.3 km/l on the open highway.
2023 Hyundai Stargazer GLS Premium Review: Verdict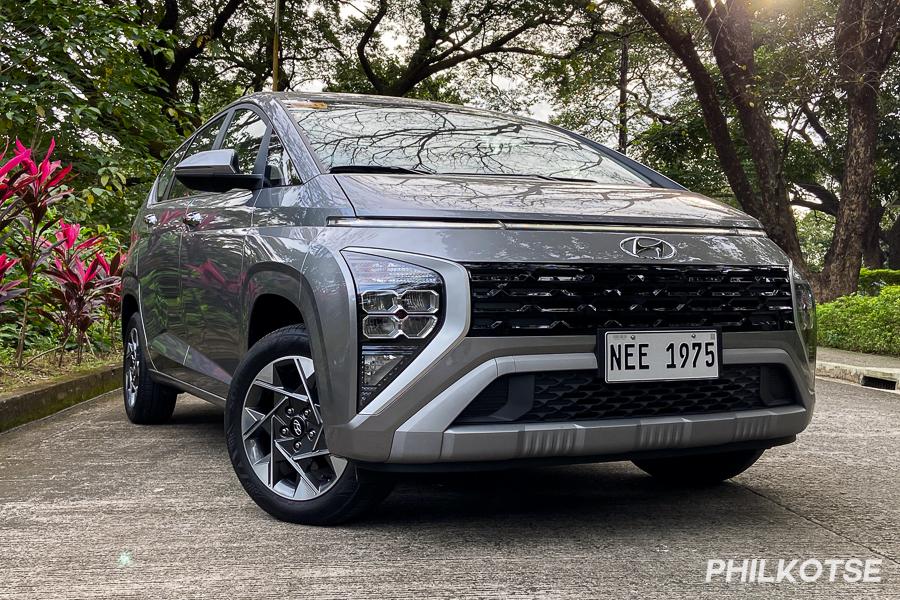 2023 Hyundai Stargazer
Priced at Php 1,258,000 as of this writing, the Hyundai Stargazer can indeed go up against its segment rivals. With its unique exterior look, modern features, responsive engine, and abundant interior space for seven people, it seems that the Stargazer GLS Premium can help Hyundai Motor Philippines in its quest to align the stars once again.

2023 Hyundai Stargazer GLS Premium: Variants & Price
Hyundai Stargazer Variants & Price in the Philippines

Hyundai Stargazer GLS Premium IVT

Php 1,258,000

Hyundai Stargazer GLS IVT

Php 1,168,000

Hyundai Stargazer GL IVT

Php 1,038,000
2023 Hyundai Stargazer GLS Premium: Color Options
Hyundai Stargazer Color Options
Creamy White Pearl, Dragon Red Pearl, Midnight Black Pearl, Magnetic Silver Metallic
2023 Hyundai Stargazer GLS Premium: Specs
Overall

Make

Hyundai

Name

Stargazer GLS Premium

Body Type

MPV

Dimensions & Weight

Lenght

4460 mm

Width

1780 mm

Height

1695 mm

Wheelbase

2780 mm

Ground Clearance

185 mm

Seating Capacity

7

Engine & Transmission

Type

1.5L

Fuel Type

Gasoline

Displacement

1,497 cc

Transmission

Intelligent Variable Transmission

Horsepower

113 hp

Torque

144 Nm

Exterior

LED Headlights

Daytime Running Lights

Halogen fog lamps

LED Taillights

Power Adjustable, Power Folding, with Side Turn Indicators Side Mirrors

Black Grille

Chrome Door Handles

Rear Spoiler

Shark Fin Antenna

16-inch two-tone alloy wheels

Interior

Leatherette Seats

Digital Instrument Cluster

8-inch infotainment touchscreen with wireless Apple CarPlay, and Android Auto

Tilt & Telescopic Steering Wheel

Speed sensing door lock

Manual Air Temperature Control

Wireless Mobile Phone Charger

USB Charging Ports (1x Front) (2x Second Row)

Manual Driver & Manual Adjust Passenger Seats

60:40 Second Row Folding Seats

50:50 Third Row Folding Seats

Driver and Passenger Backseat Pocket

4 Speakers + 2 Tweeters

Safety & Tech

6 Airbags

Forward Collision-avoidance Assist

Cruise Control

Lane Following Assist

Lane Keeping Assist

High Beam Assist

Blind-spot Collision-avoidance Assist

Rear Cross-Traffic Collision-Avoidance Assist

Rear View Camera

Anti-Lock Braking System

Tire Pressure Monitoring System

Electronic Stability Control

Hill-Start Assist Control

Child Seat Anchor

Manual Speed Limit Assist

Suspension

Front

McPherson Strut

Rear

CTBA

Brake

Front

Disc

Rear

Drum


Martin Aguilar
Author