BAIC Philippines: Overview & Price list in January 2021
You can visit Philkotse.com to learn more about BAIC models, available promos, as well as the latest news, reviews, updaters specs, and other information on the website. The user-friendly site offers a wide selection of new and old BAIC models plus you can enjoy exciting promos and deals.
BAIC Philippines price list 2021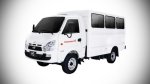 BAIC is a China-based vehicle manufacturer that's slowly expanding their reach to the global market. Some of the countries that they export to include Brazil, Venezuela, Chile, and Colombia. However, they have recently decided to import their products into the Philippines. The vehicles are mostly focused on practical people carriers but other functional vehicles like the BAIC Bayanihan H5 are also available. The BAIC Bayanihan is available in multiple body styles including a van, 2 minivan versions, and a pickup truck. The cab and chassis can be bought for Php 638,000 while the dropside flatbed version is up for sale at Php 668,000. The closed van variety can be bought for Php 733,000. Meanwhile, the passenger van with single AC can be yours for Php 773,000. The dual ac variant is available at Php 814,000. Though it is available in several body styles, the Bayanihan HS is only available in white color. The unit is pretty compact and offers great space for carrying both people and cargo. BAIC Philippines also highlights how the Bayanihan H5 is highly capable of pulling even full load on a steep grade surface. The Bayanihan H5 is a great option for people who wants to have a vehicle for their business.
Variants and price list
| | | |
| --- | --- | --- |
| Manual | Diesel | 2 seats | ₱638,000 | Get Quote |
| Manual | Diesel | 2 seats | ₱668,000 | Get Quote |
| Manual | Diesel | 2 seats | ₱733,000 | Get Quote |
| Manual | Diesel | 18 seats | ₱773,000 | Get Quote |
| Manual | Diesel | 18 seats | ₱814,000 | Get Quote |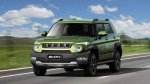 The China-based vehicle manufacturer, BAIC, is making their way to bring us cars that we didn't know we needed. While BAIC is slowly growing in size, they are starting to offer their products to developing countries like the Philippines. They have already imported a few vehicles into the country like their M20 and M60, which were both great. However, BAIC decided that they wanted to grace us with another one of their creations, the BAIC BJ20. After a few good years of being distributed in China, it didn't take long before BAIC graced us with the presence of their massive SUV. The BJ20 is meant to be rugged and manly, though it definitely has a softer look that somehow resembles how SUVs look in the Western countries. Still, it has an impressive head-turning design. And if you're worried about paying for extra amenities, the BJ20 has tons of features that come as standard. That means you won't have to worry about spending a few extra bucks for a good stereo. There is also a massive cabin that you're sure to appreciate. The 2020 BAIC BJ20's price in China starts at 96,800 yuan, but you can get it here in the Philippines for Php 1.5 million.
Variants and price list
| | | |
| --- | --- | --- |
| Manual | Gasoline | 5 seats | ₱1,148,000 | Get Quote |
| Manual | Gasoline | 5 seats | ₱1,288,000 | Get Quote |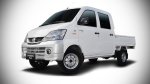 BAIC Freedom is the brand's offering in the compact truck segment. This vehicle can haul both cargo and people- making it a perfect compact truck for small businesses. The BAIC Freedom has a couple of options for moving people: five-seater double cab or a two-seater cab. The bed of the Chinese compact truck has almost the same size as those on midsize pickup trucks. The styling of the BAIC Freedom is basic and simple. The engine of the mini pickup truck from fro the Chinese brand is mid-mounted underneath the front seats despite having a cab-forward layout with a short hood. One of the unique characteristics of the BAIC Freedom is that it utilizes a unibody layout different from most pickups. It comes with an independent MacPherson strut layout in the front and a live axle with leaf springs at the back. Under the hood of the BAIC Freedom lies a 1.4L inline-4 gasoline engine that generated 94 horsepower and 115 Newton-meter of torque. The power produced by this powerplant is delivered to the rear wheels via a five-speed manual transmission. This mini pickup truck from BAIC can carry a load of 990 kilograms that is nearly equivalent to two tons. For its power, cargo capacity, and size, BAIC Freedom is an excellent option for people looking for an ideal vehicle for their business, especially for an affordable one.
Variants and price list
| | | |
| --- | --- | --- |
| Manual | Gasoline | 2 seats | ₱488,000 | Get Quote |
| Manual | Gasoline | 2 seats | ₱518,000 | Get Quote |
| Manual | Gasoline | 5 seats | ₱548,000 | Get Quote |
| Manual | Gasoline | 2 seats | ₱648,000 | Get Quote |
| Manual | Gasoline | 14 seats | ₱652,000 | Get Quote |
| Manual | Gasoline | 2 seats | ₱788,000 | Get Quote |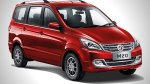 The BAIC M20 is a compact MPV and a modern people-mover. It's the brand's entry to the compact MPV segment and has a good and streamlined body to maximize the vehicle's interior space. This vehicle can accommodate seven to eight passengers and comes with second-row captain chairs. The vehicle's modern and upscale design is complemented by roof rails, subtle front grille, and sleek character lines. With the size of this MPV, it's very easy to tell that it has a generous cabin space to seat seven to eight occupants comfortably. A decent amount of cargo is also present in this vehicle. BAIC is a Chinese automaker headquartered in Beijing. The company is one of the most prominent car manufacturers in China with expansions in other regions. Bayan Automotive Industries Corp is the exclusive distributor of BAIC vehicles in the Philippines, and the BAIC M20 is the company's latest offering. BAIC Philippines offers the M20 in six color variants: Crystal Gold, Maple Red, Nest Silver, Cloisonne Blue, Jade White, and City-Wall Grey. The Philippines' BAIC M20 is available in two variants: the Comfort with priced at Php 578,000 and the Ultra-Luxury at Php 598,000.
Variants and price list
| | | |
| --- | --- | --- |
| Manual | Gasoline | 8 seats | ₱578,000 | Get Quote |
| Manual | Gasoline | 7 seats | ₱598,000 | Get Quote |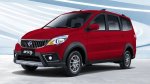 As the needs for multi-purpose vehicles (MPV) in the Philippines grow, it's only right that more of these types of vehicles are introduced to our local market. This not only gives customers more options, but it also lets other manufacturers know that they need to up their game and give better service and products to stay in the competition. One of the newest auto manufacturers to enter the Philippine MPV market is the BAIC. Locally known in China as Beijing Automotive Industry Co., the company acquired the "Bayan Automotive Industries Corporation" moniker when it launched in the Philippines. One of their best bets for the MPV scene is the M50S. It comes with a very easy-to-love price tag and an attractive exterior that can suit even the pickier buyers. The M50S is massive, has a slanting nose and a long body. But when parked beside some of its competitors like the Honda Mobilio and Toyota Avanza, the MPV from BAIC shows a taller roof. This could be a good indication that the inside might just have more headroom than most leading MPVs in the market. If you're looking for a versatile people carrier that mixes sporty and classy, the BAIC M50S may be a good choice to consider.
Variants and price list
| | | |
| --- | --- | --- |
| Manual | Gasoline | 7 seats | ₱638,000 | Get Quote |
| Manual | Gasoline | 8 seats | ₱668,000 | Get Quote |
| Manual | Gasoline | 7 seats | ₱668,000 | Get Quote |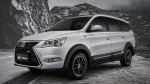 BAIC M60 is the newest member of the brand's lineup and set to compete with the Philippines' midsize MPV segment. The midsize MPV from the Chinese brand was unveiled at the Philippine International Motor Show in 2018, highlighting BAIC's booth and other displays, including the newly launched M50S and BJ20. The built of the BAIC M60 has a larger body than the M50S. The Chinese brand claims that its MPV sits between the midsize and full-size multipurpose vehicle with a length of 4,800 mm, a width of 1824, and a height of 1725 mm. In terms of design, the BAIC M60 comes with a more modernized approach to rugged-styled MPV with a massive grille up front. The interior can seat seven occupants, including the driver, with sufficient storage space for luggage. Powering the M60 is the 1.5L turbocharged gasoline engine – the same unit found in the BJ20. The powerplant is paired to a continuously variable transmission (CVT). It provides the BAIC M60 with a 148 horsepower and 210 Newton-meter or torque. The top speed of the Chinese MPV is 170 kilometers per hour. BAIC M60 is locally available in two variants. The first one is the Standard 1.5L CVT variant worth Php 998,000 and the Luxury 1.5L CVT with a price tag of Php 1,068,000.
Variants and price list
| | | |
| --- | --- | --- |
| Automatic | Gasoline | 7 seats | ₱998,000 | Get Quote |
| Automatic | Gasoline | 7 seats | ₱1,068,000 | Get Quote |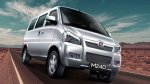 The MZ40 is the brand's entry to the minivan class. They made the car to be both stylish and ergonomic at the same time. The car manufacturer, BAIC, is actually based in China before they entered the Philippine minivan market with their BAIC MZ40. Thanks to the sedan-like handling, the vehicle helps drivers who are used to maneuvering smaller four-wheeled vehicles to transition to a minivan with ease. Along with its affordable price, the manufacturers also made sure that they'd exceed everyone's expectations with a practical design and a roomy interior. Looking at today's minivan market, only a small fraction of the market offerings is considered visually appealing and comes with a comfortable interior. The good news is that this is the group if minivans that the MZ40 belongs to. The BAIC MZ40 also has variations that you can choose from. There is the Cargo 2-seater priced at Php 488,00. Then there's also the Comfort 8-seater available for the same price and then the Luxury 7-seater worth Php 498,000. This would allow the car to be either a cargo for luggage transport or business efficiency or maybe a family van with enough space for a big family. All of these variants pose a greater advantage against most competing minivans in its class.
Variants and price list
| | | |
| --- | --- | --- |
| Manual | Gasoline | 2 seats | ₱488,000 | Get Quote |
| Manual | Gasoline | 7 seats | ₱498,000 | Get Quote |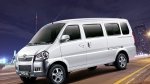 The BAIC MZ45 is the extended version of the MZ40 with an extra three meters in length. The vehicle is equipped with features suited for practical car owners. The Chinese minivan can be configured to accommodate nine to eleven occupants with additional cargo and luggage space. Inside, the driver and passengers enjoy a wide range of convenient features, including sedan-like seats, 22 storage locations, and a high-power cooling system perfect for the Philippines' hot season. The infotainment system is an intelligent LCD gauge so drivers can have easier access to vital information. Under the hood, the BAIC MZ45 is powered by a compact 4-cylinder 1.2L engine that pumps out 86 horsepower and 108 Newton-meter of torque. The powerplant is paired to a five-speed manual transmission. Some of the convenience and tech features present in the vehicle includes power windows, side mirrors, and standard keyless entry that makes the BAIC MZ45 an excellent car for delivering goods without compromising comfort. The Philippine-spec MZ45can be had in an ambulance configuration that features LED toplight, siren, and PA system, fully collapsible stretcher with lock, fabricated cabinet, oxygen tank holder, IV hook with strap, fluorescent lamp, non-slip matting, vinyl sticker, stainless bumper approach metal, and stainless ramp approach metal. BAIC Philippines offers the MZ45 for Php 598,000.
Variants and price list
| | | |
| --- | --- | --- |
| Manual | Gasoline | 11 seats | ₱598,000 | Get Quote |
BAIC
FAQS
What does BAIC stand for?
BAIC Group stands for Beijing Automotive Industry Holding Company, Ltd.
What is the Fuel Tank Capacity of BAIC M60?
The fuel tank capacity of BAIC M60 is 52 L.
What is the Power Output of BAIC M60?
The BAIC M60 delivers 150 hp of maximum power and 210 Nm of maximum torque.
Car Guide Search
BAIC Philippines dealerships