Toyota Corolla Altis 2018 Philippines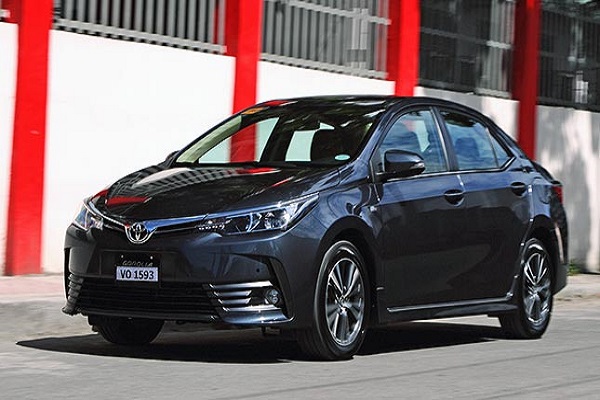 Body Type

Sedan

Engine

Transmission

Seats

Doors
1. Toyota Corolla Altis 2018 Philippines: Brief Overview
The Corolla has been in the market for a few decades (more than 20 years and counting) and it has proven its worth and stood the test of time in the Philippine automotive market. The Corolla is known to be reliable, sturdy and cost efficient in many ways especially in terms of fuel consumption and availability of spare parts in the market. A Corolla can last up to 15 years and still be in good running condition as long as the vehicle is properly maintained.
The older Corolla models do not really have much of a WOW factor to boast but you would consider the car as a strong player in the automobile market because of its reliability and efficiency. The Toyota Corolla has been a constant part in the lives of the Filipino family. In this article, we will be discussing more regarding the Corolla model and know more about the basic features and engine specs 2018 Toyota Corolla Altis 1.6 V. 
The Altis sedan can cost you anywhere from ₱961,000 - ₱1.48 Million with 5 variants to choose from.
1.6 E M/T
1.6 G M/T
1.6 G CVT
1.6 V CVT
2.0 V CVT
The Altis is available in 7 colors to choose from here in the Philippine market that you can tailor fit to your mood and personality.
Silver Metallic
Red Mica Metallic 
Attitude Black Mica 
Super White, Grey Metallic 
Phantom Brown Metallic  
White Pearl Crystal
2. Toyota Corolla Altis 2018 Philippines: Exterior Highlights
The overall appearance of the new 2018 Altis is more sophisticated and luxurious as compared to its previous model. Known for its sophisticated and sporty looks is what makes the Altis one of the most popular sedan choices that belong  to the C-segment
The attractive design of the Altis carries on the Corollas' trademark which brings you a leveled-up driving experience. Its impressive quality of prestige is designed to catch everybody's attention every time you hit the roads. Also what makes the Altis aesthetically appealing is its blue lights which go very well with the chrome accents. It also comes with a set of stylish headlights and tail lights. The basic trims of the Toyota Altis come with16-inch wheels, while the higher variants come with 17-inch alloy wheels which completes its aerodynamic design features. The Altis is considered as fun to drive and it is also very appealing to the younger generation of Filipino drivers.
The Altis that is currently being sold in the market was officially launched last December 2016 and it has the following body measurements or dimensions:
4620 mm in length
1775 mm in width
1460 mm in height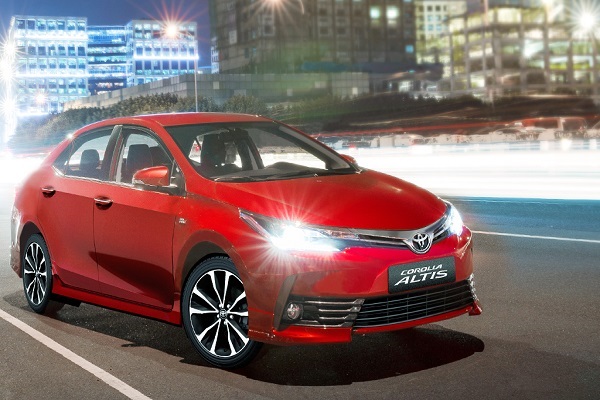 The overall appearance of the new 2018 Altis is more sophisticated and luxurious as compared to its previous model.
3. Toyota Corolla Altis 2018 Philippines: Interior Highlights
The Altis looks have a clean dashboard and ergonomic center console although its design is a little bit outdated as compared to other car models, the interiors still managed to look sleek and sophisticated. The base trims include the most basic features such as an AM/FM radio, CD player, USB and Auxiliaries, Front and rear speakers and a 2DIN Integrated Audio System. The higher trims also come with additional higher specs such as a touchscreen infotainment system and Bluetooth connectivity. 
To ensure the comfort of its passengers, the base trims do have the standard air conditioning system with rear vents, standard front and rear power windows, adjustable seats, automatic headlamps, front cup holders and bottle holder. While the higher variants sedan has an added climate control for its airconditioning, additional rear cup holders and a power outlet which enables you to charge your gadgets while you are on the go. 
All seats are made to be comfortable and ergonomic. Also, the Altis offers a wide legroom with adjustable seats making it easier for the passenger to move around. Its trunk space is considered quite generous which can accommodate 369 Liters worth of luggage. 
4. Toyota Corolla Altis 2018 Philippines: Engine Options
The Altis, in general, has a 1.6 Liter Dual VVT-I,4-Cylinder In-Line DOHC,16 Valve Engine. It has a displacement amounting to 1598 cc. In terms of performance, its maximum output is at 120Hp @ 6000 rpm and maximum torque would be at 154Nm @ 5200rpm.  
The Altis is also an environment-friendly vehicle because of its Euro 4-compliant engine.  The Altis base sedan is mated to a 6-speed M/T while higher variants are mated to a CVT Variable Speed Gearbox resulting in more efficiency on the road and fuel consumption. 
5. Toyota Corolla Altis 2018 Philippines: Other Features
The Toyota Altis is well-known for its safety features and the latest Altis is equipped with advanced safety features that can also be found in other more luxurious sedans. The Altis has multiple airbags (driver, front passenger, side, curtain and knee airbags)and seat belt warning indicators to increase the passengers' safety.
Just like any mid to high-end car models, the Altis sedan is equipped with some of the advanced safety features that Toyota has to offer which are known as the Auto Brake System and the Electronic Brake Distribution, Immobilizer, Security Alarm System, Isofix and so much more.
6. Toyota Corolla Altis 2018 Philippines: Pros and Cons
Pros:
Affordable pricing and above average features
Fuel efficient, ideal for the current traffic situation here in the Philippines
comfortable and spacious interiors
Cons:
Dashboard and interior materials need a improvement in terms of quality
Interior design needs to be more updated to be at par with other models
If you want something different that would stand out on the road then the Altis won't be the best choice.
Car price

:

₱1,201,000

Transmission

: CVT

Body type

: Sedan