Toyota Camry 2018 Philippines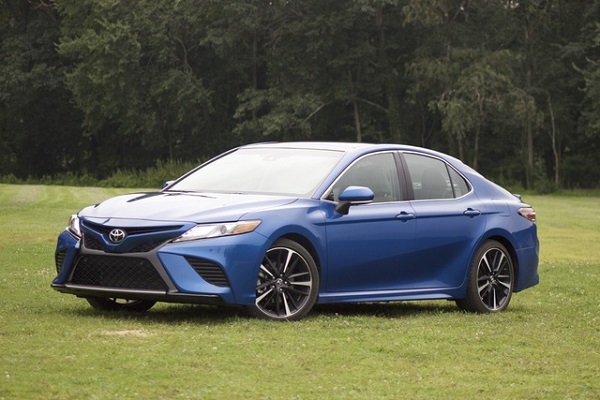 Body Type

Sedan

Engine

Transmission

Seats

Doors
1. Toyota Camry 2018 Philippines: Brief description
The Camry is a luxurious upgraded sedan that has been around for about 20 years since its first release in the market. This particular model is specifically marketed for businessmen and executives because of its powerful and classy appeal.
The 2018 Camry doesn't come cheap in the market because it's considered to be a luxury car with sophisticated features that comes along with it. And with its starting base price of  Php1.7 million, but Toyota guarantees you that owning a Camry will give you real value for your money.
The Toyota Camry is available in eight colors to choose from and is available in 4 variants here in the Philippines. In this article, Philkotse.com will be talking about the features, specs, and engine of the Toyota Camry and see for yourself if this sedan is worth spending for.
2. Toyota Camry 2018 Philippines: Exterior highlights:
The Toyota Camry is an upgraded version amongst the sedan variants that Toyota is offering to is loyal clients. Its exterior looks really elegant and sophisticated and its sleek appearance may be quite intimidating compared to other sedans.
The Camry has and will always project a business like aura that makes the car really look attractive and sophisticated in a lot of ways. The front and rear part of the sedan is styled by thin chrome accents which adds a sophisticated appeal to the new 2018 Camry. It also comes with a 17-inch metal alloy wheels that make the Camry more appealing to the majority.
The 2018 Camry provides the following measurements: Length is at 4825mm, Width measures 1825mm, Height would be 1470mm and a Wheelbase that measures 2775mm.
The Camry is also known for its stability on the road since it has a pretty solid ground clearance of 155mm.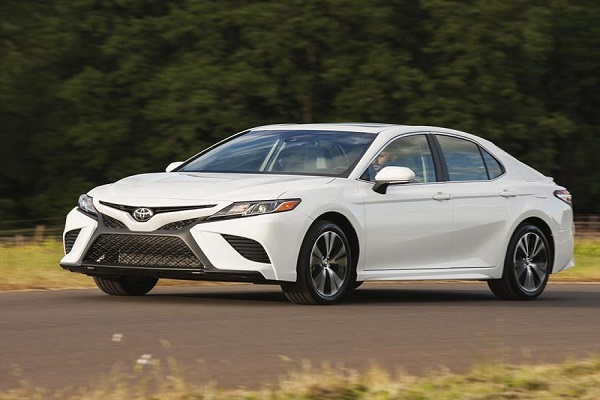 The Camry has and always projects a business like aura that makes the car really look very attractive in a lot of ways. 
3. Toyota Camry 2018 Philippines: Interior highlights
The 2018 Camry is known to be a very spacious sedan so it's legroom, elbow room and headroom won't definitely be a problem. You can easily and comfortably fit 5 passengers without any problems.
Looking at its interior, you can say that the Toyota Camry is equally attractive as it is in the outside. The interior dashboard is made with wood veneer panels and seats are all leather.
The car has an integrated entertainment system with CD and MP3 player, USB and auxiliary ports and an additional 6 speakers.
The Camry is also known for having a spacious trunk which can accommodate 456 liters worth of load which is bigger than the usual sedans.
4. Toyota Camry 2018 Philippines: Engine highlights
The Toyota Camry is made up of a 4 cylinder/16 valve engine with a displacement of 2,494 ccs and mated on 6-speed automatic transmission.
The engine is very impressive and powerful with its dual VVT-I technology that makes it possible for the Camry to provide a maximum output of 178 hp@6000 rpm with a maximum torque of 231 Nm @ 4100 rpm. It has one of the highest acceleration rate of  9.3 secs and can run at 210 kph at top speed. 
5. Toyota Camry 2018 Philippines: Other features:
What's nice about the 2018 Camry is its state of the art A/C system with 3 zones climate control. It also comes with cruise control and rear parking sensors which protects your bumpers from minor accidents.
Looking into the Camrys' security features, of course, it's fully equipped with airbags for both the driver and the passenger. Additional side, curtain and knee airbags were also included as an added security feature. Also, the car has an ABS, EBD, security locks, immobilizer and a whole lot more of features.
6. Toyota Camry 2018 Philippines: Pros and cons
Pros
The Camry has really good engine power

impressive speed and acceleration rate

attractive looking car

comfortable riding experience

good investment, totally worth buying
Cons
The car is not meant for rough roads and off-road driving

The price is quite expensive for many people, this car is not for everyone