Porsche
Porsche Philippines
Porsche or Porsche AG or Dr.-ingh.c. F. Porsche AG is a German automobile manufacturer who specializes in sports car, SUV and sedans. Their headquarters can be found in Stuttgart, Germany which is owned by Volkswagen AG.
Brief History of Porsche AG
The company was founded by Ferdinand Porsche in 1931. It was named Dr.-ingh.c. F. Porsche AG. The company started as a vehicle development and consulting company, and they did not build any cars under their name. Their first project includes the vision of creating a car for people which later on gave birth to Volkswagen Beetle. Another project was Porsche 64 in 1933 which used many components of the Beetle.
During the spike of World War II, Porsche AG produced a military version of the Volkswagen Beetle named Kubelwagen. Porsche created several designs for heavy tanks for the war but lost the contract to Henschel & Son. Nonetheless, their efforts were not put to waste since the chassis designed for the Tiger I was used for the Elefant tank destroyer. They also produced two prototypes in the closing chapter of the war.
In 1945, Ferdinand Porsche lost his position as Chairman of the Board of Management of Volkswagen and a British Army Major named Ivan Hist took his place. To make things worst for Ferdinand, he was imprisoned for war crimes.
Ferry Porsche, the founder's son, decided to make his own car since he could not find anything that he likes in the market. The first models, which will be known as Porsche 356, were manufactured in a sawmill in Gmund, Austria and the prototype car immediately received pre-orders. The production was led by Porsche KonstruktionenGesmbH which was founded by Ferry and Louise.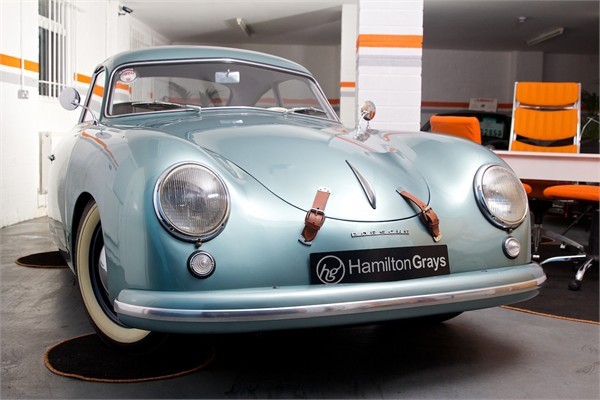 Porsche 356 -- Porsche 1st car
After his father's release in August 1947, the production of Porsche 356 as taken over by Ferdinand. Porsche then commissioned a Zuffenhausen-based company named Reutter Karosserie, which once collaborated with them on the Volkswagen Beetle prototypes, to create steel body for the 3b56. The Porsche 356 was road certified by 1948.
Due to short supply, 356 used parts that were used from the Beetle such as the transmission, internal combustion engine and some parts in the suspension. After several evolutionary stages, most of the Volkswagen parts were replaced by Porsche manufactured parts. The company's signature designs have always included an air-cooled engine configuration similar to the Beetle.
In 1972, the company's legal form was changed since Ferry Porsche realized that the company had outgrown the family operation. It led to the establishment of Executive Board whose members are outside of the Porsche family and a Supervisory Board that consists of family members. At this point, most family members departed from the company.
Ferry founded his own design company and named it Porsche Designs. It is well-known for producing exclusive sunglasses, watches and other luxurious items. His nephew, Ferdinand Piech, who was responsible for the development of successful Porsche racing cars, built his own engineering bureau that is responsible for the 5-cylinder inline diesel engine for Mercedes-Benz. Later on, he became the Chairman of Volkswagen Group.
Dr. Ernst Fuhrmann was the first Chief Executive Officer of Porsche AG. He worked with the company under the engine development division before he was named CEO. He ceased the production of 911 in 1970 and replace it with the sportswagon 928. 928 was not very successful as the 911 continuously outlived 928. Dr. Ernst Fuhrmann was later on replaced by Peter w. Schults in 1980, a self-proclaimed 911 fanatic. By 1988, Schultz was replaced by Amo Bohn who was removed from his position due to his miscalculation. Dr. Ulrich Bez replaced Bohn in.
Porsche signed a memorandum of understanding with Toyota in 1990 so they can better understand the Japanese manufacturing methods. By 2004, Toyota was confirmed assisting Porsche with their hybrid technology.
In October 2017, Porsche Cars North America introduced Porsche Passport which allows consumers to access Porsche cars by subscribing to their service instead of buying or leasing one.
Fun facts about Porsche AG
Porsche 917 Shakedown for Rennsport Reunion V
Ferdinand Porsche, the company's founder, worked in a company named Lohner where he produced electric cars powered by electric motors.
He also created the first hybrid car in 1899, the "Semper Vivus". It was also the first electric car.
The famous Volkswagen Beetle was built in Ferdinand Porsche's private villa.
He also created "Sascha" under the request of Austro-Damier, a filmmaker. Sascha was able to prove that small cars can win races. It won 43 races which included the legendary automobile race, Targa Florio in 1922.
He founded the fastest car on earth in 1939, the Mercedes-Benz type 80.
Porsche 356 proved that having the engine in front of the rear axle will provide a better balance by winning a hill climb race in Innsbruck.
"Secretary cars" were race cars from Porsche. The name was given to give pride to the secretaries who built it.
Porsche 917 can beat any race car today due to its ability to hit 240 mph.
Porsche is also the developer of the 1st chronographic watch in the world in 1972. It imitated the gauges of a car.
Porsche also designed tractors used for farming.
Porsche AG's flagship cars
Porsche 911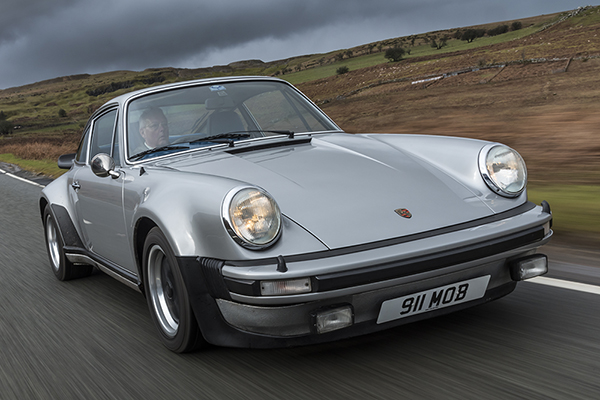 Porsche 911 won the championship for several car racing.
Porsche 911 is a two-door classic German sports car built in 1963. It has a rear-mounted six-cylinder engine and all-around independent suspension. Despite going through various development, Porsche 911 its basic concept remained in tack. It was modified by the company with the assistance of private teams to fit for different automotive competition such as rallying and racing. In 1970, the naturally aspirated Porsche 911 won major world championship cars such as 24 Hours of Daylona and Targa Florio. Porsche won World Championship for Makes in 1976, 1977, 1978 and 1979 with the use of 911-derived models.
Porsche 918 Spyder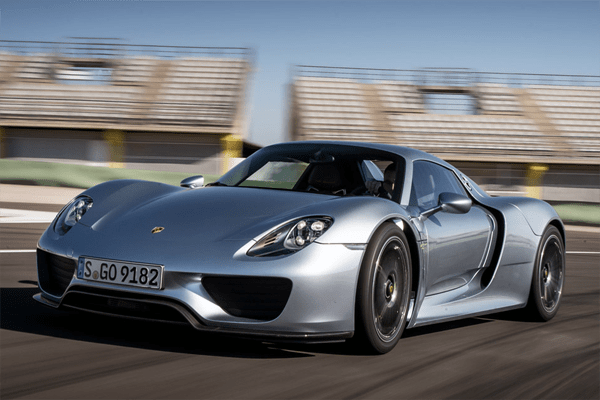 Porsche 918 Spyder - the world's first street legal car to break 7-minute barrier
Porsche 918 Spyder was first manufactured in September 2013. The 918 Spyder was sold out in 2014 and the last production dated June 2015. In 20133, 918 Spyder was named as the first series production street-legal car to break the 7-minute barrier with a lap time of 6.57 on the 20.6 km road course.
Porsche Panamera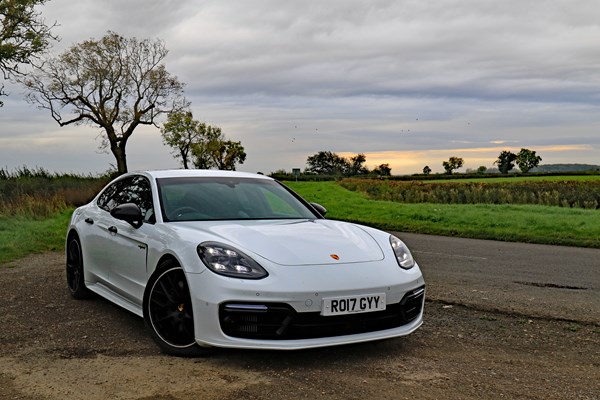 Porsche Panamera -- the only hatchback manufactured by Porsche
Porsche Panamera is a 4-door luxury hatchback that was unveiled to the market in April 2009. They launched the hybrid and diesel version on April 2013. The second gen of Porsche Panamera was released in June 2016. The interior features a redesigned dashboard layout with a touch-sensitive surface. It includes two seven-inch displays in replacement of the dials along with a 12.3" touchscreen that features online sat-nav, Apple CarPlay integration and voice control system.
The Panamera Turbo S E-hybrid in March 2017. However, the Panamera 4S Diesel and Panamera Sports Turismo 4S Diesel were removed from the company's website and configurator.
Porsche cars in the Philippines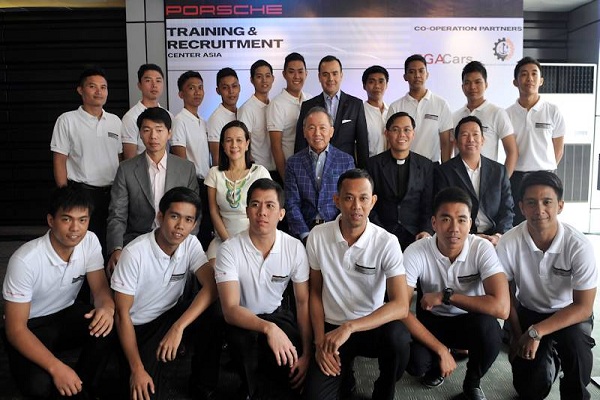 Porsche Training and Recruitment Asia provides training to all aspiring Porsche employees
Porsche Centre Philippines was inaugurated on February 2005 and became the home of Porsche enthusiast since then. The company also created the first and only training and recruitment facility outside of its home country, Germany, which gave way for Filipinoadoptadapt foreign cultures. They collaborated with Don Bosco Technical Institute to provide world-class training to underprivileged students and each graduate has a sure spot in Porsche Centre Philippines.
Each Porsche car for sale in the Philippines has a Filipino touch because of these efforts by Porsche AG and Porsche Centre Philippines. You might find it difficult to choose which of these fascinating cars to pick so it is important to read Porsche car reviews every now and then to keep yourself updated. Philkotse.com is the best source of reliable reviews and we also provide updated Pricelist of Porsche cars.  
Latest Porsche Promos
Search a Brand
Recent Porsche news
Recent Porsche cars for sale