Honda City 2018 Philippines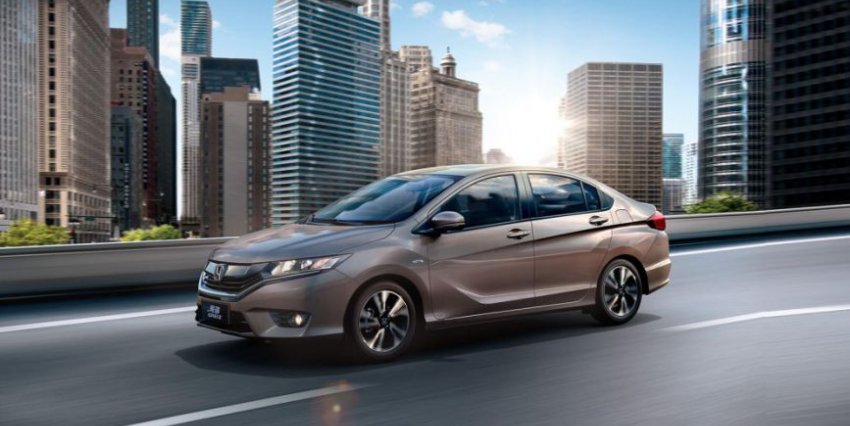 Body Type

Sedan

Engine

Transmission

Seats

Doors
The Honda City is one of the most popular sedans here in the Philippines, probably next to the Honda Civic. If you are thinking of purchasing your first car it is important that you are getting value for your hard earned money. Pricing is also very important for Filipino car buyers, it has to be affordable or always within the budget.
In this article, join Phillkotse.com as we talk about one most affordable cars that Honda Philippines has to offer. We will be doing a review of the 2018 Honda City which is available in four variants and owning one will cost you Php 828,000- Php 1.06 million
The Honda City Sedan is also available in 6 standard colors for you to choose from. 
Modern Steel Metallic
Gold Brown Metallic
Lunar Silver Metallic
Crystal Black Pearl
Tafetta White
Ruby Red
1. Honda City 2018 Philippines:
Exterior Highlights
A lot of Filipinos end up buying the base models because of the mere fact that its affordable and there is nothing wrong with that. Base models are always more sellable as compared to higher variants. The 2018 Honda City CVT E Variant for me is a decent and presentable looking sedan that I want to be driving on daily basis. This four-door sedan is equipped with standard LED daytime running lights and smaller sized halogen lamps and 15-inch stock aluminium alloy wheels which can be also upgraded if you wish to do so. With the base model the door handles has the same colour as the body since the chrome plated ones are available in higher variants. Though I don't have any fascination with chrome, for me it's just an added aesthetics that could cost extra money but it does not really make a big impact on the physical appearance of the vehicle.
Below are the dimensions of this vehicle:
Length: 4,440 mm

Width: 1,695 mm

Height: 1,477 mm

Wheelbase: 2,600 mm

Ground Clearance: 150 mm
2. Honda City 2018 Philippines: 
Interior Highlights
The interior design of the latest Honda City model is known for giving its users a premium feel while driving the car for a fraction of a price. The dashboard and the side door panels are made of the typical black hard plastic material that looks really polished and presentable. Honda did a good job in making sure that the City sedan still gets to retain its overall appeal to the Filipino audience and making sure that they get real value for their money. 
The inside of the car looks small but surprisingly it can fit 5 persons comfortably providing ample leg room to its rear passengers. Its seats are made of high-quality fabric that will ensure to provide you with the right amount of comfort that you need during long hours spent at traffic. Its trunk size has a capacity of 536 Liters it is more than enough space to accommodate several big bags and a little extra space for groceries or other stuff.
One thing that makes this model really attractive to its users is that you can easily adjust the driver's seat according to your height aside from its normal recline and sliding features. The steering wheel can also be adjusted to suit your height that guarantees you and everyone else a more comfortable driving experience. 
The Honda City also comes with a standard 7-inch touchscreen DVD/CD and 4 Speakers plus manual air conditioning system with knob controls. It also comes with USB, Bluetooth connectivity features where you can sync your mobile phone. You can also take advantage of the audio control features located on the steering wheel which allow you to have control of the stereo system and at the same time use your mobile phone for calling without compromising road safety.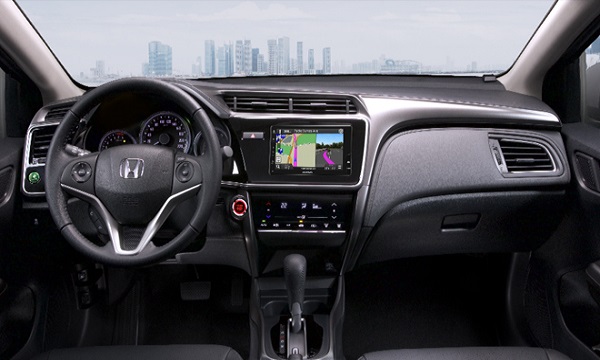 The Honda City also comes with a standard 7-inch touchscreen DVD/CD and 4 Speakers plus manual air conditioning system with knob controls.  
3. Honda City 2018 Philippines: 
Engine Highlights
The 2018 Honda City sports a 1.5-litre engine with a displacement of 1,497 ccs. This is the common engine types that you would see in other Honda variants especially the Mobilio. The Honda City front wheel drive vehicle has a max output of 120 hp @ 6,600 rpm and a max torque of 145 nm @ 4,800 rpm.
Just like its namesake, this car is well recommended for city driving and long distance out of town trips. Just don't set too many expectations in terms of engine performance, but it can get you from point A to point B without any issues and that is the most important thing to consider. The base model is mated to a 5-speed manual transmission gearbox and the remaining models are mated to a CVT gearbox.   
Also, one of the selling points of the The 2018 Honda City is its fuel efficiency. With the constant increase in oil prices here in the country, a lot of Filipinos would really opt to choose a vehicle that helps them save a lot of money for gasoline.
On heavy traffic, the Honda City can consume at least 8 km/ Liter of gasoline, in light to moderate traffic situations here in Metro Manila, this sedan can produce an average fuel consumption of 14 km/ liter at a speed of 60 kph, and in the highway or NLEX it can consume approximately 20 km/ liter of gasoline with a maximum speed of 90 kph.
4. Honda City 2018 Philippines: 
Additional Features:
When we talk about the safety and security of a car we all have big expectations about what the vehicle can actually offer its clients. And it is important that every car manufacturer should be responsible for providing better safety and security features on their automobiles. The 2018 Honda City is surprisingly loaded with a good amount of security and safety features for its current market price. First, it is equipped with airbags for both the driver and it's front seat passenger only. It also has Automatic Braking System with Electronic Brake Distribution which are standard safety features found in all Honda cars. Plus it comes with an ISOFIX which is very useful especially when you have a baby with you. Additional features also include a security alarm and an Immobilizer and so much more.
5. 
Honda City 2018 Philippines: 
Pros and Cons:
Pros:
Comfortable riding experience and decent engine size. It's very reliable and can take you on long road trips.

Highly recommend for city driving.

It is fuel efficient which is very important for Filipino drivers since gas prices are getting steeper.

Sold at a very affordable price. The Honda City can be one of the best options if you are looking or considering when buying your first car. Perfect for millennials and a small sized family.

It has a spacious interior and ample legroom for average-sized Filipino passengers.
Cons:
Although its interiors give you a "premium feel" while driving, the design is currently a little bit outdated as compared to other sedans in the B-class market.

Spare parts are quite expensive as compared to other brands.

The base model does not offer the luxury that you often see and experience in other high-end models. There are a lot of features that are manually operated but you will surely do fine even without it.

 Hopefully, they could add additional airbags for its backseat passengers to ensure the safety of its rear passengers.
Car price

:

₱976,000

Transmission

: Automatic

Body type

: Sedan
Trending
Recent Honda City promos
Recent Honda City cars for sale