Chevrolet Captiva 2018 Philippines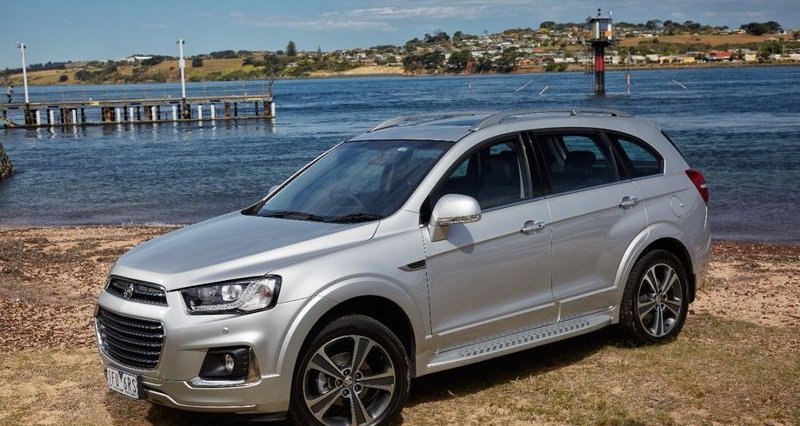 Body Type

SUV / Crossover

Engine

Transmission

Seats

Doors
Brief Overview:
The 2018 Captiva is considered as one of the best crossovers here in the Philippines. Built with a  modern and sporty look, this car will take be able to take you anywhere you want to go without any hesitations. If you are looking for a midsize SUV for your family you might want to look further into this model as Philkotse.com provides you with a review of both variants.
The Captiva is available here in the Philippines in 2 variants:
Chevrolet Captiva 2.4 4x2 Gas LS 2018 currently priced at ₱1,313,888 and the higher variant which is the Chevrolet Captiva 2.0 4x4 LS 2018 only with a slightly higher selling price at ₱1,413,888 plus a little more features to add.
You have 5 standard colours to choose from depending on your preference and your personality as well. The colours are as follows: Black Sapphire, Satin Gray, Summit White, Switchblade Silver and Auburn Brown.
My top option would be the Black Sapphire because its glossy colour makes the 2018 Chevrolet Captiva more appealing to drive. It's also very versatile because it can never fall out of place regardless of the occasion.
The 2018 Chevrolet Captiva is available for viewing at 28 official Chevrolet car dealerships here the Philippines. Should you be interested in this vehicle you can always call them to schedule a test drive and check out the vehicle personally.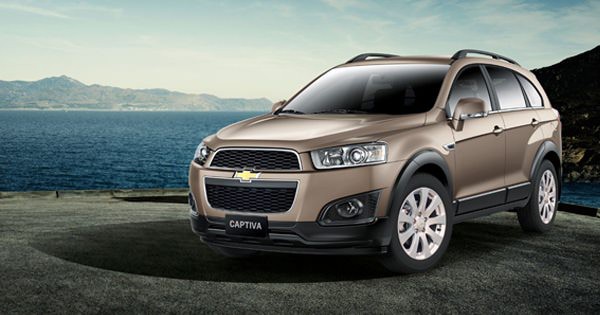 Driving the 2018 Chevrolet Captiva is very versatile because it can never fall out of place regardless of the occasion.
Exterior Highlights:
Personally, I would like to consider the 2018 Chevrolet Captiva as a stunning crossover probably because of its equally domineering and equally handsome outer looks. It also has a well-balanced contour and a high ground clearance measuring at 198 mm that can guarantee to withstand all types of road driving condition. The 2018 Chevrolet Captiva has the car makers emblem that is embossed right in the middle of its massive front grille which makes the Captiva well deserving for a second glance and the proper respect that it is worthy of.
The Captiva has the following measurements: 4,673 mm in length, 1,849 mm in width, 1,756 mm in height and a wheelbase of 2,707 mm. It comes with a 17-inch metal alloy wheels making the Captiva more easy on the eyes.
Interior Highlights:
The 7 seater crossover SUV is said to have spacious, comfortable and airy interiors. All seats are made of a high-quality leather material which ensures the comfort and snugness of all its passengers. When it comes to its trunk capacity, the Captiva has been very generous in terms of providing 96 litres worth of luggage space which is perfect for the whole family. In case you need more space the third-row seats can be folded to accommodate more storage.
The latest variant of the Chevrolet Captiva is equipped with modern digital entertainment equipped with AM/FM Stereo, CD, MP3 Equalizer with 6 speakers and Bluetooth connectivity. It is also equipped with an advanced Automatic Electronic Air Conditioning system to ensure that all of its passengers are kept comfortable and sweat free while travelling or stuck in heavy traffic especially here in Metro Manila.
Additional features found inside the Captiva are power outlets which are considered to be very useful in case you need to charge your mobile phones, laptops and other types of gadgets.
Its power steering features making it easier to park, manoeuvre and drive especially at low speeds making driving a less stressful experience in the Philippines.
Its steering wheel is also equipped with audio controls giving the driver the capability to operate the cars' stereo system and its other audio features. Just make sure to look for the right adapter that is compatible with the Captiva.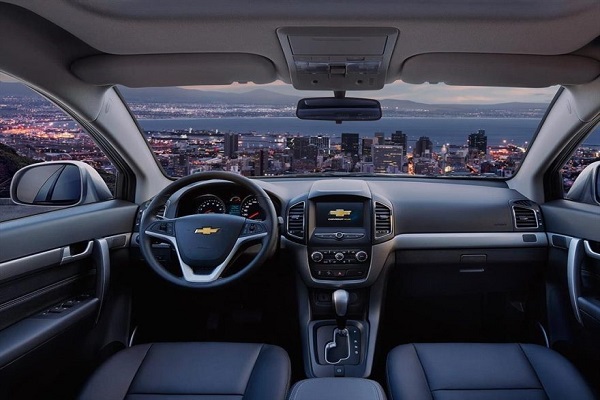 The 7 seater crossover SUV is said to have spacious, comfortable and airy interiors.
Engine Highlights:
Since the 2018 Chevrolet Captiva is offered in 2 variants, we will be going through the engine of each vehicle and see the difference.
The first variant is the Chevrolet Captiva 2.4 4x2 Gas LS 2018 model that runs on 6-Speed Automatic with Eco-Drive Switch and runs on gasoline fuel. The Captiva has a 2.4-Litre Engine with a 2,384 cc displacement. This 4 cylinder and 16 valve front wheel drive automobile has a maximum power of 165 hp and the max torque is at 229 nm @ 4,600 rpm.
The second variant is the slightly more expensive Chevrolet Captiva 2.0 4x2 LS 2018 model. It has a smaller 2.0-liter engine and a displacement amounting to 1,998 ccs. Maximum output is at 163 hp and max torque is at 400 nm @ 2,750 rpm. It runs on diesel fuel which is a more practical choice for the majority of the Filipino drivers because of the constant increase of the fuel prices in the market. It has also a maximum fuel capacity of 72 litres perfect so no need to worry about stopping for gas every now and then.
Additional Features:
The 2018 Chevrolet Captiva does not fall short in terms of safety and security features. This crossover is equipped with highly reliable seatbelts and safety airbags for both the driver and its front passenger. The airbags are designed to protect the occupants of the car from sudden impact by slowing down the momentum of the collision.
The 2018 Captiva is also equipped with an Auto Brake System which prevents further damage caused during a high-speed collision and Electronic Brake Distribution which provides the driver full control of the vehicle, especially during emergency situations. The Captiva is also equipped with additional standard security features such as the Immobilizer (anti-theft feature), ISOFIX (child-friendly ride), a Security Alarm, Rear Parking Sensors and so much more.
Pros and Cons:
Pros:
-A very good option if you are looking for a family car because of its overall passenger and load capacity.
-It has a pretty much affordable price point. A lot of Filipino middle-class families would find this crossover a good buy that is compatible with their lifestyle and they are also getting their money's worth.
-Its available in both gasoline and diesel variant, giving its potential buyers more freedom to choose their variant.
Cons:
-They should have added more safety features such as side, knees and curtain airbags to ensure the passengers complete safety is the number one priority.
Car price

:

₱1,571,888

Transmission

: Automatic

Body type

: Pickup

Car price

:

₱838,888

Transmission

: Manual

Body type

: SUV / Crossover

Car price

:

₱917,888

Transmission

: Automatic

Body type

: Sedan