Which Nissan Almera should you buy? [Philkotse Guide]
Planning to buy your first car? How about a Nissan Almera?
The Nissan Almera is the Japanese automaker's entry-level sedan in the local market. It was first introduced in late 1995 and is known to have different nameplates all around the world, such as Versa and Sunny.
This sedan is set to be the ideal car for many Filipino. The Nissan Almera is a good option for first-time car buyers – reliable, tested, practical, and relatively affordable. As Nissan would like to promote this sedan, the Almera signifies the start of many things.
But what exactly can the affordable sedan offer? If you are planning to get one yourself, then let's take a look at the different variants available for the Nissan Almera and discover which variant best suits you.
Nissan Almera Variants: Exterior
We will start off with the Almera's dimensions. It has a measurement that spans 4,425 mm in length, 1,695 mm in width, and 1,505 mm in height across all of its variants.
The thing that Nissan boasts in this sedan is its cargo or trunk space is rated at 490L. In comparison, the Toyota Vios' cargo space is measured at 478 liters while the Mitsubishi Mirage G4 has measly 450-liter cargo space.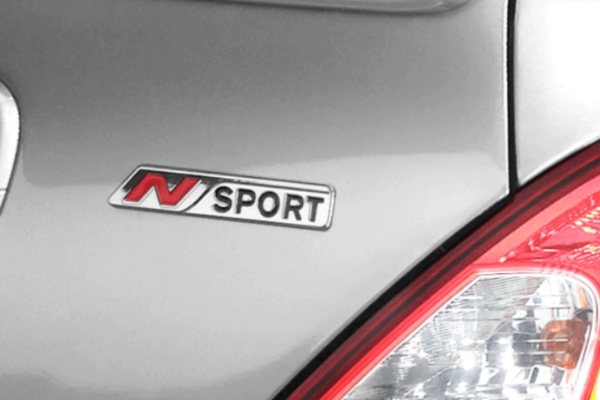 The Nissan Almera also comes with the N-Sport option that gives sportier exterior upgrades
All variants are installed with a boomerang style Halogen headlamps. However, only the V and VL variants come with front fog lamps, chrome-plated front grille and handles (matte black for base and E variants), and rear spoilers.
Nissan Almera Variants: Interior
For cost-cutting measures, all Nissan Almera doesn't come with an infotainment screen. Instead, the Almera variants are installed with a 2-DIN AM/FM with MP3 function and AUX-in except for the 1.2-liter base variant that has a dealer option for the audio system.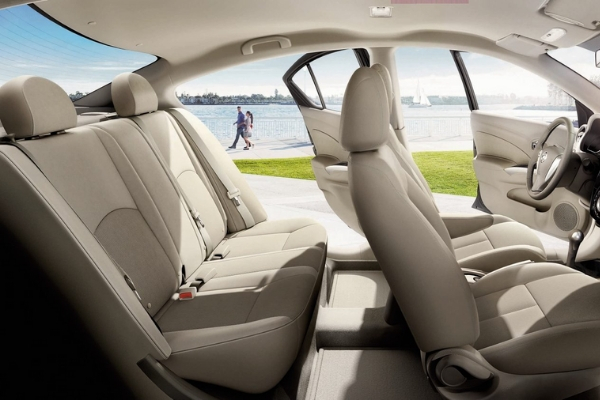 Nissan boasts the Almera's interior headroom and legroom space
The V and VL variants got the upper hand as these variants come with a rear center armrest with 2 cup holders and an extra cup holder for the rear passengers. All variants use a fabric seating material except for the top-spec VL variant that uses a leather seating material.
Nissan Almera Variants: Engine & Performance
Only the Almera 1.2-liter MT variant got the short end of the stick as it uses a smaller 1.2-liter in-line 3-cylinder DOHC 12V engine capable of producing 78 hp at 6,000 rpm and 106 Nm of torque at 4,400 rpm.
While the rest of the variants are powered by a bigger 1.5-liter In-line four-cylinder DOHC 16V engine capable of generating 99 hp at 6,000 rpm and 134 Nm of torque at 4,000 rpm.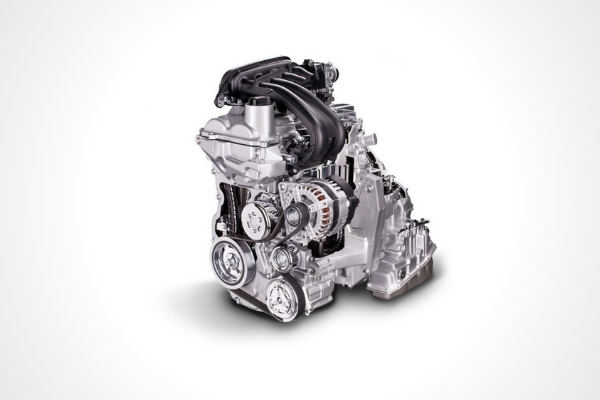 The 1.5-liter gasoline engine of the Nissan Almera
The MT variants are coupled to a 5-speed manual while the rest of the AT variants are mated to a 4-speed automatic. The Almera uses an electronic fuel injection control and has a total fuel tank capacity of 41 liters – giving you an average 14.9 km/L combined fuel efficiency rating.
>>> Related: Nissan Almera 2020 Philippines: An in-depth preview of the next-gen model
Nissan Almera Variants: Safety
The Nissan Almera has generous safety features as all variants come with SRS airbags for the front passenger and driver, ABS with Electronic Brake Force Distribution (EBS), and Brake Assist (BA), Immobilizer, Child Protection Lock + Child Anchor, Speed Sensing Door Locks, and keyless system.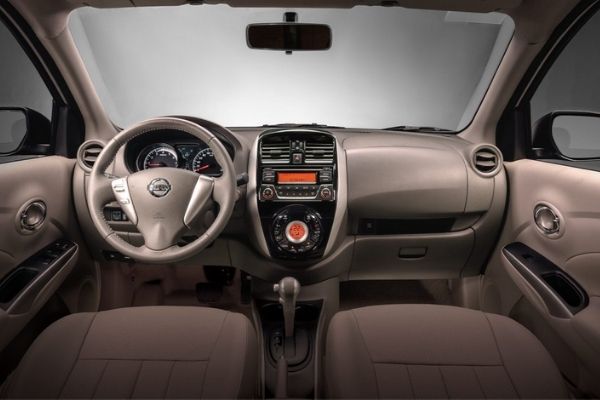 Interior looks pretty decent for a car priced below Php 1.0 million
However, only the V and VL variants come with 3 eye rear parking sensors. All variants come standard with high mount stop lamp but only the V and VL variants use an LED on their rear spoiler.
>>> Related: Nissan Almera 2020 redesigned with improved interior & new safety system
Nissan Almera Variants: Pricing
| | |
| --- | --- |
| Variant | Pricing |
| Nissan Almera 1.2 MT | Php 657,000 |
| Nissan Almera 1.5 E MT | Php 735,000 |
| Nissan Almera 1.5 E AT | Php 824,000 |
| Nissan Almera 1.5 V AT | Php 900,000 |
| Nissan Almera 1.5 VL AT | Php 933,000 |
| Nissan Almera 1.5 N-Sport MT | Php 735,000 |
| Nissan Almera 1.5 N-Sport AT | Php 890,000 |
>>> Related: Nissan Almera price list with the estimated monthly payment
Despite having many variants, the Nissan Almera still does not reach a Php 1.0 million price point – which makes this sedan a relatively affordable choice. The sleek style and curves it possesses gives the sedan a modern look that doesn't go out of style.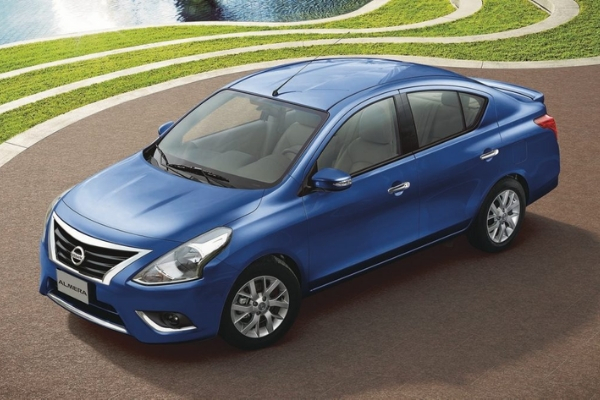 Sapphire Metallic Blue color option for the Nissan Almera
So which variant is the best option at its given price point? It actually depends on how you want to use your Almera on a daily basis. If you are a young individual who is just starting out and wanting a practical car, then the 1.5 E MT is the variant that best suits you.
With unpredictable fuel prices in the Philippines, a manual transmission option can help you save up some gas money. The higher variants come with mostly cosmetic upgrades only so the 1.5 E MT is a good variant to start.
But if you have an extra budget for this entry-level sedan, then you can choose the V AT variant priced at Php 900,000. Only the leather seats and electric folding with power adjust outside door mirrors are the exclusive features for the top-spec variant.
But other than those two features, the V and VL are practically the same cars. Choosing the V variant over the VL variant will save you Php 33,000.
Here at Philkotse.com, we value your interest in the automotive industry. You can visit our website to find out more.
Author

Rex found his passion for cars at a young age. He loves anything with an engine – which includes cars and planes. Right now, he is pleased to impart that passion for cars to a professional level under Philkotse.