Which 2020 Mitsubishi Mirage should you buy? [Philkotse Guide]
Confused on which Mirage hatchback variant is best for you? Then read on.
Hatchbacks here in the Philippines are quite popular. They're small, compact little cars that do great in traffic, plus they're light and fuel-efficient.
The flow of traffic in cities, after all, has become more and more restrictive as time goes on. So despite their size, hatchbacks have become a go-to choice for many people.
On top of that, most hatchbacks available in the country right now actually offer decent interior space, which qualifies them to become a choice for small, city-dwelling families.
If we're talking about hatchbacks, we simply have to mention the Mitsubishi Mirage. It's been around since 1978, and its sixth-generation model is quite popular here in the country. Note also that the current sixth-gen is already eight years old, and despite that fact, this version of the Mirage is still going strong due to its reliability and affordability.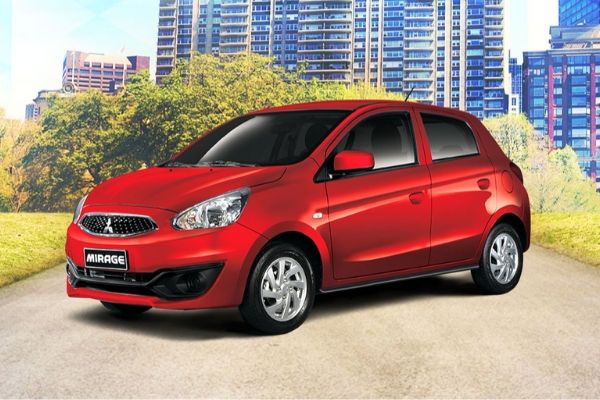 The humble, yet very reliable Mitsubishi Mirage. It won't let you down.
Currently, the Mitsubishi Mirage is available in two variants, at least for the hatchback version. There's the GLX CVT and the GLX MT.
So as a potential buyer of the Mirage hatchback, how different are the variants? Which is better suited for you?
Let's find out.
Mitsubishi Mirage Variants: Exterior
When it comes to exterior design, the GLX CVT and the GLX MT are practically the same. Both don the same amount of chrome, and both variants use the same 14-inch alloy wheels. They even have the same 160mm ground clearance.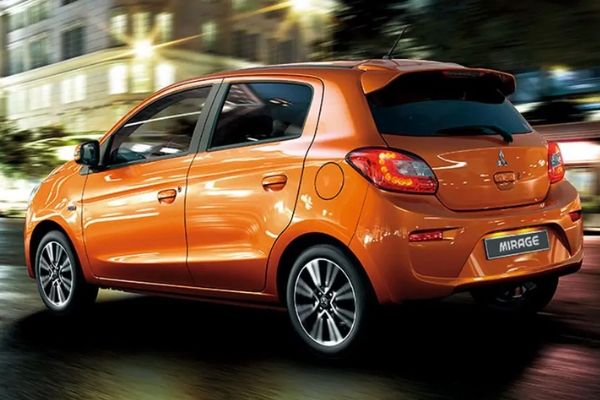 It's got a pretty basic design, but it does have some personality to it.
The GLX CVT and the GLX MT are also identical in size. Both have an overall length of 3,795mm, a width of 1,665mm, a height of 1,500mm, and a wheelbase length of 2,450mm.
What's different between the two however is that the GLX MT is lighter with a gross vehicle weight of 1,280kg. The GLX CVT is a bit heavier at 1,310 kg. And yes, these differences in weight will have an impact on its performance and fuel efficiency, albeit, very minimal.
>>> Related: Mitsubishi Mirage Hatchback 2020 Philippines Review
Mitsubishi Mirage Variants: Interior
Stepping inside these Mirage hatchback variants, you'll find that the GLX CVT and the GLX MT are just about the same, as well. Both have relatively adequate room for up to five passengers, but we recommend keeping it down to four for optimal comfort.
When it comes to cargo, both the GLX CVT and the GLX MT are also quite similar. The rear seats on both variants can be folded down, and the default cargo space (rear seats up) is around 487 liters, which is enough for out of town trips.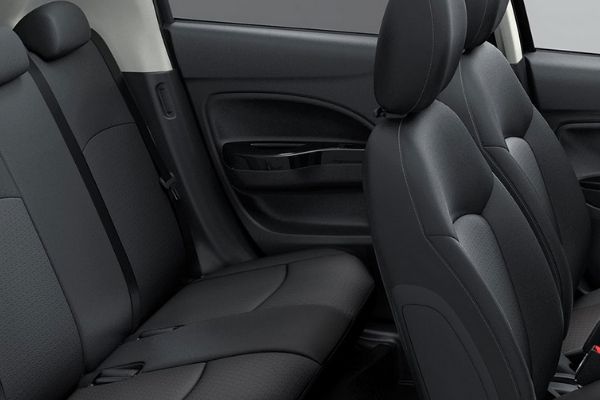 Space is actually generous inside the Mirage.
Both variants are also equipped with a tilt-adjustable steering wheel, a 2 DIN tuner with iPod connectivity, aux, and Bluetooth, and a USB port, 2 speakers, fabric seats, and a three-spoke urethane steering wheel.
Yeah, it's pretty simple inside, but it's comfortable enough for daily drives, and even long drives for younger folk.
>>> Related: Top 6 affordable subcompact hatchbacks 2020 in the Philippines
Mitsubishi Mirage Variants: Engine & Performance
Under the hood, both the GLX CVT and the GLX MT use the 3A92. A 1.2 liter inline-3 DOHC, gasoline engine that can make 70 horsepower @ 6,000 rpm, and 100 Nm of torque at 4,000 rpm. Power is sent to the front wheels.
The GLX CVT, of course, uses an INVECS-III continuously variable transmission. In contrast, the GLX MT uses a five-speed manual transmission. And yes, this is the biggest difference between the GLX MT and the GLX CVT.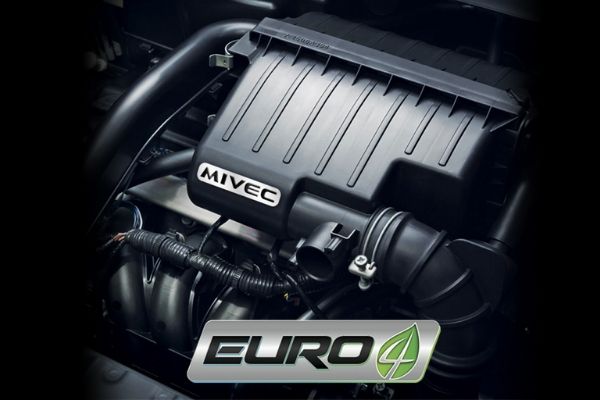 It's a Euro 4 compliant, very fuel-efficient inline-3
Other shared mechanicals for these two Mirage variants are the front ventilated disc brakes, the rear drums, the front MacPherson strut with coil spring, and the rear torsion beam.
Mitsubishi Mirage Variants: Safety Equipment
For safety, both the GLX CVT and the GLX MT are equipped with dual front airbags, a brake override system, anti-lock braking with electronic brake distribution, an engine immobilizer, and an emergency stop signal.
Mitsubishi Mirage variants: Pricing
| | |
| --- | --- |
| Mitsubishi Mirage hatchback variants | Pricing |
| Mitsubishi Mirage GLX 1.2 CVT | Php 760,000 |
| Mitsubishi Mirage GLX 1.2 MT | Php 699,000 |
>>> Visit Mitsubishi Mirage price and its estimated down payment
Mitsubishi Mirage variants: Which one is right for you?
If you're buying a Mitsubishi Mirage, be it the hatchback version or the sedan G4, you're getting what you've paid for: a simple, low-powered econo-car. While that may be the case though, it is of no doubt that regardless of what variant you're buying, the Mitsubishi Mirage is a very reliable vehicle with a simple, but comfortable interior.
Now when talking about variants, it all boils down to this: if you cannot be bothered to change gears all the time especially in the stop-and-go city traffic, go for the GLX CVT. Sure, it's much more expensive but you'll be glad to know that the CVT actually goes very well with the very lightweight Mirage.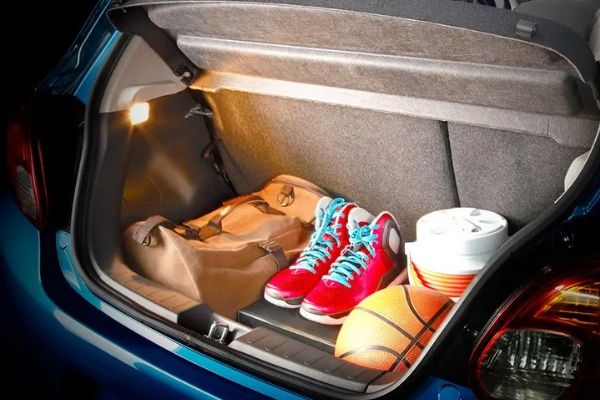 The boot offers decent space even for out of town trips.
If you care, or if you enjoy rowing through gears despite the traffic, then we recommend the GLX MT. The five-speed gearbox is pretty smooth, and the clutch is very forgiving even for the most ham-fisted (ham-legged?) driver.
Did this guide help you choose the Mitsubishi Mirage hatchback for you? If it did, keep reading here on Philkotse.com for more car buyer's guides like this one. Keep safe out there.
Author
Cesar learned how to drive a car years before he got his license. Today, he's still looking for that perfect '90s Japanese coupe to drive into the sunset while listening to Crazy Little Love by Nuage. Also has a thing for badass off-road vehicles and weird engine swaps.