Some can even carry more passengers inside.
Who hasn't heard of the Toyota Hiace? It has practically been a household name since 1967, going on to become a mainstay of corporate fleets, transport groups, tour operators - even hospitals.
Before SUVs were in vogue, the Toyota Hiace was a symbol of sorts for relative consumer affluence, with enough seating to accommodate a large family's yayas on weekend beach outings or even the local inter-barangay basketball team. 
2020 Toyota Hiace Grandia Review Philippines: The king of family vans | Philkotse
>>> Latest update: 2021 Toyota Hiace: Expectations and what we know so far
The ridiculously large cargo space guarantees more than enough room for a month's worth of groceries, and the considerable ride height gives a commanding view of the road. In many ways, it's the vehicle that most closely represents our family-oriented culture through shared mobility.
Just ask the more than 18,600 customers who bought the Toyota Hiace Philippines in 2019. Ranging from Php 1,634,000 for the Commuter to Php 2,998,000 for the range-topping Super Grandia Elite, a Hiace exists for any purpose you can think of.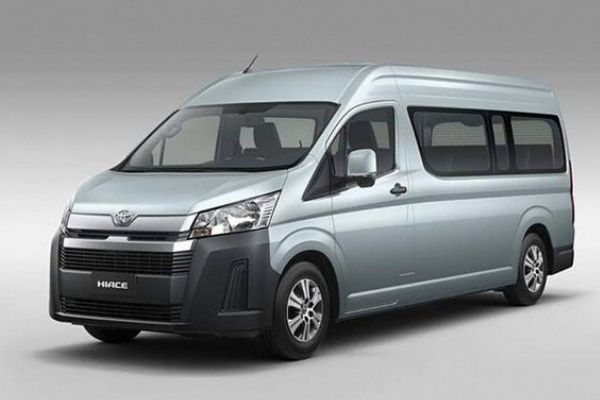 The Toyota Hiace is a household name in our market
>>> Related: A full list of second-hand Toyota Hiace at the best price
But even with the Hiace's cemented reputation, there are reasons why people would be tempted to look somewhere else. The rather stiff suspension on Hiace units of old might make some think twice about going for Toyota's people-hauler.
The price might also be a consideration, with the base variant already costing as much as a more attractive-looking SUV. There are also those who might feel that the semi-bonnet look compromises lower frontal visibility compared to traditional cab-over-engine designs.
If any of these weighs on your decision to get a van either for business or personal use, here are a number of alternatives:
Nissan Urvan NV350 (Php 1.16 million – Php 1.84 million)
Another popular transport staple, the Nissan Urvan NV350 Philippines retains the cab-over design that has been common among its different generations, in order to maximize interior space and avoid higher annual taxes in Japan.
A low sill height and wide-opening doors make loading passengers and cargo easier, although the Navara stands a little narrower, which gives it a somewhat higher center of gravity.
>>> Related: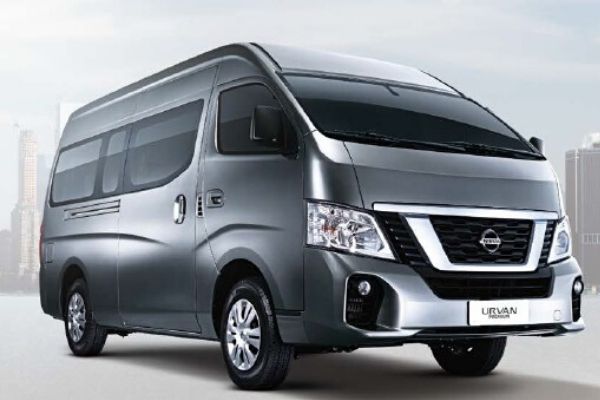 Among the Nissan Urvan NV350's attributes is the legendarily cold Nissan aircon
Still, more passengers will appreciate the famed Nissan air-conditioning for those lengthy summer drives (up to 18 occupants). And the 2.5L YD25DDTi diesel engine with variable turbo pumps out a healthy 127 hp and 356 Nm of torque for your hauling needs.
Foton TransVan (Php 1.14 million – Php 1.23 million)
In terms of appearance, the Foton TransVan is heavily influenced by the fifth-generation Hiace, for better or worse. The wider body complements the TransVan's ample 15-passenger capacity, ensuring that everyone on board isn't squeezed tightly.
With a ground clearance of 200 mm, the Foton TransVan Philippines is a good choice for provincial runs or simply traversing pothole-riddled roads in the city.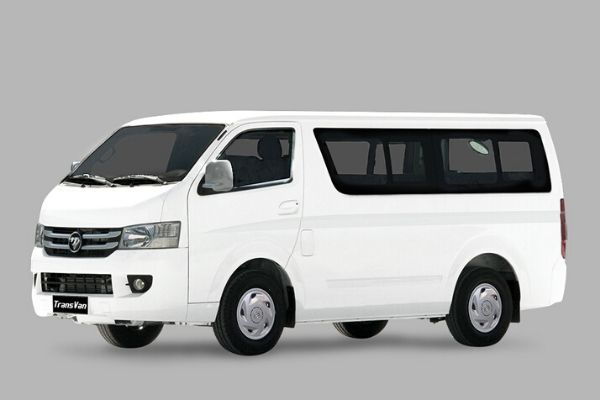 The Foton TransVan comes with 200 mm of ground clearance
The TransVan isn't exactly built for speed (what van is, anyway), with a mere 94 hp coming from its 2.8L Cummins turbodiesel oil burner, mated to a five-speed manual transmission. But there's 225 Nm of torque on tap, which should be adequate even under full loads.
>>> Related: Find cheap Foton TransVan for sale on Philkotse.com
Foton View Traveller (Php 1.50 million – Php 1.65 million)
If you find the TransVan a little too limiting for your passenger needs, there's the more upscale Foton View Traveller, also from Foton. Apart from sporting bigger dimensions and a longer wheelbase, the View Traveller also offers more seating (up to 19 occupants on the extended XL trim).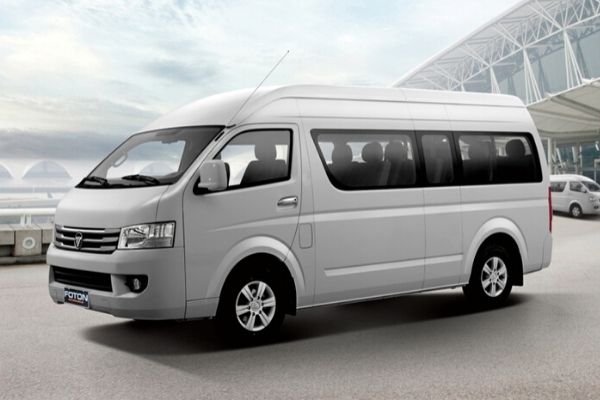 The Foton View Traveller in XL trim accommodates up to 19 passengers
The same 2.8L common-rail turbodiesel powers the Philippine-spec Foton View Traveller, tweaked to generate 130 hp and 280 Nm of torque, although it does have to work with a slightly smaller 70L fuel tank compared to 75L on the TransVan. But if passenger capacity is your main criteria, the View Traveller could be a solid choice.      
Maxus V80 (Php 1.19 million – Php 1.57 million)
Like the Hiace, the Maxus V80 also sports a snub nose, placing the engine in front of the driver. The vehicle is wider than its more popular Japanese rival by up to 48 mm, which could prove handy when loading either cargo or passengers.
Speaking of which, the V80 is second only to the Foton View Traveller in terms of occupant capacity, able to seat up to 18 people. An electric step board deploys to assist everyone going in and out of the cabin, while the split-opening rear doors enable easier for maximum cargo-stacking capability.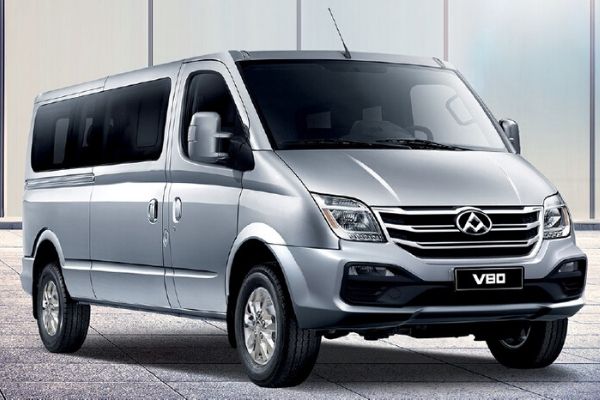 The Maxus V80 comes with power step boards for passenger convenience
Under the PH-market Maxus V80's hood lies a Euro 4-compliant 2.5L common-rail turbodiesel that uses Bosch high-pressure injectors, yielding 136 hp and a strong 330 Nm of torque. Safety features include anti-lock brakes with electronic brakeforce distribution as standard, along with dual airbags. 
JMC Transporter (Php 1,398,000)
The JMC Transporter uses a more angular design especially on the nose, with a chiseled hood and grille flanked by a pair of large headlamps with LED daytime running lights. Up to 15 occupants can fit inside the large cabin, while the driver takes control of a high-definition touchscreen head unit with USB charging.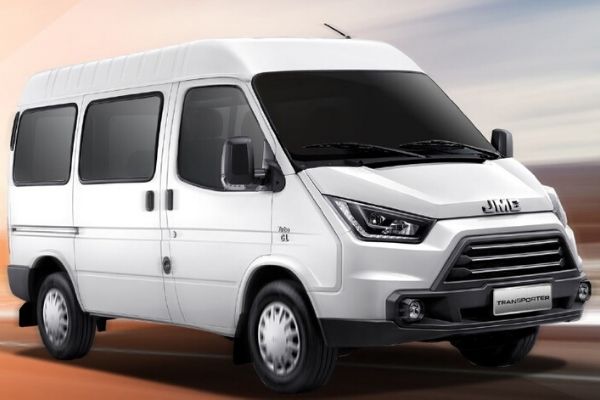 A Euro-V compliant engine and Getrag manual transmission are standard on the JMC Transporter
>>> Related: Find more about JMC for sale in the Philippines
The Transporter moves on a 2.8L common-rail turbodiesel that meets Euro V emissions standards, while dishing out 114 hp and 285 Nm of torque. A Getrag five-speed manual gearbox shifts the power to the rear wheels. Front airbags are among the standard safety equipment, and the Transporter comes with a three-year/80,000-km. warranty.
More automotive options await you at Philkotse.com.
Know more about Toyota Hiace

The Toyota HiAce comes with a robust look. It still holds the title as one of the Filipino's most trusted vans. In February 2019, the Japanese manufacturer introduced the sixth-generation update of the Toyota Hiace. The model received massive changes on both its interior and exterior. The current generation features a nose that serves as the dedicated engine room. It provides more cabin space and flat fascia that's lacking from the former under-the-driver engine design. In terms of designs, horizontal slats are present in the huge grille that accentuated the massive headlamps. Toyota Motor Philippines offers the Toyota HiAce in three variants: the 15-seater Commuter Deluxe, 12-seater GL Grandia, and 14-seater GL Grandia Tourer. The HiAce has a different interior configuration depending on the variant. The common feature in all three trims is the shift stick mounted at the dashboard. A touchscreen display is available in the GL Grandia variants. A 2.3L 1GD diesel engine lies under the hood of the Toyota HiAce – similar to that of the Toyota Fortuner. It has varying power outputs that depend on the trim-level. The Commuter Deluxe produces 176 horsepower and 420 Newton-meter of torque. The GL Grandia creates 176 horsepower and 450 Newton-meter of torque. The power output of the GL Grandia Tourer is 163 hp and 420 Nm of torque.

Joseph Paolo Estabillo
Author