More choices are good when going for a new set of wheels.
Toyota's cash cow right now is the Toyota Vios subcompact, managing to earn the top spot as the company's best-selling model last year with more than 33,000 units driven off by satisfied customers.
The fact that the Toyota Vios Philippines is manufactured locally under the Comprehensive Automotive Resurgence Strategy (CARS) Program is another source of pride for the automaker, even as it resisted calls to export the model to overseas markets.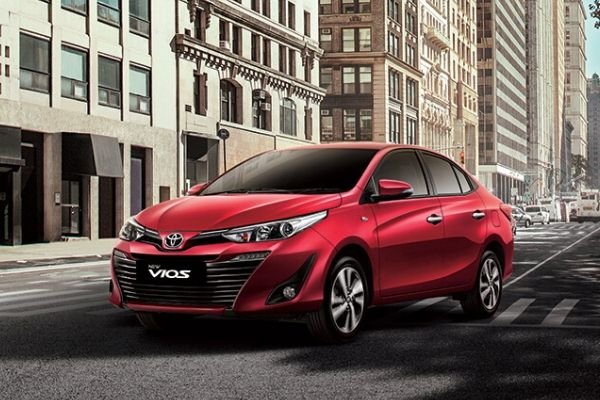 The Vios was Toyota's best-seller in 2019
From fleet units to personal use, the Vios seemingly has something for everyone, considering the breadth of its Php 662,000 to Php1,098,000 price range.
Volume sales for the Vios show Toyota's reputation for reliability is alive and well. But there are those who don't quite appreciate the ubiquity of the Vios on the streets, balking at getting a car that looks too much like everyone else's.
If you're one of those who'd rather take a different route to personal mobility, here are five alternatives to the Vios for you to consider, listed in no particular order.
1. MG 5 (Php 658,888 – Php 938,888)
The MG 5 is the latest offering so far in British marque MG's local lineup. With bigger overall dimensions than the Vios, it carries a remarkable presence for a Chinese model sporting a British badge.
The angular fascia flanked by LED headlamps is followed by flowing curves dressed in generous amounts of chrome, with the 2,680-mm wheelbase resulting in generous interior space.
The MG 5 has a striking presence that defies its price point
There's even an electric sunroof for the midrange and top-spec variants. The trunk space is quite generous at 512 liters. Five seatbelts are standard as on the Vios, with a 10-inch color touchscreen that offers Apple CarPlay and Android Auto integration.
Like the Vios, the MG 5 Philippines is available in manual and CVT drivetrains, and its single 1.5L 4-cylinder DOHC engine option trumps even the top-spec Vios in terms of power output, at 112 hp and 150 Nm of torque.
The MG5 offers cruise control along with stability and brake cornering control, plus a 360-degree view camera setup. Up to six airbags are standard.
>>> Related:
2. Hyundai Reina (Php 663,000 – Php 713,000)
The Reina was introduced in 2017, and shares the PB platform used by the Hyundai Accent. Smaller than the Vios, it nevertheless has a wheelbase that's 20 mm longer.
Halogen headlamps bookend the gaping blacked-out grille, while Hyundai's Fluidic Sculpture 2.0 still reigns supreme on the Hyundai Reina's compact dimensions. Steel rims in 14-inch size serve as the Reina's shoes.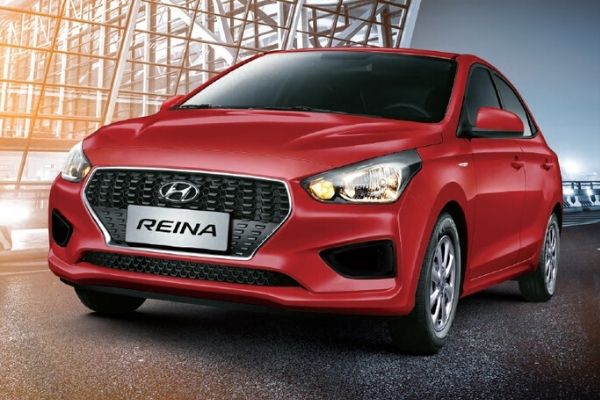 The Hyundai Reina shares its platform with the Accent
A neat dashboard greets passengers in the Reina's cabin, which is also based on the bigger Accent. Controls for the front power windows are placed on front center stack, freeing up space on the doors for storage.
A week's worth of groceries can easily fit in the 475-liter trunk, while in-car entertainment consists of a 1-DIN radio head unit, with a USB port as the only tech concession. Customers can upgrade to an AVN touchscreen head unit for an additional Php 30,000.
Driving the Hyundai Reina Philippines' front wheels is a 1.4L gasoline engine kicking up 95 hp and 132 Nm of torque. Transmission options include a 5-speed manual and a 4-speed automatic. Despite its size and price, it still manages to have dual airbags and antilock brakes as standard kit.
>>> Related: List of all Hyundai Reina cars for sale at good prices
3. Kia Soluto (Php 665,000 – Php 755,000)
Launched at the beginning of 2019, the Kia Soluto is yet another renamed Chinese model, marketed as the Pegas in the mainland. Although the Soluto sports smaller dimensions than the Vios, the former's wheelbase is 20 mm longer.
It continues the squarish tiger-nose fascia seen in other Kia models, flanked by swept-back headlamps and a clean profile. A short, sloping hood aids in forward visibility, and the Soluto rides on 15-inch alloys.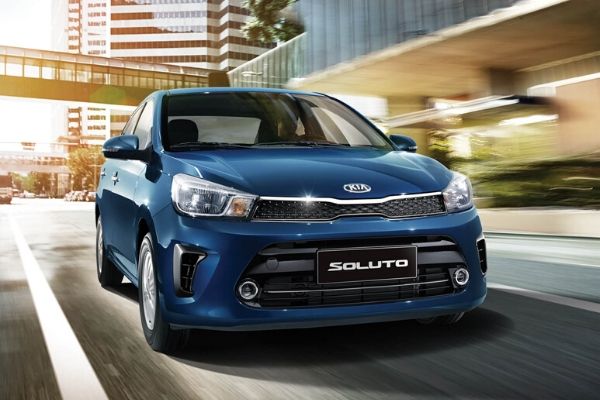 The angular fascia gives the Kia Soluto a strong face
Entering the cabin, the Kia Soluto Philippines offers contoured seats wrapped in leatherette material, with manual adjustments for the front occupants. There's room for five people, plus 475 liters of cargo in the trunk. A 7-inch touchscreen dominates the dashboard featuring Android Auto and Apple CarPlay.
Powering the Soluto is a 1.5L inline-4 gasoline engine that makes 95 hp and 132 Nm of torque, mated to either a 5-speed manual or 4-speed automatic. Four 3-point seatbelts, dual airbags, ABS with EBD, and a rear camera round out the safety features. 
>>> Related: List of Kia Soluto for sale by reliable sellers in the Philippines
4. Mitsubishi Mirage G4 (Php 735,000 – Php 869,000)
The Mirage G4 is technically the rival to the Vios, made under the same CARS Program by Mitsubishi. Likely benchmarked against the second-generation Vios, the G4 unsurprisingly came out on top when Toyota's contender moved up another category with a heavier body.
Mitsubishi's subcompact sedan stands some 40 mm longer than the Vios, although they share the same wheelbase. Curves all around the Mitsubishi Mirage G4's body make it bulbous for its size, but also contributes to the car's aerodynamics.
>>> Related: Mitsubishi Mirage G4 for sale in the Philippines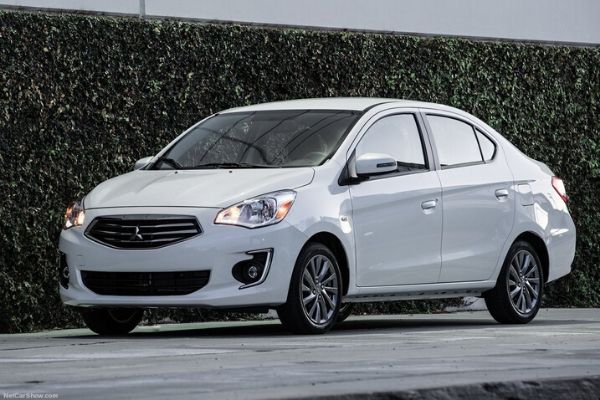 The Mitsubishi Mirage G4's compact frame hides a spacious cabin
The G4's compact exterior conceals cabin that has legroom and headroom in spades. Somewhat narrow seats in front are comfortable enough, although they don't do much against body roll in corners.
Five seatbelts are standard, and the large trunk boasts a 450-liter capacity. Onboard entertainment is via a 6.75-inch touchscreen head unit with mirror link feature and offline navigation.
Power comes from a 1.2L 3-cylinder engine that generates 77 hp and 100 Nm of torque, working with either a 5-speed manual gearbox or a CVT. The G4 has relatively minimal safety features, settlng for dual airbags, ABS, and ISOFix anchors. At 3 years, the Mitsubishi Mirage G4 Philippines has the shortest warranty duration on this list.
5. Chevrolet Sail (Php 791,888 – Php 817,888)
One of the smallest models in the Chevorlet Philippines' range (next only to the Spark), this supermini's rounded form brings to mind the carmaker's short-lived Spin MPV.
The Chevrolet Sail Philippines is on its third generation, built using a new small car platform developed by SAIC-GM. It sits a mere 5 mm wider and 29 mm higher than the Vios, with a wheelbase that's 50 mm shorter.
The dual-port grille surrounded by eagle-eye haologen headlamps give the impression of width, with a sharp crease that cuts cleanly across the profile. A set of 15-inch alloys marks the Sail's corners.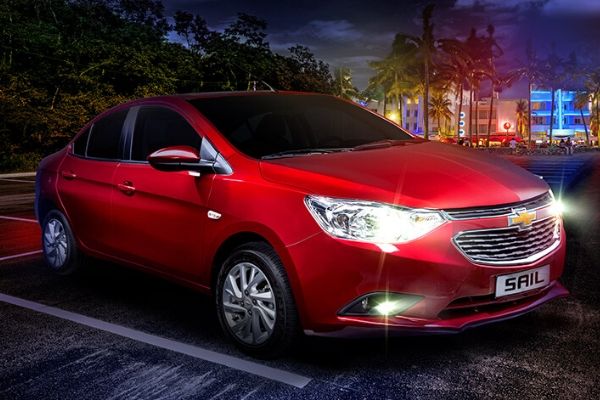 A rounded silhouette makes the Chevrolet Sail look cute
On the jet-black interior, a sporty three-spoke tiller dominates the driver's seat. There's room for up to five occupants on fabric seats, and 366 liters of cargo in the trunk. A power sunroof is available to brighten up your drives, while blasting out tunes from the 4.2-inch HD screen with Mirrorlink and HDD media storage.
The base LT trim has a 1.3L gasoline engine that makes 73 hp and 127 Nm of torque, connected to a 5-speed manual transmission. Meanwhile, the midrange and top-spec variants use a 1.5L powerplant that generates 80 hp and 141 Nm of torque, mated to a 4-speed automatic. Dual airbags are the norm, along with ABS, ISOFix anchors, and side impact beams.
>>> Related: Affordable Chevrolet Sail for sale near you
6. Suzuki Ciaz (Php 823,000 – Php 978,000)
Suzuki Ciaz exudes compact elegance that somehow belie its asking price. It shares the same width and height as the Vios, while standing some 65 mm longer, with a wheelbase that tops the Toyota by 100 mm.
Halogen projector headlamps surround the rather subdued chrome grille, while creases along the profile lend an elegant air. Four 15-inch aluminum alloys mark the corners of the car.
>>> Related: Check out our complete list of Suzuki Ciaz for sale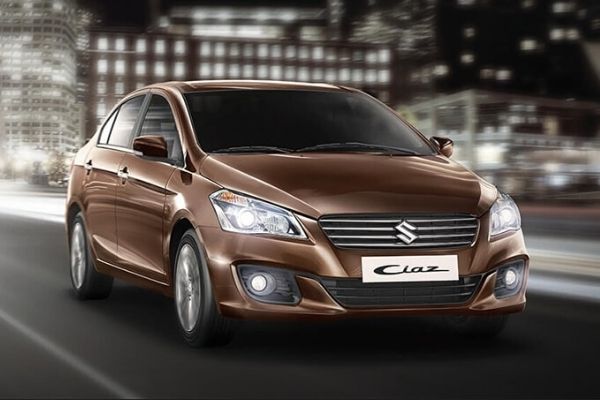 The Suzuki Ciaz blends sportiness and elegance
The spacious interior of the Suzuki Ciaz Philippine fits five people, and the cavernous trunk can accommodate up to 495 liters of luggage space. A touchscreen audio head unit linked to four speakers offers AM/FM radio reception, with Bluetooth, AUX IN and USB for connectivity, as well as offline navigation.
A 1.5L K14B 4-pot powers the front wheels with 92 hp and 132 Nm of torque, delivered through a 5-speed manual or 4-speed automatic transmission. Safety features include dual airbags, antilock brakes, four 3-point ELR seatbelts and side impact beams.
Standard reverse sensors are useful for parking in tight spaces, while a keyless entry system and immobilizer help secure the Ciaz against theft.
>>> Find more car buying and selling tips, remember to follow Philkotse.com.
Know more about Toyota Vios

In 2002, the Vios template was introduced. It became one of Toyota Motor Philippines' best-selling and most treasured nameplates along with its SUV and MPV brothers. It is a subcompact sedan that sets a new standard for enjoyable and luxurious driving. The Vios also consistently belongs to the best-selling cars in the country. It is driven and tested by thousands of Filipino drivers both for private and public use. The Japanese subcompact sedan is proudly Philippine-made. The Toyota production plant located in Santa Rosa, Laguna, continuously produces these subcompacts to meet the Philippine market's demand. In 2020, Toyota Motor Philippines introduced the new Vios that's now offered in nine variants with a starting price of Php 671,000. The top-of-the-line Vios G variant, on the other hand, is priced at Php 1,056,000. The Japanese subcompact sedan features a host of creature comforts and safety features. It also gets two engine options. The Vios provides a wide range of color options, including Black, Red Mica, Pearl White, Thermalyte, Blackish Red, Alumina Jade, Freedom White, Grayish Blue, and Super Red.

Joseph Paolo Estabillo
Author
Joseph has been a member of various car clubs since he got his driver's license in 2004 – old enough to remember riding in taxicabs with analog meters, but his fascination with cars goes way back. After nearly two decades of working in broadcast media, he shifted gears by coming on board as Philkotse's first Filipino member and staff writer in 2017.
Apart from his role in Philkotse, Joseph has written episodes for Drive, which has been airing on CNN Philippines for five seasons running. He has also delivered content for various car dealerships based in the U.S., spanning multiple brands such as Alfa Romeo, Maserati, Jeep, Dodge, among others.
Keeping his hopes high and his revs low, he dreams about owning a Kei car when he retires. Hates slow parkers.