8 small hatchbacks you can buy in the Philippines in 2020
Here's a list of the smallest, cutest, small hatchbacks you can buy today.
In large cities in the Philippines, and even in the provinces, more and more people are favoring small city car hatchbacks as daily drivers. This is because these small cars are typically more affordable to maintain, and are great first cars for new drivers.
These cars can also handle the typically tight, two-lane Philippine road better than larger cars. They're also easier to park, and have among the best turning circles due to their short wheelbases.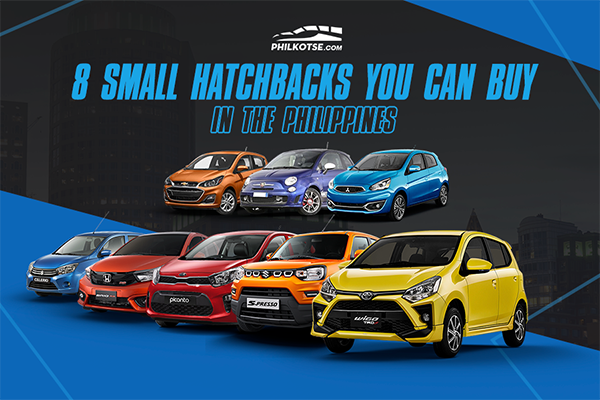 So if you want to say goodbye to three-point turns and wasting your time looking for a parking space, you might want to consider these eight models currently available in the Philippines. 
1. Toyota Wigo
Toyota Wigo has been in the market for quite some time now. As such, it has entrenched itself in the small hatchback market. For the new 2020 Toyota Wigo which was released back in June, it has evolved into a stylish, angular looking vehicle.
It still uses that reliable and thrifty 1.0-liter inline-3 gasoline engine. The said engine can make 66 horsepower and 89 Nm of torque. Available transmissions include a five-speed manual, and it's also one of the few in its class that uses a four-speed automatic torque converter.
2021 Toyota Wigo Philippines Review: Best value-for-money small hatchback?
Pricing for the 2020 Toyota Wigo ranges from Php 568,000 to Php 700,000. The Wigo TRD S is of course the top-of-the-line trim and it bears a lot of unique exterior pieces that make it stand out more.
2. Honda Brio
There was a point in time that the Honda City and the Honda Civic were the go-to cars if you wanted a small, affordable, but still zippy car. Those two, however, grew up. As such, Honda Cars PH brought in the Honda Brio as it's a new, affordable small hatchback.
The Brio uses an inline-4 engine, specifically the 1.2-liter L12B with i-VTEC. The said engine can make up to 89 horsepower and 110 Nm of torque. It uses either a five-speed manual or a continuously variable transmission (CVT).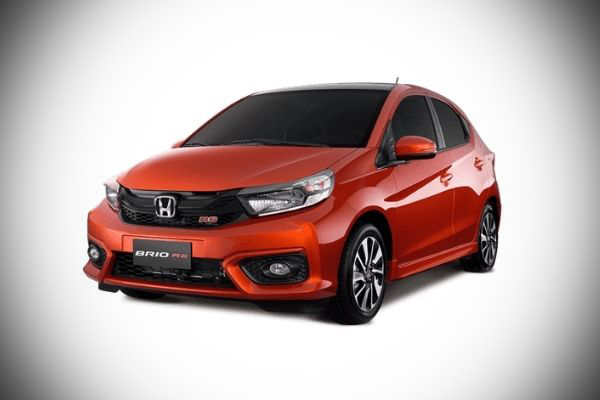 The 2020 Honda Brio is just like what the Civic was in the 1990's. Compact, and zippy!
The price for the 2020 Honda Brio ranges from Php 598,000 to Php 735,000. For the current Brio, the top-variant is the Brio RS Black Top, which as the name implies comes with a blacked-out roof.
3. Mitsubishi Mirage
While the ever-popular Mirage G4 is the current reigning Mitsubishi-made sedan, its smaller hatchback brother is no less practical and reliable. On top of that, the Mitsubishi Mirage hatchback has a shorter overall length, so arguably, it is better at fitting into tight parking spaces.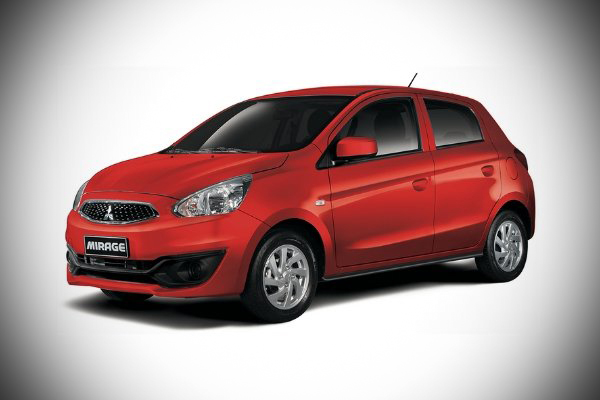 It's practically identical to its larger sedan brother
Propelling the cute and thrifty Mirage hatchback is the 1.2-liter gasoline engine, which can churn out up to 77 horsepower and 100 Nm of torque.
For the local market, there are only two Mirage hatch variants. The first is the Mirage GLX 1.2 MT, which is priced at Php 699,000. The second is the CVT variant priced slightly higher at Php 760,000.
>>> Related: Top best hatchback cars in the Philippines: Price, Specs & Review
4. Kia Picanto
Another veteran of the Philippine hatchback market-segment is the 2020 Kia Picanto. It's now in its third-generation, but other markets already received the new midlife facelift. Regardless, the current 2020 Picanto is a great daily driver, especially on tight Philippine roads.
Currently, the Philippine-spec Picanto has two engine options. The first is the 1.0-liter gasoline, which can produce up to 66 horsepower and 95 Nm of torque.
The more powerful one is a 1.2-liter gasoline engine that can make up to 83 horsepower and 122 Nm of torque. For transmissions, the Kia Picanto either has a five-speed manual or a four-speed automatic torque converter.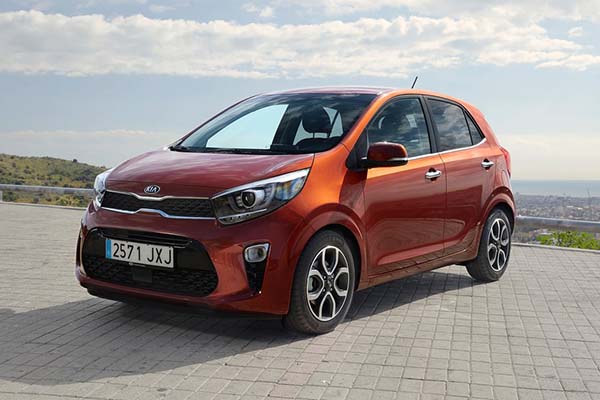 That 1.2-liter variant is surprisingly nimble since the Picanto's curb weight is only around 952 kg
Pricing for the 2020 Kia Picanto ranges from Php 590,000 to Php 745,000.
5. Chevrolet Spark
Sitting in as Chevrolet Philippine's smallest model is the 2020 Chevrolet Spark. Like the rest of the cars on this list, it is small, practical, and fuel-efficient.
Under its hood, the Spark comes with a 1.4-liter inline-4 engine capable of making up to 98 horsepower and 128 Nm of torque. The Philippine-spec Chevrolet Spark either has a five-speed manual or a CVT.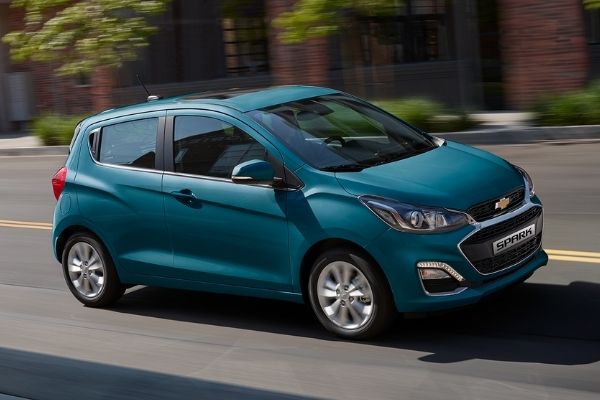 It's got the standard hatch shape, but check out those chrome bits at the front
The 2020 Chevrolet Spark's manual variant is priced at Php 694,888. The CVT variant on the other hand is priced at Php 734,888.
6. Suzuki Celerio
Slotting in-between the Suzuki S-Presso and the Suzuki Swift is the Suzuki Celerio. It's a bit wider than the S-Presso, but surprisingly it has more default trunk space than the larger Swift at 254-liters. This makes the Celerio a practical car for small families with kids.
Propelling the Celerio is a 1.0-liter gasoline engine capable of making up to 67 horsepower and 90 Nm of torque. Like most cars on this list, the Celerio is a front-wheel-drive car. It uses either a five-speed manual or a CVT.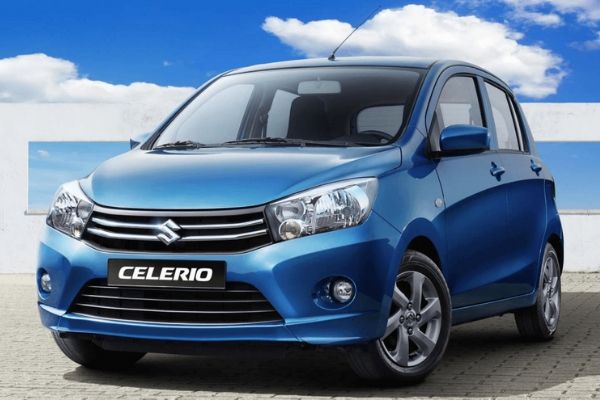 It's surprisingly generous when it comes to elbow room
The Celerio 1.0 MT is currently priced at Php 558,000, while the Celerio 1.0 CVT is priced at Php 598,000.
7. Suzuki S-Presso
With the discontinuation of the Alto 800 for the Philippine market, the mantle of the smallest Suzuki now goes to the Suzuki S-Presso. While it is indeed tiny, the S-Presso offers one of the highest driving positions for a city car. It's 180 mm ground clearance also aids it when dealing with rough roads and poorly maintained paved roads.
2020 Suzuki S-Presso Review: More than your basic cup of coffee | Philkotse Philippines
Under the hood, the S-Presso has a 1.0-liter gasoline engine that delivers 67 horsepower and 90 Nm of torque. Its sole variant is priced at Php 518,000, and only a five-speed manual is available.
8. Abarth 595
If you want the smallest car with the most performance as possible, then one of the few cars that meet these criteria in the Philippine market is the Abarth 595. For all its muscles though, the 595 is still very much a city car.
For the base variants, its 1.4-liter turbocharged inline-4 engine can produce 143 horsepower and 206 Nm of torque. The midrange variants on the other hand can make a bit more at 165 horsepower and 230 Nm of torque.
And lastly, the most powerful top-spec Competizione variants can churn out 180 horsepower and 250 Nm of torque. For a car with a curb weight of only 1,072 – 1,149 kg, those are impressive numbers.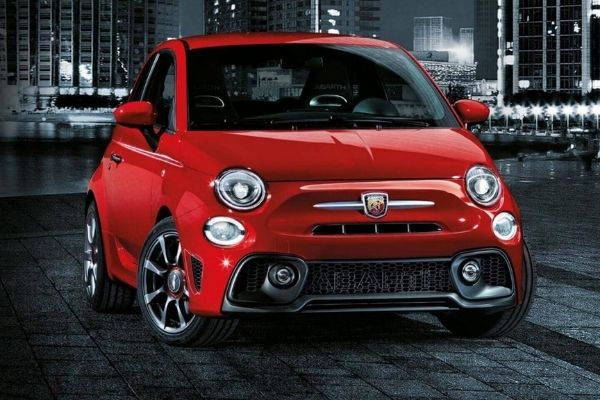 The styling might not fit some people's tastes, but it sure is a fast car
Apart from a five-speed manual, the Abarth 595 also uses a manual transmission automated gearbox. The said transmission is a sequential semi-automatic that uses sensors and actuators to handle the gear shifting and clutch work.
If you want to learn more about the 595, do contact their dealership located in San Juan, Metro Manila.
For more lists of interesting cars, car reviews, and car maintenance tips, keep reading here on Philkotse.com.
Author
Cesar learned how to drive a car years before he got his license. Today, he's still looking for that perfect '90s Japanese coupe to drive into the sunset while listening to Crazy Little Love by Nuage. Also has a thing for badass off-road vehicles and weird engine swaps.